South Korean military officials are allegedly conducting an army-wide search for gay men among the country's troops, after a sex tape between two soldiers was uploaded online, according to an investigation by a non-profit group.
Army investigators have been trying to dox suspected homosexual soldiers through the use of dating apps, with at least one soldier arrested so far for allegedly engaging in homosexual acts, according to the Military Human Rights Center of Korea (MHRCK), an activist group. The allegations draw attention to Korea's conservative attitudes towards homosexuality, particularly in the military, which is one of the country's most powerful institutions. It's a crime for Korean soldiers to engage in consensual homosexual acts, but that's not true of  same-sex relations; outside the army, same-sex relations are legal but not widely accepted.
On Monday (April 17), the center released screenshots of in-app conversations dated Feb. 15 showing a discussion between two soldiers about exchanging photos and which military units they serve in. MHRCK alleges that prosecutors coerced a soldier, already under investigation, into approaching another officer on an app widely used by gay and bisexual men in order to extract information about the officer's name, rank and military unit. MHRCK also unveiled a leaked guideline from the High Army Prosecutors' Office dated March 23 that urges "strict handling of same-sex sex acts to prevent a proliferation of soldier-on-soldier sodomy."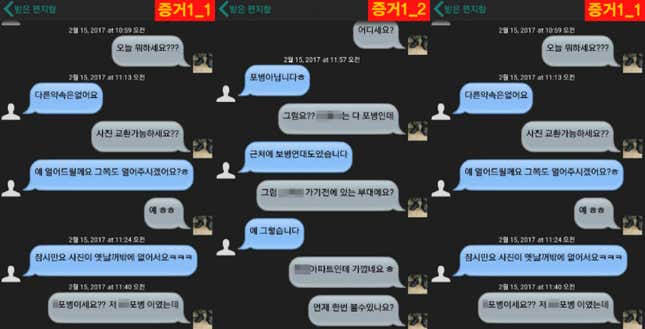 The center said that army chief of staff Jang Jun-kyu ordered the search, with about 40 to 50 soldiers identified so far as being homosexual. The army has rejected claims that such a search is occurring.
"If military personnel who served without any problem are forced to be dishonorably discharged and sent to prison due to their sexual orientation, it is hard to distinguish Korea from the worrisome countries where homosexuals are detained, tortured and executed," said the MHRCK in a statement.
According to the MHRCK, Jang sought punishment for the identified soldiers in accordance with the longstanding ban on sodomy in the armed forces, which is enshrined in Korea's Military Criminal Act. Those found guilty of such acts in the military can be sent to prison for up to two years, though a Korean legal expert speaking on the condition of anonymity said the ban hasn't been strictly enforced and jailing suspects for the charge is highly unusual.
The law was upheld by Korean judges last year after a legal challenge. In the ruling, justices said:
"In the military, there is a markedly high potential for abnormal acts of sexual intercourse to take place between members of the same sex and a strong likelihood for superiors to attempt homosexual acts with subordinates… If left alone, this presents a serious risk of direct harm to the preservation of fighting strength."
Because of the Korean military's outsized influence in Korean life and the belief that the country is in a near constant "pre-war state" because of the threat from North Korea, the military and conservative establishment are "afraid of excessive liberalism as it might affect the readiness of their young people to die," said Vladimir Tikhinov, a professor of Korean studies at the University of Oslo who has studied the military in Korea.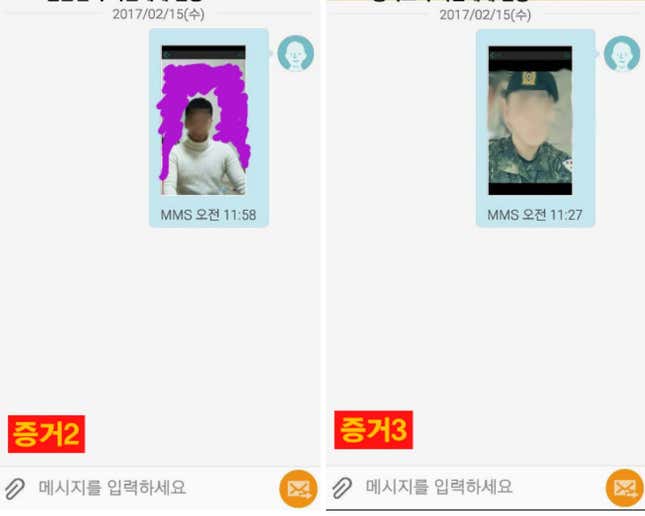 All able-bodied men in Korea are required to serve about two years in the military, which has about 630,000 active-duty soldiers (for comparison, the US has about 1.3 million active military personnel).
The Korean army said Friday in a statement that its prosecutors launched an investigation after a video clip of two men in uniform having sex surfaced online, and that it wasn't ordered to do so by the army commander. The army "strives to ensure that the human rights of gay men in service aren't violated, and forbids involuntary outing and discrimination as well as guaranteeing privacy according to the law."
A defense ministry spokesman said it couldn't comment on ongoing investigations.
Domestic and foreign human rights groups have criticized human rights violations by Korea's military in the past. Physical abuse and bullying of soldiers is rife, for example, and public outcry (paywall) against such violations have become more vocal since the particularly gruesome death of a conscript in 2014. Groups like Amnesty International have also routinely cricitized the Korean military's policy of jailing conscientious objectors—according to the human rights group, Korea imprisons more conscientious objectors than every other country put together.
A small number of alternative non-combat service positions is available for Korean men, but the vast majority of conscripts who are gay serve in the closet for the fear of ostracism and bullying. The US allowed openly gay, lesbian, and bisexual people to serve in the military in 2011. In 2016, openly transgender people could also serve in the US armed forces. In neighboring Taiwan (paywall), which also has compulsory military service for men, openly homosexual and bisexual people have been allowed to serve in the military since 2002.
Even as attitudes towards homosexuality in other traditionally conservative Asian countries begin to loosen up, including in Japan, acceptance of LGBT people in Korea remains relatively poor. Young people are growing increasingly accepting of LGBT people, but still less than 24% of Koreans said they had "no reservations about homosexuality," according to a 2014 survey conducted by the Asan Institute for Policy Studies, a think tank.
Korea has a large Christian population, and vocal Protestant groups have for years blocked the inclusion of sexual minorities in a proposed anti-discrimination bill by pressuring politicians to vote against it. Jang, the army chief of staff who allegedly ordered the investigation into gay soldiers, is also the head of the Korea Military Christians Federation (link in Korean).
A group of activists opposed to gay rights held a press conference on Monday in front of the defense ministry, urging a thorough investigation into same-sex activities in the military.
"The Korean Peninsula is facing a North Korean nuclear weapons crisis. Gays have a questionable logic in demanding the resignation of the army chief of staff to justify their sexual urges," Han Hyo-gwan, an anti-gay activist, told local newspaper Kookmin Ilbo (link in Korean).
Most LGBT people in Korea choose to hide their sexual orientation in public, and only feel free to express themselves openly in selected areas such as the so-called Homo Hill in Itaewon, also the district where the US military base is located. There are also few openly gay public figures, the best-known being Hong Seok-cheon, an actor-comedian who was Korea's first openly gay celebrity. In 2014, director Kim Jho Gwang-su married his partner in a same-sex public ceremony in Seoul that was not recognized by the law. Such actions have raised visibility of sexual minorities, advancing the conversation on LGBT rights.