This article has been corrected.
The People's Bank of China made its first statement on Monday (link in Chinese) about China's worsening credit crunch, providing a few scant clues about what to expect amidst the chaos that has roiled China's financial markets for the past week.
"Currently, liquidity in our country's banking system is overall at a reasonable level," the PBoC said. It also took the opportunity to lecture banks about controlling liquidity risks and rapid expansion of credit. In other words: there will be no overt liquidity relief from the PBoC, and the credit crunch is here to stay. The statement may have been ambiguous—it did not mention the bank's presumed objective of cracking down on shadow banking—but the market's reaction was not. The Shanghai Composite Index fell by 5.29% as investors got increasingly worried about how the central bank's actions might spiral from a painful remedy into a full-blown crisis. The bad mood was further compounded by GDP downgrades from Goldman Sachs and China International Capital Corp. Here's a look at how the A shares fared in Shanghai.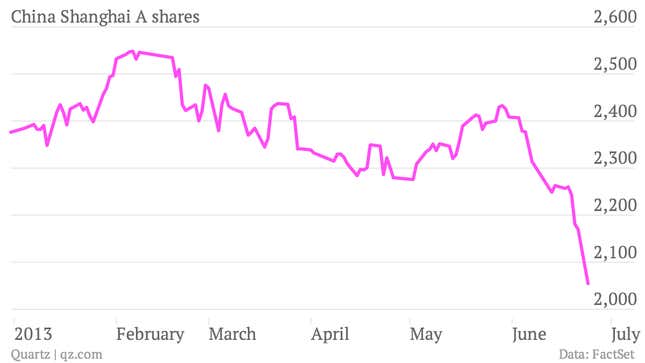 The PBoC is notoriously close-mouthed about its policy, letting markets do the guesswork. Backed by China's leaders, the PBoC can also intervene directly in the market, usually via a state-owned bank, unlike its more transparent Western counterparts.
But a lack of clarity in the PBoC's policies leaves investors without much certainty of what's to come, forcing them to read between the lines of state media editoriala, and leading to rumors about Chinese banks big and small that might need secret emergency funds, and generally triggering global market jitters.
"We don't know what the central bank thinks," a trader at a state-owned Chinese bank told Reuters. "Maybe some senior officials of our bank know, but we are trading blind." More often than not, blind traders are apt to follow the herd, so when Shanghai's indexes began to fall on Monday, they just kept plummeting.
Correction: An earlier version of this article stated that Shanghai markets were down over 6%, when the correct figure at closing was 5.29%