It was a bad sign when Maple took away the cookies.
From the start, Maple, a New York food delivery startup backed by famed restaurateur David Chang, had included a complimentary maple sugar cookie in every order. The "Sugar Shack" cookie was a sweet, chewy concoction, made specially for Maple by award-winning pastry chef Christina Tosi. But earlier this year customers were dismayed to find the company had replaced the cookie in their meals with a brochure bearing a glossy photo of one.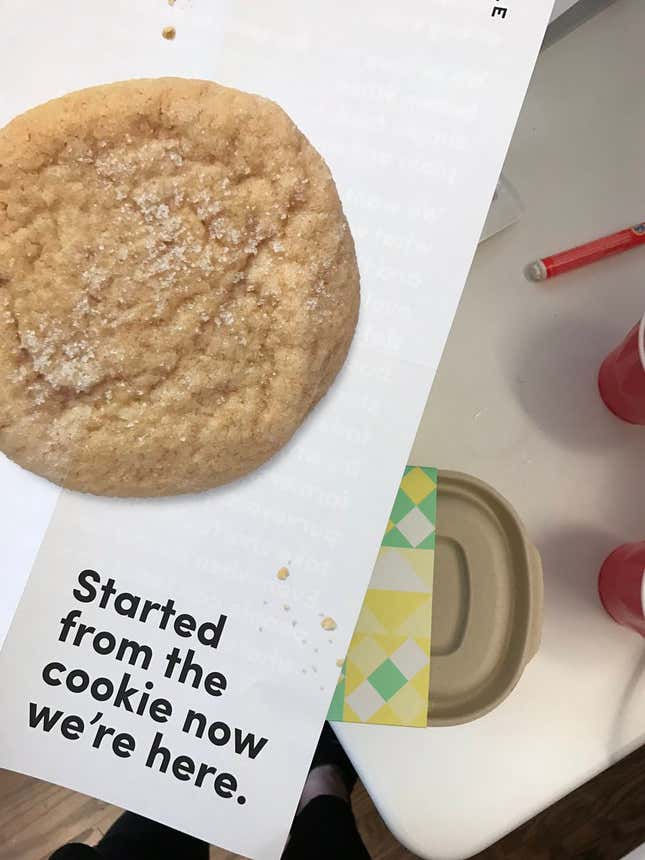 On the back of the brochure, Maple explained it was moving away from "all sorts of artificial things," in line with its mission to serve "good simple food." The maple sugar cookie was made with refined white and light brown sugar. But sugar was not the only problem.
Maple is a startup that prepares and delivers meals in New York. Gourmet menu items, free cookies, and the Chang affiliation quickly made it a cult favorite for office lunches. But in recent months the company has cut the cookies and quietly raised prices, adding a delivery fee and changing how it calculates sales tax. Maple secured its latest funding, an undisclosed round last year, at a much lower valuation than the raise preceding it, sources familiar with the matter told Quartz. It has about $10 million in debt and is not profitable on a per-order level, another person familiar with the company's finances said.
Today Maple said it is shutting down. "We're writing to let you know that as of today Maple will be ceasing operations in New York," the company said in a note on its website. In the brutal business of food delivery, it's far from the only one. Munchery, a San Francisco startup that cooks and delivers meals in a handful of US cities, has struggled with high food waste and losses that at times exceeded $5 million a month. The company has cut staff, replaced its CEO, and most recently stiffed early backers to stay afloat. SpoonRocket, another Bay Area startup that made and delivered meals, went out of business in March 2016.
Maple did not respond to multiple emails and phone calls for this story prior to announcing that it was closing. It said online that some members of its team will join Deliveroo, a UK-based food delivery company.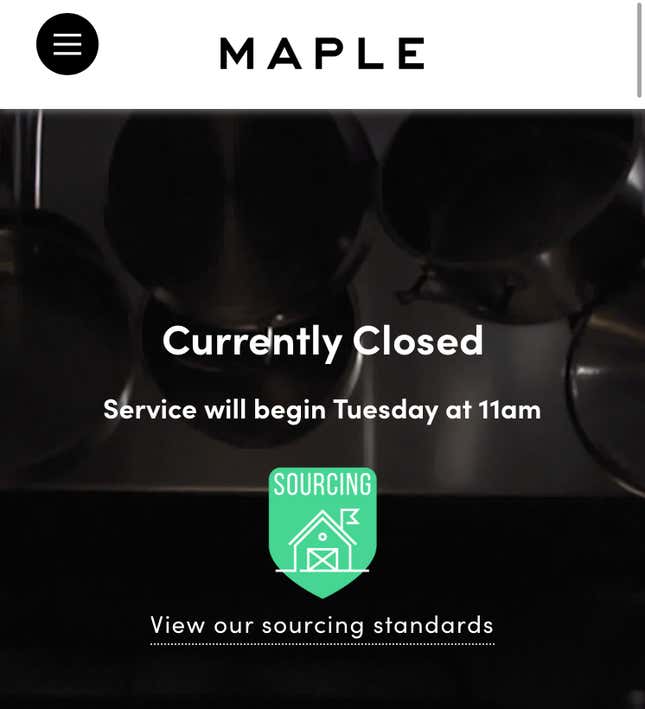 From March 2016 to March 2017, Maple's sales fell 41%, according to anonymized data from Second Measure, a research firm that analyzes billions of credit-card purchases from US consumers. Maple delivers Sunday through Friday but as of last night (May 7) a note on its website read, "currently closed." "Service will begin Tuesday at 11am," it added in smaller white text, and without further explanation.
Maple launched in April 2015, at the height of New York's food delivery boom. Unlike other startups that were vying for takeout orders with local stalwart Seamless, Maple decided to make and deliver its food. By overseeing everything from menu design to ingredient supply chains, co-founder and CEO Caleb Merkl believed Maple could create an "incredible" dining experience that was also a sustainable business. The company raised $4 million in seed funding in late 2014. Backing from Chang, the celebrity chef behind Momofuku, made it an instant food-tech darling, and Maple secured another $26 million early the next year.
Investors have poured money into startups that deliver prepared meals: $4.1 billion in 2015 and another $1 billion in 2016, according to data from venture-capital research firm CB Insights. They've pointed to big trends, like a slowdown in grocery store spending and consumer preferences for fresh, organic products, as evidence that food is ripe for disruption. Grocery stores and restaurants are both notorious for their thin margins, but Silicon Valley believes it can use technology to do food better and smarter. "You don't have to squint to find inefficiencies in the food industry," Simon Rothman, a partner at VC firm Greylock, said in an interview last summer.
In the beginning, Maple sold meals at prices that, in New York, were competitive with a casual restaurant. Lunches cost around $12 and dinners $15 to $17, including tax, tip, and delivery. "Our whole thing is balanced meals made from the best ingredients at an accessible price," Merkl said in an interview in March 2016. Maple's investors bet the company could sustain this by constructing a highly efficient supply chain. An early investor once marveled at how Maple sold such elaborate dishes (cider-glazed pork, duck confit with caramelized shallots, black peppercorn tofu) at relatively low prices.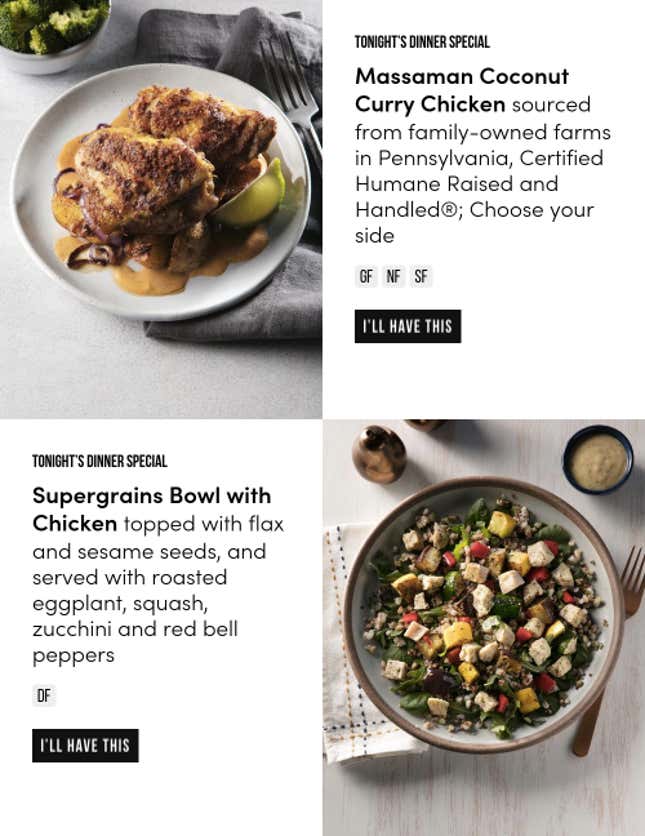 But Maple spent a lot of money on food. It bought grass-fed beef, antibiotic-free chicken, and sustainably sourced produce (the "organic" label alone was considered insufficient). It served more than 25 tons of Sugar Shack cookies. Executive chef Soa Davies asked for a fishing fleet. Maple imported all its olive oil.
"There was so much bad oil that was very, very pricey and then a lot of the origins of it was very, very murky," Davies said in the March 2016 interview. By going directly to the olive-oil producer and cutting out food packagers and other middlemen, she explained, Maple could get the quality it wanted at a lower price. "We're going to be able to serve an olive oil that most restaurants can only afford to use as a finishing oil, and that is going to be our baseline olive oil," she said.
Maple has never publicly disclosed its financial details but leaked documents obtained by Recode last December indicated the startup was doing poorly. It lost $9 million in 2015 and expected to lose another $16 million in 2016, on revenue of $2.7 million and $40 million, respectively. The 2016 forecast, made in a presentation to investors around that March, also assumed Maple would expand throughout the Northeast during the year. Maple, which launched in Manhattan's Financial District, told investors it would operate 17 Northeast hubs and deliver 3.1 million meals in the region in 2016, for $40 million in gross revenue. As of this month, Maple had yet to expand its service beyond Manhattan neighborhoods south of 59th Street.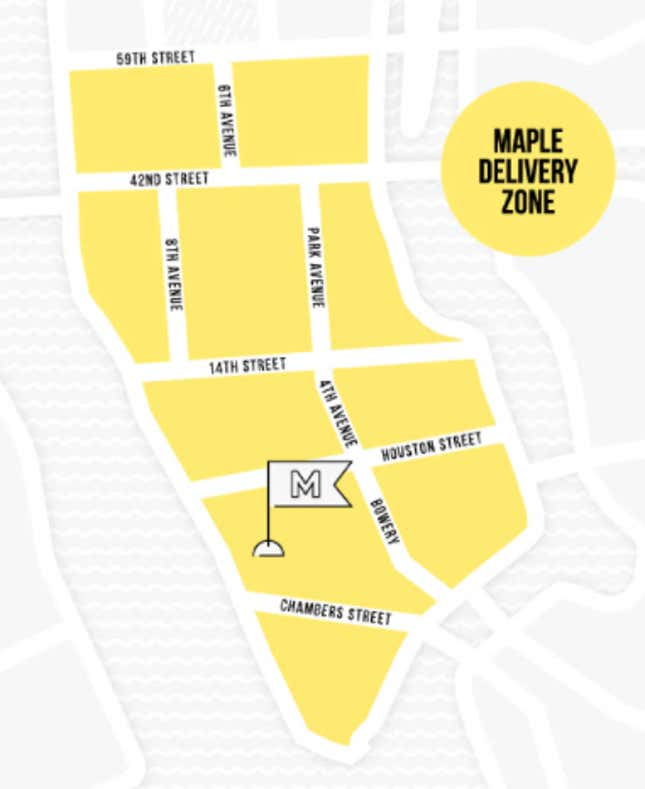 The bulk of those losses came from food and labor. In 2015, Maple's food costs slightly exceeded 60% of gross revenue, according to the documents obtained by Recode. "Hub level" labor costs were 66% of gross revenue. The typical restaurant aims to spend 60% of revenue on food and labor costs combined, according to industry research firm Technomic.
Unlike many restaurants that pay a tipped minimum wage, or food delivery startups that hire workers as independent contractors to avoid providing benefits or a guaranteed minimum wage, Maple tried to treat its couriers well. It hired them as employees and paid $12 to $14 an hour, plus a flat bonus on each delivery. It also offered health care.
"Part of what made it really challenging and really one of the things we ran into that was difficult was it's a very competitive industry, and frankly people in the industry treat the workers like shit," a person familiar with Maple's business told Quartz. "They tried to structure what should have been a food group as a tech company," the person added. "It's a different kind of business than a lot of these people are used to investing in."
In May 2016 Chang launched a direct competitor to Maple, Ando. Late last year, Maple added a $1.95 delivery fee to each order. It also stopped including sales tax in its pricing. Officially, menu prices didn't change, but orders that once cost a flat $11 or $12 began to ring up closer to $14 or $15. By then sales had trended lower steadily for almost nine months, according to data from Second Measure.
Venture-capital funding to food delivery startups had also dried up. Investors gave $1 billion to startups that deliver prepared meals in all of 2016; the year before, they awarded $1.5 billion in the fourth quarter alone.
At Maple, the free sugar cookies disappeared soon after.