Donald Trump had what he called a "very, very good" meeting with Russian foreign minister Sergei Lavrov at the White House yesterday (May 10). So good, that no US reporter was allowed in the room to witness it. Instead, all photos we have of the meeting were taken by official photographers of the Russian government.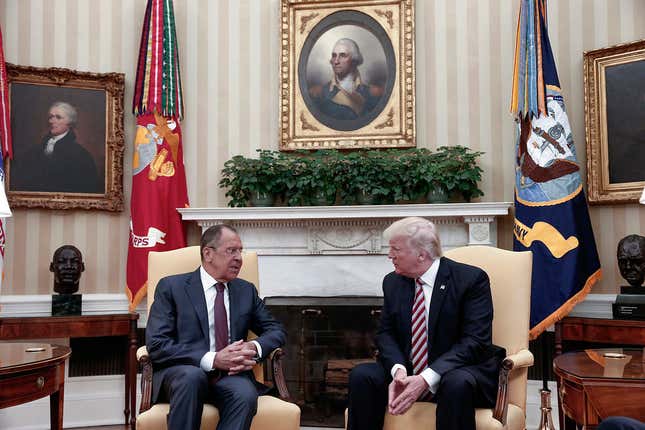 Photos of Trump and Lavrov in the Oval Office released on major newswires, including the Associated Press, Getty Images, and the European Press Agency, are official handouts from the Russian foreign ministry and Russia's state news agency TASS. (With the exception of Reuters, which did not syndicate photos from the event at all.)
None of the US White House correspondents was invited. The meeting was scheduled for 10:30am, as it appears on the White House's daily press schedule. According to a press pool report, press pool reporters were to have a photo call with Lavrov, but when they were ushered into the Oval Office, "Trump was instead seated beside former Secretary of State Henry Kissinger." The meeting with one of the US's most famous diplomats was not stated on the schedule.
In response to questions about why no member of the press corps was invited to the Trump-Lavrov photo-op, a White House spokesperson simply states that official photographers from both countries were present.
As a result, the US public is now seeing photos of its own president released by the Russian government.
It is not the first time Trump has shied away from the eyes of American reporters. Shortly after the election in November 2016, Trump, his daughter Ivanka, and son-in-law Jared Kushner met with Japanese prime minister Shinzo Abe in their New York Trump Tower residence, and the only images ever released were by Japan's foreign ministry.
Trump just fired FBI director James Comey in the middle of an investigation on Russian influence of the 2016 election results. He is facing bipartisan criticism for the firing, scrambling to find a strategy to field the media, and hearing calls for the appointment of a special prosecutor. Citing an unnamed Trump advisor, Politico reports that the US president would "sometimes scream at television clips about the [Russian] probe."
Perhaps Trump wanted to shield his Russian guest from American reporters' impolite questions.