In 2015, Amazon introduced the Alexa Fund, a $100 million pool of money for startups and companies interested in or actively developing technology and hardware that uses Alexa, its digital voice assistant in its Echo speakers and Fire products. The retail giant has invested in a range of companies since then, including Nucleus, a startup producing an Alexa-powered video intercom system. Amazon invested $5.6 million in Nucleus, leading the company's Series A funding round in August 2016.
In the intervening months, Amazon did what many venture-capital firms would do after investing in a fledgling startup. The company gave Nucleus advice on marketing the product, listed its product on Amazon's website, and worked with its developers to show them how to best implement the Alexa voice technology. Nucleus' product sold out within a day of launching on Amazon's site. Nucleus' relationship with Amazon had been, according to CEO Johnathan Frankel, with whom Quartz spoke, excellent—up until two days ago.
Two days ago (Tuesday, May 9), Amazon unveiled the Echo Show, a new version of its speaker that included a 7-inch touchscreen and a camera. Beyond all the usual Echo-related functions, the new Show also allows owners to easily make and receive video calls to anyone else with a Show, and voice calls to any Echo owner. It was, for all intents and purposes, a product nearly identical to the one it had invested in with Nucleus.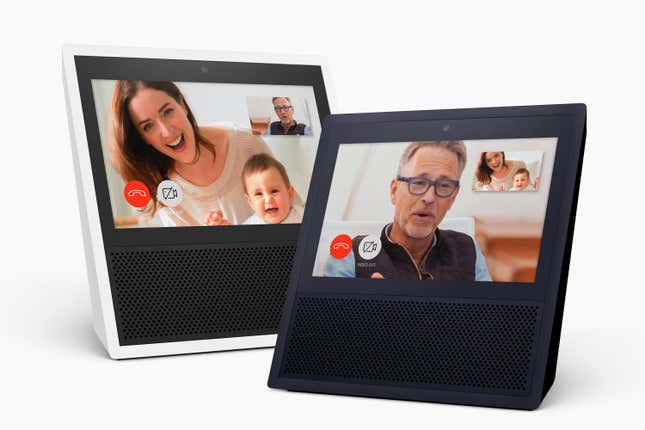 Frankel started working on Nucleus three years ago. He wanted an intercom device that would allow him to talk to both family in his house, and extended family around the world. He and his team launched the product in August, the same week Amazon signed on as investors.
"In the months leading up to that, we had a really close, working relationship with Amazon, to make sure the product was in good shape to launch," Frankel said. The team at Amazon wanted to insure that the product Frankel was creating would be reflective of the kind of Alexa products that they wanted in the market, he added. That relationship continued throughout the next few months, and that's why Tuesday's announcement was "a bit of a gut punch," Frankel said.
In February, Nucleus launched the first Alexa skill (Amazon's name for the programs developers create for Alexa) adding a function for one device to communicating to another through Alexa.  Three months later, along with the launch of the Show, Amazon also revamped its companion Alexa app, with every Echo user having to set up the new messaging functionality of the app when they first opened the app after installing the new version.
Although he said that Amazon had been upfront with him about its plans to eventually build an Echo with a screen, it never revealed that the focus of the device would be specifically around communication.  Previous iterations of the Echo had been around streaming content.
"Everyone is saying that I'm furious or mad, but I'm actually none of those—the fact is, I feel sad," Frankel said. "We had a close relationship with a lot of the team there. Many of them helped us very genuinely—I think this decision came from on high."
"And that's the crazy part," Frankel continued, "they were actually very good partners up until a few days ago, they were very helpful." He said that he regularly had meetings with many parts of Amazon's business—investors in the Alexa Fund, retail specialists for Amazon.com, employees at Launchpad (the division of Amazon tasked with surfacing new hardware from startups to sell on its website), Amazon's marketing team and the Alexa engineering team. Frankel's team was taken to meals and dinners by Amazon.
Frankel also had strong personal relationship with members of the Alexa team. They regularly asked how his family was, and vice versa. Amazon even featured Nucleus in a few of the weekly emails it sends out to all Echo owners, with links to buy its system. "It's one thing if they'd been jerks and bad people all along, but they weren't," Frankel said. "They're good people."
Amazon provided the following statement to Quartz on its relationship with Nucleus and others it's invested in:
We've been working on Echo Show and Alexa calling and messaging for a long time.  Work on both was already well underway before we had our first discussion with Nucleus and was not influenced by those discussions. Before partnering with Nucleus and making any investment, we shared very early on our long-planned direction and roadmap. Amazon and Nucleus shared a vision for how the Alexa service can connect family members and friends regardless of the device customers choose for their home.

We maintain that vision today, and our AVS [Alexa Voice Services] partners are important to us. We do not intend to sell every Alexa endpoint, and we want our partners to be successful. We are working hard to bring all Alexa capabilities, including calling and messaging, to AVS devices including those from Nucleus. We think Nucleus devices can be great endpoints for Alexa communications.
Regardless, the optics of releasing a product so similar to one Amazon invested in nine months' prior are at the very least awkward. "I understand it—communication is the killer app," Frankel said. "The smart home has not taken off as much as people said it would a couple years ago, but communication is a thing you do multiple times a day."
What's not clear is why Amazon if it had such a long-term roadmap didn't just acquire Nucleus, instead of spending over $5 million to invest in a product it was eventually just going to clone. It could've avoided the tension with Nucleus, and any negative effects it may have on those considering partnering with Amazon in the future. "[Amazon] must have a reason why they'd rather take this hit to their ecosystem than do something like an acquisition, but I don't know what that is," Frankel said. Amazon did not immediately respond when asked specifically about this.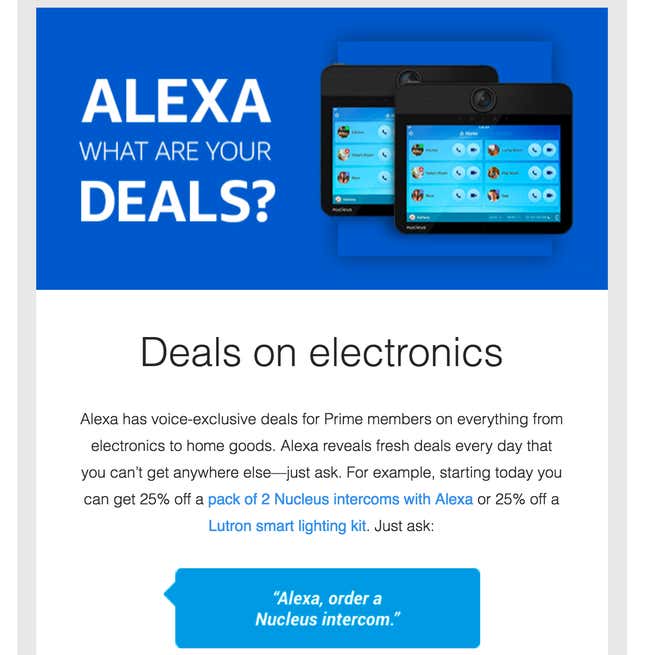 Frankel said that Nucleus will still continue to sell its product on Amazon for now (it also sells on Lowe's website). He maintains that Nucleus has a better product in some ways (it has a wide-angle camera, and a better video-calling experience), though that may mean little when trying to compete with Amazon's marketing budget. But the long-term prospects for the company may now be unclear.
Frankel said that he hopes his experience with Amazon will provide a "cautionary tale" for other startups hoping to build a business atop the behemoth's technology.