Alexa gets a face.
Just weeks after giving the Echo eyes, Amazon has returned with a new device that combines the wireless-speaker technology that has made the Echo a hit with a touchscreen tablet. The new device, the Echo Show, bluntly states on its website: "Now Alexa can show you things."
The Show is essentially a tablet without any physical inputs. You can ask Alexa—Amazon's voice assistant—to do all the same stuff as on previous Echo models, such as stream songs from Spotify, tell you the weather, or turn on your smart-home devices. But on the Show, you'll now have context, and the ability to actually see what Alexa is telling you to make sure it's correct.
This could be confirming a purchase of something you've asked Alexa to buy, or in the case of new services like being able to watch videos, it could be confirming which video you want to watch. You can watch videos from Amazon Prime Video or YouTube, and check on feeds of internet-connected baby monitors or cameras. The Show can also display things like song lyrics as it streams music, stock prices, or weather forecasts—pretty much everything you'd expect a low-end tablet to be able to handle.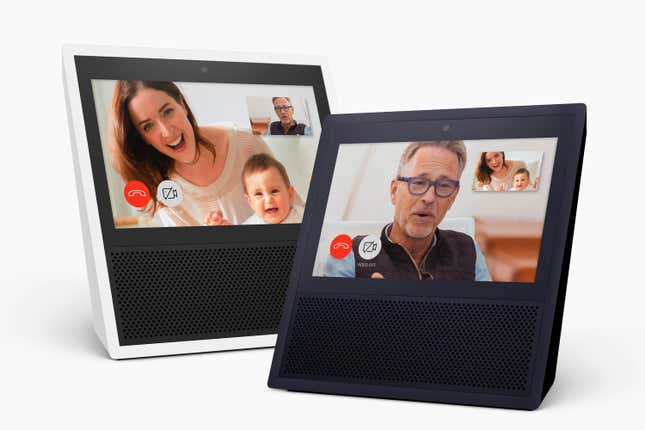 The new Echo also has a small camera to make video calls. If you have a Show in the kitchen, for example, and you're washing dishes, you could ask Alexa to call your parents, and they can either answer through the Alexa app, or their own Show—assuming they have one, and that they want to talk to you.
The Show, which will ship in the US for $230 on June 28, will likely fill in some useful gaps in what the Echo and Echo Dot currently offer by adding in a touchscreen. But it seems that the real driver behind a device like this is to create a perfect funnel through which Amazon can sell you just about every service it offers.
You can order more products more easily through a touchscreen than you can talking to a tall cylinder with no screen. And Amazon makes its money from selling you products. You also can watch Amazon video content wherever you decide to plop a Show. And the promise of free video calls that are easy to place could definitely be an added benefit as Amazon tries to lock users into its ecosystem.
In a world of sleek gadgets like the Nest thermostat, or the iPhone, Amazon's 7-inch-wide box does not look like a product from 2017. It has sharp edges and grilles that one might've found on an old Sony CRT television. Then again, the original Echo—which bares more than a passing resemblance to a Detroit skyscraper—isn't exactly a looker, either.
Perhaps people will be more than willing to replace the old television they have tucked into the corner of a counter in the kitchen with something that is far more useful, and just happens to also look like one.