As US president Donald Trump had hoped, coal production in the US is on the rise. By April, the country had mined 17% more coal than a year ago. Despite this rise, the number of coal jobs continues to fall thanks to automation.
Coal is the dirtiest fossil fuel. With the shale gas boom, the US really does not need to mine any more of it. Still, Trump's attempts to add more greenhouse gases to the atmosphere will easily be countered by what's happening across the Pacific. China has just announced that it will suspend building new coal power plants in 29 out 32 provinces, according to a state-owned newspaper. This news comes only months after China announced it was canceling more than 100 new coal power plants.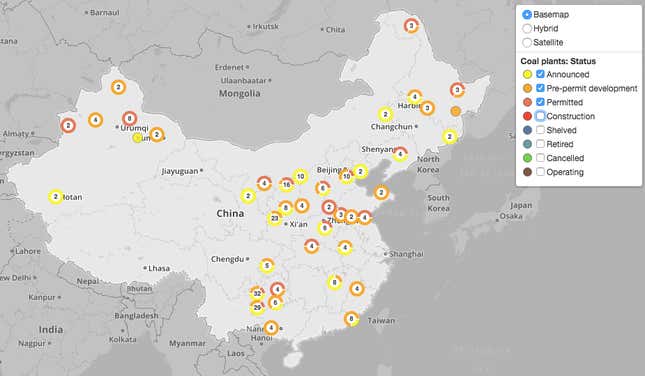 To be sure, China is not doing this for the environment. It's true that reducing the number of coal power plants will likely help reduce China's emissions in the long-term. But the real reason behind these cancellations is that the country has too much power capacity. Its fossil-fuel power plants can produce more than 1,000 GW of electricity (which is 25% more than what US fossil-fuel power plants can produce), but they run for less than half the time. And the average utilization rate for thermal power plants, according to the Chinese government's own figures, fell 4.6% compared to last year.
At the same time, the world's biggest emitter is also the world's biggest investor in renewable energy. That means the utilization rate of fossil-fuel power plants is likely to keep falling, which means China will continue to consume less coal. Additionally, on Thursday (May 11), the US announced a new trade deal with China, which would allow Chinese companies to purchase liquefied natural gas directly from American producers. The purchased gas, a less polluting fossil fuel, will increasingly replace coal.
As a proportion of China's energy mix, coal stood at 62% in 2016, down from its peak of 75% in 1978. All these trends will ensure that coal's contribution will keep falling.
Even if coal use isn't on the decline for environmental reasons, the downward trend still gives China a chance to boast about its climate actions. As the US dithers on its commitments to the Paris climate agreement, China will use every excuse possible to assert itself as the new leader of the climate movement.