It's a familiar story for students or businessmen on their first-ever visit to China. After rounds of beer and baijiu with potential clients, or a karaoke gathering through a university exchange program, the foreigner will ask the Chinese person sitting next to her for his email address.
The Chinese person will smile blankly, somewhat confused. He'll offer her a phone number, along with a WeChat account. But the visitor doesn't use WeChat, the messaging tool from tech giant Tencent that is China's dominant mode of communication. Her Chinese friend doesn't use Facebook, her main way of staying touch. Email's a good compromise, she'll insist.
The Chinese person will take a few seconds to remember his email address. He'll then scribble down a jumble of numbers, maybe with a single letter— q689847037@163.net. The foreigner will be puzzled as to why this person has such a strange email account name. And she'll also be puzzled when emails to her new acquaintance go unreplied.
In many parts of the world, email remains deathless—a relic of the desktop-era internet, before mobile and social media were on the landscape. It's a convention: You can't not have an email address.
In China however, email never reached the ubiquity it has in other countries. Most Chinese consumers, if they have an email address, seldom use it. Chat, instead, remains the preferred method of communication–between friends, families, colleagues, business partners, and even strangers.
When asked why, most Chinese or expats will simply point to WeChat. With nearly 900 million monthly users, it's the chat app of choice in China, where it also maintains a chokehold on online publishing and mobile payments.
But WeChat's present-day popularity only tells part of the story. Several factors dating back to the early 2000s caused chat, not email, to become the default language of China's internet—and Tencent won big by foreseeing that.

China's internet cafes
In the US and other parts of the world, as the web was just emerging into mainstream use in the late 1990s, PCs were relatively abundant. In 1999 there were 50.5 computers for every 100 people, according to the World Bank. Most first-time internet users were working adults or college students about to join the work world. Email became a primary mode of communication in the office. And as desktop PCs began to move from the office to households and schools, parents and teachers were well-placed to teach younger people how to use the internet. Step one: set up an email account.
In China, however, the situation was much different—there were only 1.2 computers per 100 people. Outside of China's major cities, most ordinary households did not own a computer, much less one connected to the internet. In crowded dormitories, there wasn't much space for students to cram in a desktop PC. And China's white-collar population was far smaller proportionally than that of the US, giving office culture less sway over the broader internet culture.

Internet cafes emerged throughout the 2000s to provide PCs for people who couldn't own one themselves—and a cheap place to have fun. Fritz Demopoulos, a Los Angeles-born entrepreneur who co-founded Chinese travel site Qunar in 2005, describes China in that decade as an "under-entertained economy."
"There weren't a lot of movie theaters, not many karaoke bars, not many bowling alleys," he says. Internet cafes "were one of the few ways for Chinese people to entertain themselves." PCs and the internet became a youth phenomenon in China—according to Pew Research, in 2007, 70% of China's internet users were under the age of thirty.
Many internet cafe owners lured in young customers with video games. But chat was also a perfect application for China's internet cafe dwellers. Users could waste away hours talking with friends, or make new ones online. Email wasn't as instant—since they weren't using their own computers, users weren't sure when they might be able to check in and reply. SMS was expensive by comparison, especially when sending messages across different provinces.

Most users were chatting on a desktop PC program called QQ, created by Tencent—now one of the top 10 most valuable companies on earth. Launched in 1999, QQ grew to have over 355 million registered users by the time Tencent had its IPO in June 2004 (.pdf). (Tencent declined an interview request for this story.)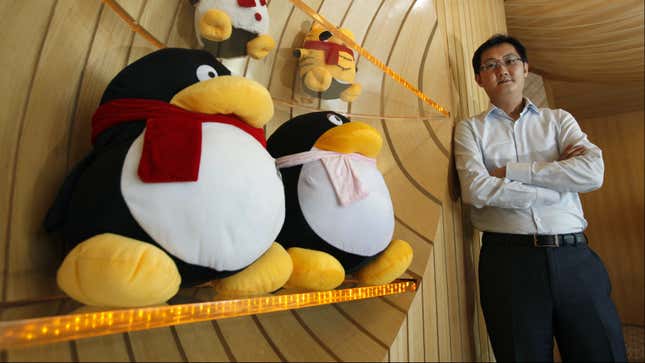 Tencent built QQ to appeal to young Chinese hanging out in rickety internet cafes. It took up very little space, ensuring that it could be downloaded quickly in the days of the dial-up internet. It stored user data on the server side, which meant people could use it on any computer without losing their chat history. It let users choose avatars and share funny emoticons. It was also tied to QZone, one of China's earliest social networks, similar to Xanga or LiveJournal. It offered games, music, and even QQ Pet, a Tamagotchi-esque virtual pet. All of these were just clicks away from the friends in one's QQ's contact list. 
But another factor helped drive QQ's popularity. When Tencent was founded, it was the only Chinese company to bet big on chat at all.
According to Sherman So, author of Red Wired: China's Internet Revolution, in the late 90s the most hallowed internet company in the world was Yahoo!. It had its IPO in 1996 and climbed to a market value of over $100 billion in 1999, all driven by advertising sales. Neither ICQ (later AIM), Yahoo! Messenger, or MSN Messenger brought any significant revenue to their parent companies. Other major Chinese internet companies like Sina, Sohu, and Netease followed the money and imitated Yahoo's advertising-driven portal model. "From the investors' point of view, they didn't see a good exit plan in chat," So tells Quartz.
Tencent built QQ intending to sell it, much as ICQ sold to AOL. But by the time QQ became popular, the dot-com bubble had burst, and wallets were tighter. No one wanted to buy a desktop chat app that had no obvious path to profitability.
Meanwhile QQ was enjoying a strong "network effect"—people kept joining because that's where other people were—with almost no competition. By mid-2001, in the aftermath of the dot-com bubble, QQ had racked up 100 million registered users and was adding 500,000 new ones daily, according to author Wu Xiaobo's authorized history of the company. The QQ account became the "first step" to using China's internet, the online alias that you can't not have.
While Tencent and other Chinese internet companies offered their own email services, email still had to compete fiercely with chat for attention. As the network spread, businesses started opening their own QQ accounts. So says that even corporate professionals in big cities would often list a QQ number along with an email address on their business card. "Some people just used the QQ and forgot about the email part of it," she says.
These early habits made China well-poised to leapfrog email entirely once smartphones emerged. Data from the state-backed think-tank China Internet Network Information Center (CNNIC) shows the rise in China's internet penetration correlates almost perfectly (link in Chinese, .pdf) with mobile phone adoption, and that most connectivity originates on the phone.

The advantages to chatting on the phone, of course, are numerous. You can reply to a message from anywhere, not just your desk. When Tencent launched WeChat in 2011 (ironically, with help from its former email team), it took the country by storm, giving it a second win for chat in China. Anyone without an email address would have little need for one.
Cross-border culture
Globalization and the emergence of its own startup culture have seen China's internet culture align more closely with global internet culture in recent years. Chinese student enrollment at overseas universities has surged. Startups inside and outside China are recruiting employees from all parts of the world, and serving customers in different countries. 
Amid this new climate, China's reluctance to embrace old-fashioned email persists. This even applies to the office—email's primary holdout in the US.
Some argue that email is simply less compatible with Chinese culture than chat, particularly in the workplace. Thomas Luo, founder of PingWest, a Chinese tech blog with writers in China and the US, says that sending emails in China feels similar to sending money to a bank account. To him, email doesn't merge easily with China's business culture, which tends to be informal and fast-paced. These qualities, he argues, are better suited to chat software.
"In China, email is strongly connected with MOUs [memorandums of understanding] and contracts. This sort of thing is strongly respected in West, but in China we tend to prefer to agreements orally," he says.
Jenkin Xia, a marketing manager at a startup with staff in Santa Clara and Beijing, says email is more widely used among the US staff, while the Chinese staff prefers to use WeChat.
"I definitely see US employees use email for almost everything—checking progress with just one or two sentences, sharing article URLs, or even sending cultural references to jokes we just talked about," she says. "The Chinese team uses email to send bilingual company-wide announcements or product updates, but for sure they check progress either offline or on WeChat." 
Meanwhile, startups in the United States continue to promise to "kill email." Few have succeeded. Some might come close. If and when email dies, the global internet will simply look a little more like China's.