Slack is on the road to Silicon Valley glory. Its chat application is now used by more than 4 million people at thousands of companies, and the startup was valued at $3.8 billion in April. CEO Stewart Butterfield has set his sights high on the enormous enterprise market, which could firmly embed Slack as a key platform in the next decade of work. 
But there's a problem. Slack, which allows teams to chat in real time, share attachments, get notifications, make calls, and integrate work applications, has positioned itself as a replacement for email, and so finds itself in the same territory that ultimately made email a tyrannical force: information overload.
Messaging is core to Slack's experience, and there are a lot of messages, particularly as group sizes grow beyond Slack's original sweet spot of a few dozen people. To combat that chatter, Slack says many users have requested a way to peel off conversations from a channel, the way a small group might step outside to sidebar before returning to the central conversation. Developing that feature has taken Slack two years, says product lead April Underwood, but threaded messaging is finally arriving on Jan. 18.
"It was non-trivial and non-obvious to get it right," Underwood said at a product preview. "We already feel if you would take it away, it would make work harder here at Slack."
Slack tested the feature internally for months. The key challenge was balancing open access to conversations— "avoiding FOMO," Slack says—and allowing conversations to branch off without involving everyone in a channel. The company ultimately decided to house threads in a side panel; they're accessible by anyone, but don't intrude on the main channel. Users start threads work by hovering over a message and clicking the "start a thread" option.
The conversation in the thread works much like Slack's normal interactions, but only participants who join threaded conversations receive notifications on them. 

When the side-conversation concludes, participants can flag it to the main group by clicking the "send to [channel name]" option. Slack automatically displays the first and last post in the thread, to give users in the main channel an overview.
Slack has also added an "All Threads" view, allowing users to keep track of multiple side conversations.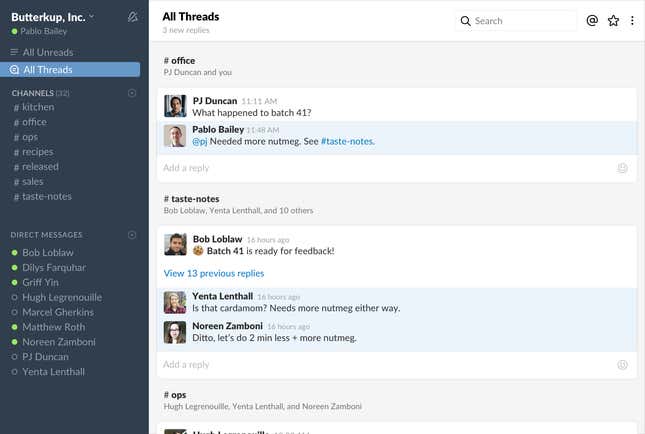 "It's incredibly important, as as we see more business of every size using Slack, to enable new use cases that would have require a direct message or new channel," Underwood said.
The development comes as Slack faces a host of competitors. Facebook's Workplace for businesses, including its enterprise Messenger app Work Chat, launched last year, as did Microsoft Teams in Office 365. Open-source options like Mattermost already offer features such as threads. Whoever wins the race for workplace productivity stands to command some of the most valuable workplace real estate.