Two days ago, American newspaper front pages and TV news shows were devoted to the explosive New York Times report that US president Donald Trump had sought to shut down an FBI investigation into his former national security adviser, Michael Flynn. Except for one—Fox News, the preferred cable news network for much of the country, which ignored the report and instead peddled grotesque conspiracy theories about a slain Democratic party staffer.
This is the legacy Roger Ailes leaves behind. The former Fox News CEO, who died today at 77 according to his family, built the network into one of the world's most influential media entities. But in the process he helped create a country so divided that, for a large fraction of it, one of the year's biggest political developments might as well not even have existed.
Ailes, a media consultant who worked for three Republican presidents, first got the idea for a pro-Republican TV outlet when he was consulting for president Richard Nixon in 1970. It wasn't until 1996 that he launched Fox News, in the midst of the Clinton administration.
Appealing to a wide swath of conservative voters who believed they were being marginalized by the establishment, liberal media, Fox looked a lot like the cable news that Americans were used to. But it was decidedly a different animal. By infusing glitzy TV showmanship and aggressive editorial judgment into coverage of American politics, Ailes grew Fox News into an unstoppable force, routinely topping cable news ratings. Some have called him a genius for tapping into that estranged block of the American electorate.
Over two decades, Ailes shaped Fox News in his image. He abandoned industry norms of objectivity and politeness. Instead of covering the day's biggest stories, he often tried to generate the next day's biggest news instead. Despite its motto, "Fair and Balanced," Fox News catered only to conservatives. According to Pew Research, the network skews more ideological than its two main competitors, CNN and MSNBC, and its overall audience is almost twice as conservative.
Unlike other American media outlets, Fox News made no attempt to debunk the fraudulent claims (propagated by Trump) that Barack Obama was not an American citizen. When the US Congress was trying to pass the Affordable Care Act, otherwise known as Obamacare, various Fox News personalities wildly misinformed their viewers about the impact of the bill. In March, Fox News commentator Andrew Napolitano claimed, without evidence, that Barack Obama had wiretapped Trump during the 2016 presidential election. Fox's pundits have promoted political inaccuracies—on issues including gun violence, taxes, and immigration—and rarely, if ever, bother to correct the record.
Without Fox News, there would very likely be no Tea Party. There might not be a president Trump. George W. Bush probably would not have won the state of Florida in the 2000 presidential election, and thus wouldn't have been president either. Fox News has had an undeniable, material influence on the American democratic process.
Ailes was ousted from Fox last year following a series of sexual harassment allegations. At the time, some media experts surmised his exit might shift the staunchly conservative network "toward the middle" of the political spectrum. But Ailes' influence ran too deep. If anything, Fox News has moved even further to the right.
So it is that 21 years after its founding, what was intended to be an anti-establishment media outlet is now much closer to a state broadcaster.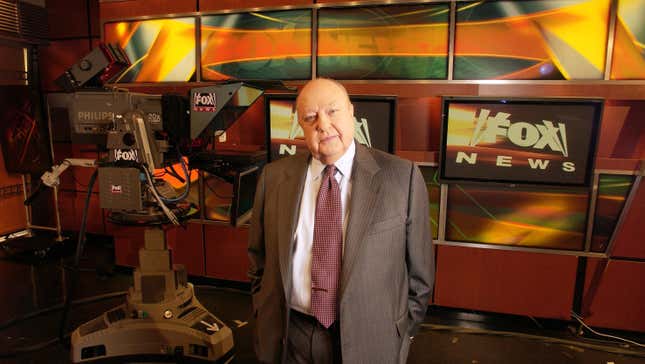 President Trump watches Fox News and regurgitates its talking points many mornings. He enlisted the help of Ailes to prepare for last year's presidential debates, and there were even murmurings that the two would start a new cable network together if Trump were to lose the election. (While no more than rumor, those reports show just how important Ailes was as a political kingmaker in Republican circles.)
Since the start of Trump's administration, CNN and MSNBC have reported on revelation after revelation related to his election campaign's possible connections to Russia. Fox News, by contrast, has bloviated on old, debunked stories about the Clinton Foundation. When the network finally addressed the news that James Comey, the ousted FBI director, had written memos of his meetings with Trump, detailing the president's request to shut the Flynn investigation down, it was not to dig deeper on the story, but rather to delegitimize it.
Network personality Jesse Waters, grinning into the camera, called it a "boring scandal." An hour later, Sean Hannity, the network's chief anchor and an Ailes loyalist, called the Washington Post "radical left-wing ideologues" and argued that there was an organized group of "Trump haters" concocting fake news in order to bring down the president.
Wild, unverified, intentionally controversial claims such as Hannity's have been the signature of Fox under Roger Ailes for 20 years. And it has worked; Fox has not only thrived off of the country's divisive politics, becoming the most-watched American cable news network, but has also encouraged it. A divided America is good for business. And not just Fox's business; some left-wing media have copied its model of partisanship, and MSNBC's Rachel Maddow, a harsh Trump critic, has begun challenging the network's primacy at primetime.
But there are chinks in the armor. Under Ailes, the network's audience has become very old and is showing no signs of getting younger. Its decision to mostly disregard the gravity of the Comey revelations appears to have hurt its ratings in the past week, as Americans—even, perhaps, loyal Fox News viewers—have had to turn to CNN and MSNBC to learn the latest on Comey. Online, it now competes with a plethora of other conservative websites, some of which took the Fox playbook and cranked it up a notch (or three) to become more even hard-line. Finally, the network, like many others, has yet to adapt to the changing TV landscape, and the reality that Americans are increasingly abandoning cable television altogether in favor of internet streaming.
These are hurdles that Ailes seemed ill-equipped to handle. As a network executive and political kingmaker, his ability to tap into what he perceived to be an underserved, eager pocket of the American people and turn their curiosity into unyielding loyalty is unmatched by his contemporaries. But the same acerbity with which he made Fox News risks causing its downfall, if the protégés he leaves behind allow the engine to go on unattended.