The Svalbard Global Seed Vault in the remote Arctic is meant to be a "fail-safe" backstop against doomsday scenarios that could kill off humanity's food supply. Located on an island between Norway and the North Pole, and lodged inside a mountain, the vault was designed to withstand major disasters, "natural or man-made," and "stand the test of time," according to its website.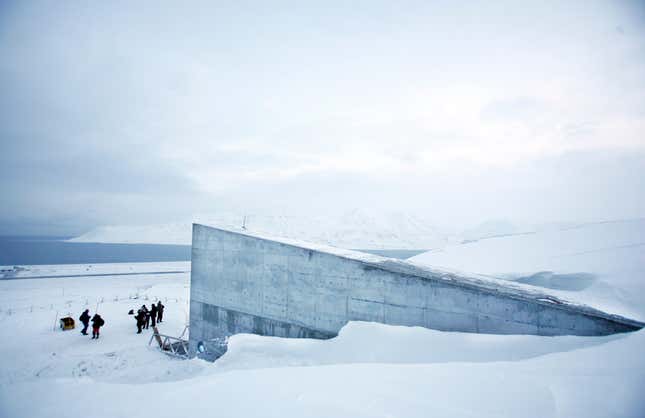 But as with much of the land above the Arctic circle, the mountain containing the vault—and all the land around it—is made of permafrost, the thick layer of compounded plants and animal bones that has been frozen since the last ice age. When ice and snow melts in the Arctic during summer, permafrost—theoretically "permanent"—does not. At least it did not, historically. But thanks to climate change, the permafrost now is thawing, releasing greenhouse gases while causing the land to subside and pools of meltwater to form on the surface. The people behind the seed vault's perspective were not prepared for that when they built it in 2008. Scientists at the time were just beginning to understand what a threat global warming posed to the frozen layer.
"It was not in our plans to think that the permafrost would not be there and that it would experience extreme weather like that," Hege Njaa Aschim, a spokeswoman for the Norwegian government agency which manages the vault, told the Guardian.
Water flooded into the entrance tunnel to the vault after the unusual season, the Guardian reported Friday (May 19).Thankfully, the water froze before it reached the seed storage areas (to preserve their viability, seeds are stored at -18 Celsius, or just below 0 degrees Fahrenheit). "[I]t was like a glacier when you went in," Aschim said.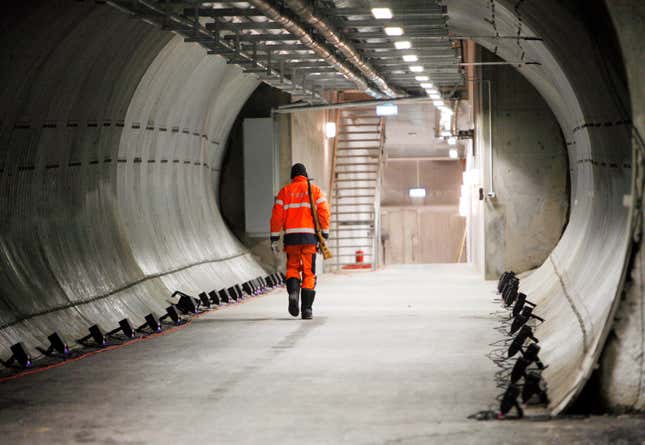 The Arctic experienced a preposterously warm winter last season, and the permafrost, which has been thawing in recent years, suddenly began melting at an alarming rate. The region near the seed vault experienced heavy rain when it should have been snowing. The resulting breach at Svalbard is making experts question the "fail-safe" nature of the vault.
"It was supposed to [operate] without the help of humans, but now we are watching the seed vault 24 hours a day," Aschim said. "We must see what we can do to minimize all the risks and make sure the seed bank can take care of itself."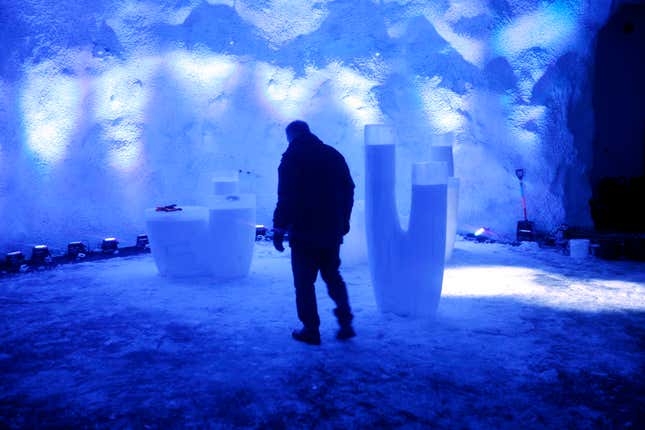 There are plenty of other seed vaults (or "banks") elsewhere in the world that hold seeds of regional value. But Svalbard is meant to be the mothership, holding duplicates of tens of thousands of types of food crops like rice, wheat, and beans from across the globe—in a structure far from local threats, like war, or power failure, or fire, and impervious to nuclear fallout or earthquakes.
Now, Aschim and her colleagues are left wondering if the extremely warm winter and major thaw event seen this year was a fluke, or if it's a sign of things to come.
"The question is whether this is just happening now, or will it escalate?"