The fight over the US government's definitions for certain foods has flared up again. It's no longer just a fight for milk farmers, who've grown increasingly angry about plant-based food companies (think soy, almond, and cashews) calling their liquid products "milk."
For the first time, vegetables are being roped into the debate—all because of the arrival and popularization of "cauliflower rice."
"Only rice is rice, and calling 'riced vegetables' 'rice,' is misleading and confusing to consumers," Betsy Ward, president of industry lobby USA Rice, said in a statement earlier this month. "We may be asking the Food and Drug Administration and other regulatory agencies to look at this." Ward added that Scott Gottlieb, the new Trump-appointed FDA commissioner, could use his power to enforce the agency's existing definitions for food, the so-called "standards of identity."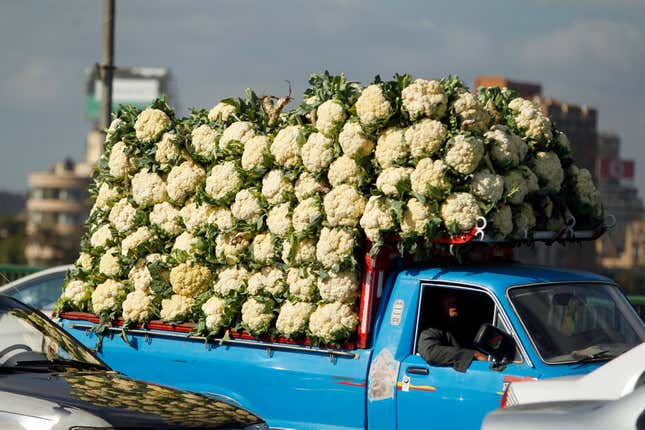 Only recently did cauliflower rice appear in the freezer section of the grocery store—and in close proximity to frozen rice and vegetable packages, Michael Klein, a spokesman for the rice lobby, told Quartz. Klein adds that one company, Green Giant Fresh, used a "Move over, rice" marketing campaign.
But the cauliflower side isn't worried. "Using the FDA to combat merchandising efforts? That's a story they're telling their retail partners," said Gina Nucci of the California-based produce company, Mann Packing, which sells cauliflower products. "Every section of the grocery store is fighting for the same food dollar. Same share of stomach. Consumers are smart. I don't think anyone is going to mistake regular rice for a riced cauliflower product, frozen or fresh."
She says consumers are on the lookout for rice alternatives because there's a demand for ready-to-eat products that take less time to prepare than whole-head cauliflower rice.
Still, this isn't a clean case for the rice lobby, which now finds itself  in the unenviable position of appearing to speak out of both sides of its mouth. While the industry group frets over shredded cauliflower, some of its members benefit from relaxed enforcement of standards of identity. Rice milk and yogurt can be found at nearly all major supermarket retailers, including Costco and Whole Foods 365 brand. Yet greater enforcement of the FDA's standards of identity would likely give those rice products companies trouble.
For its part, the rice lobby says the goal should be to avoid confusing consumers—but it does not want to be the arbiter of deciding whether consumers are confused when they see rice milk on the shelves of the dairy section. (The dairy industry has been vocal about this matter: "Milk is a product that comes from cows," it contended (pdf) in February.)
"Just as with milk, no one owns the word 'rice,'" said Michele Simon, executive director of the Plant Based Foods Association. To date, in at least two US lawsuits (one against Whitewave Foods Company in 2013 and the other against Trader Joe's Company in 2015) judges have dismissed cases in which plaintiffs sought to have companies stop using  the word "milk" when marketing soy milk.
"As long as consumers are not confused," Simon added, "I doubt USA Rice will get very far with FDA."
The Good Food Institute earlier this year submitted to the government a request that it clarify how foods can be named. "This is what's so frustrating about this issue," Joanna Grossman, a lobbyist for the group, told Quartz. "Everybody wants to pick and choose what should come under greater enforcement and, in my mind, there's a broader problem. So many of these definitions haven't caught up with the times. We're operating in a sphere where some of these definitions are really strange and obscure."
Take, for instance, tamales. Technically speaking, under the current USDA standards of identity, frozen vegetarian tamales in the supermarket freezer section aren't tamales. That's because, under agency rules, 25% of a tamale must be comprised of meat.