Every year in May a handful of commencement speeches will go viral, usually for the speaker's sense of humor or ability to inspire. But one graduation speech from this year is going viral in China for a different reason–it's politically incorrect.
On May 21, Shuping Yang, a graduating senior at the University of Maryland, appeared at her school's commencement ceremony to give an address. In her speech, Yang said that she once had five face masks in China due to the air pollution. Upon coming to the United States, she experienced "fresh air."
People often ask me: Why did you come to the University of Maryland? I always answer: Fresh air. Five years ago, as I step off the plane from China, and left the terminal at Dallas Airport. I was ready to put on one of my five face masks, but when I took my first breaths of American air. I put my mask away. The air was so sweet and fresh, and utterly luxurious. I was surprised by this. I grew up in a city in China, where I had to wear a face mask every time I went outside, otherwise, I might get sick. However, the moment I inhaled and exhaled outside the airport, I felt free.
Yang went on to discuss how her time at the University of Maryland allowed her to enjoy the "fresh air of free speech." A double-major in theater and psychology, she cited her attendance of a school production of the Anna Deveare-Smith play Twilight, which centers around the race riots in Los Angeles in 1992, as a formative experience.
"I have always had a burning desire to tell these kinds of stories, but I was convinced that only authorities on the narrative, only authorities could define the truth. However, the opportunity to immerse myself in the diverse community at the University of Maryland exposed me to various, many different perspectives on truth," she said. "Democracy and freedom are the fresh air that is worth fighting for," she added, as her speech came to a close.
Yang's speech circulated quickly on China's social media outlets. The hashtag "Exchange student says the air in the US is sweet" trended throughout the day on May 22, with many posts linking to a critical piece (link in Chinese, registration required) published by from Collegedaily.cn, a Chinese-language blog serving overseas Chinese students. Most of the commenters lambasted Yang for her dour portrayal of China, particularly in a public forum overseas.
"The air in our country is bad, [but] this is not the problem. She is flattering Americans by saying our country is flawed. We are Chinese, between one another we can discuss what is wrong with our country, but we still love our homeland," wrote one commenter.
Others quickly pointed out that America is no paradise. "Take the subway in New York City. You'll see more mice there than you will in a lifetime in China," wrote another.
Chinese users also went on Facebook to discuss the merits of Yang's speech. Many remained critical of her blunt remarks, and expressed doubt about her comments about air pollution—Kunming, Yang's hometown, is widely considered one of the most beautiful cities in China, and perceived to be somewhat immune to the country's air quality issues.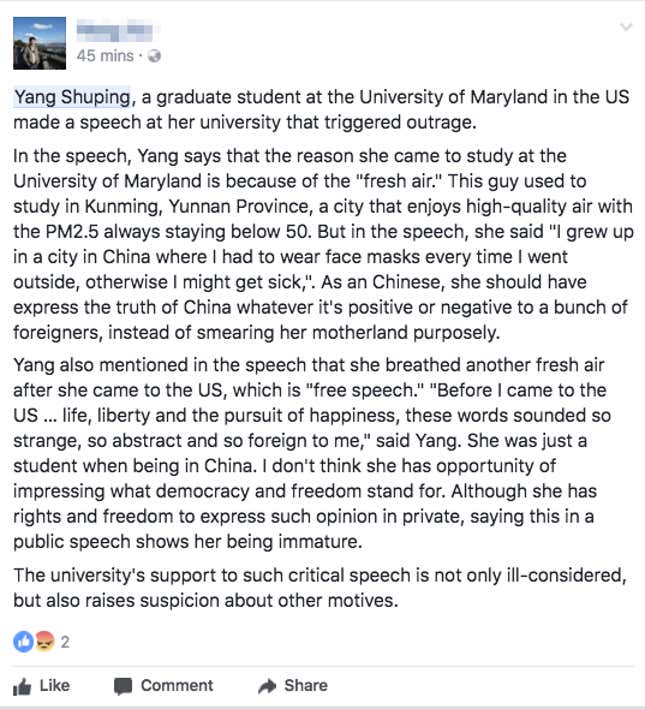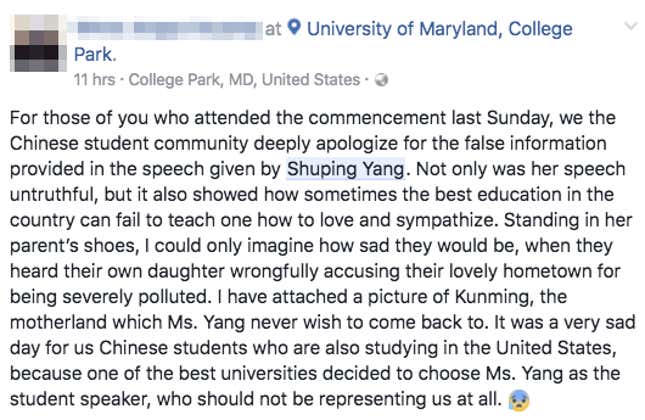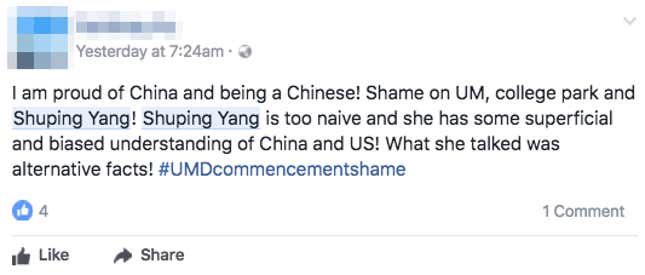 Yang has since deleted her Facebook profile, along with her personal website. She did not respond to Quartz's inquiries about her speech and its reception. The University of Maryland released the following statement:
The University believes that to be an informed global citizen it is critical to hear different viewpoints, to embrace diversity, and demonstrate tolerance when faced with views with which we may disagree. Listening to and respectfully engaging with those whom we disagree are essential skills, both within university walls and beyond.

The University proudly supports Shuping's right to share her views and her unique perspectives and we commend her on lending her voice on this joyous occasion.
In response to Yang's remarks, a group of Chinese students at the University of Maryland published a video describing themselves and their hometowns in China, titled "#Proud of China UMD."
Quartz emailed the University of Maryland branch of the the Chinese Students and Scholars Association (CSSA), a multi-chapter university organization for overseas Chinese students, but did not receive a reply.
American universities have welcomed a flood of students from China in recent years. Data from the Institute of International Education show 304,000 Chinese students attended university in the US during the 2014-2015 academic year, marking a five-fold increase from a decade prior.
Yang's speech marks the most recent incident where Chinese students are caught in political crosshairs at overseas universities.
In February, a vandalism incident at Columbia University prompted Chinese students to make a video explaining the meaning of their Chinese names. Around the same time, Chinese students and alumni from the University of California, San Diego expressed disapproval of the school's invitation of the Dalai Lama to speak at commencement. Meanwhile, at Durham University in the UK, the Chinese embassy reportedly called the school's debate society asking it to reconsider hosting an event with Anastasia Lin, a Canadian-Chinese beauty queen and human rights activist.