Seoul, South Korea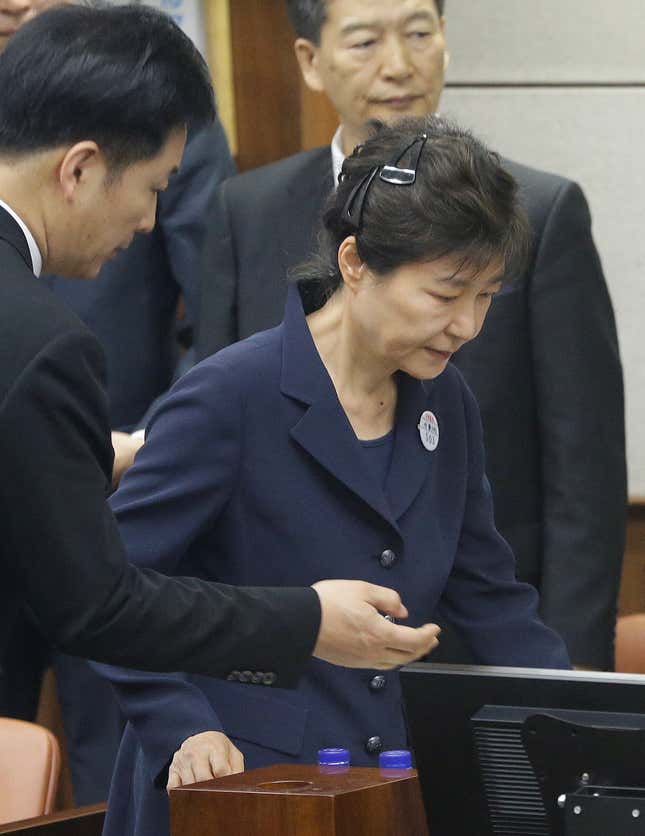 When former South Korean president Park Geun-hye appeared in court Tuesday (May 23) to plead not guilty to corruption charges, social media erupted at the sight of her usually immaculately coiffed hair pinned with two large barrettes. "Park Geun-hye hair" climbed to the third-most trending topic on Korean internet portal Naver.
"Who provided her with those hairpins in jail?" fumed one commenter, adding it was "outrageous" she was getting special treatment.
Over the past few months, as a wide-ranging political corruption investigation unfolded, the hairstyles of key female figures—from Park herself, impeached in March over too-close ties to a personal confidante, to the top constitutional judge on the bench who upheld Park's impeachment—have been a keen focus of attention, both positive and negative.
Whether offering praise or condemnation, most of the time the public has been reacting to pretty much one single hairstyle—variations of the "ajumma perm," which has a storied history in South Korea.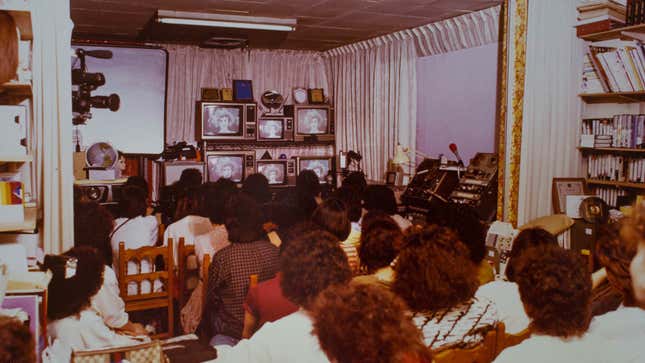 The perm of menopause
The defining characteristic of the ajumma, a term used to describe (usually) married older women, the ajumma perm is a short or bobbed curled hairstyle. Adopting the perm, and abandoning more youthful hairstyles, and especially straight bangs, is often a rite of passage for women when they hit middle age.
But it's taken nearly 80 years for that perm to become as ubiquitous as it is.
The first perm in South Korea became available at a department store in Seoul during the Japanese occupation in 1937, according to a report in the Chosun Ilbo newspaper, which said that a perm back then cost as much as two bins of rice, an unaffordable luxury in those times of shortages and poverty. Only a handful of actresses and privileged women sported the look.
By 1940, the already-rare perm became prohibited under Japanese imperial rule for its perceived  association with the sexually liberal norms depicted in Hollywood films. Japanese imperial rule ended five years later, but it was not until after the Korean War ended in 1953 that perms made their resurgence.
"At the time, the quality of perming products was very poor," said Helen Kim from Kim Sun Young Hair Design, which opened four years after the war ended. Women used iron tongs meant for ironing hanbok, Korea's national dress, to curl their hair with crude chemical formulas, added Kim, who is not related to the founder but has worked at the salon for two decades.
Choi Young-shin, a grandmother in her 60s, remembers doing that.
"The resulting curls were very short and very tight," said Choi. "It was also dangerous because of the strong chemicals and heat. Our scalps would burn and flake off, and the tongs could burn our necks and faces easily."
During the dictatorship of Park Geun-hye's father Park Chung-hee in the 1960s and 1970s, when strict social rules were in place, skirt lengths were monitored, but perms got a pass and became a way to express being modern, Choi remembers. "In the 70's, miniskirts were illegal but perms were still okay," she said.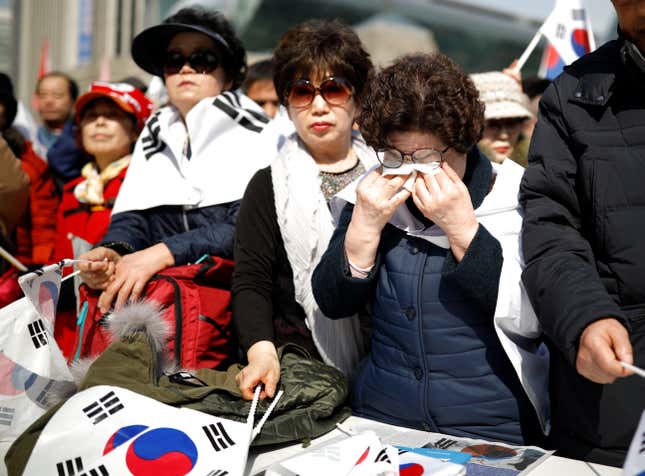 But they were still expensive. Young women short on cash began turning to Korea's burgeoning wig-making industry to fund their first perms. "Wigmakers would go to the countryside areas of Korea and meet with young women who still had their long, natural hair. They would ask for their long hair and in return, provide rural women with free modern perms," said Choi. "That's how normal women began to be able to get perms."
By the mid-1980s, when electricity became widely available, perms really took off. "The government provided initiatives for the beauty industry, and many churches also had programs for teaching young women how to cut and style hair for free," said Choi.
By the 2000s, perms became common for men and women of all ages, and even children began getting their hair permed. But it's most common among older women of all classes in South Korea, when they reach the age when long hair seems like something they must leave behind.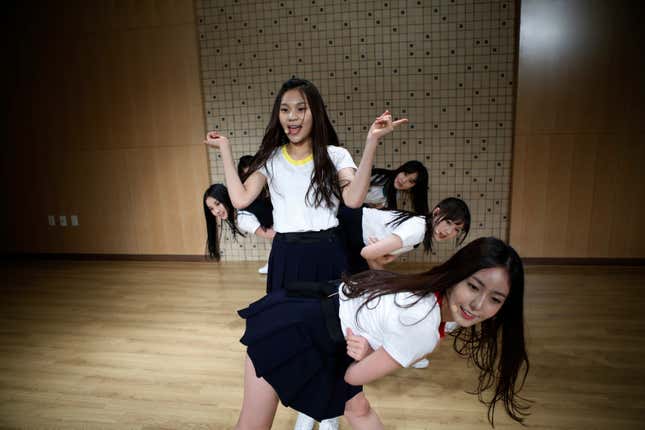 Helen Kim, creative director at Kim Sun-young Hair Design says older women generally perm their hair and cut it short because of hair loss and lack of volume. "When they were young, they had lots of hair and strong hair, but after they got to their 40s and 50s there are lots of changes. They had babies, hormonal changes and stress, and their hair begins to thin out."
Becoming an ajumma
There's an old Korean joke that the country has three sexes: men, women and ajummas. Transitioning into ajumma-hood, usually somewhere between the ages of 30 to 40, also brings with it a barrage of negative social perceptions.
"I remember when I was growing up, people in my generation hated becoming ajummas," said Jie-ae Sohn, a visiting professor at the Ewha Womans University Graduate School of International Studies. "It was considered a sign that you were no longer female."
Traditionally, women were expected to quit their jobs and become consummate homemakers once they got married. After children arrived, as busy full-time homemakers, ajummas had little time to do their hair.
"What that perm represents is you don't have to do anything with your hair. Once you get that perm done, all you need is to shampoo it every once in a while," said Sohn. "It doesn't get into your eyes, you don't have to tie it up, you don't have to do anything because it's not going to get in your way… [You can] take care of the kids, bathe them, cook for them, clean after them. It's the epitome of efficiency."
Nowadays, with more South Korean women having chosen professional careers alongside family life, the perm has also become symbolic of the busy professional woman.
The ajumma perm can be liberating in its own way, says Sohn. "When you're younger you have to take into account what other people think of you based on your appearance. You try to look nice, you try to behave… There's a certain power, and freedom, to being an ajumma. You don't have to be as demure or mild-mannered as you would be expected to be when you are younger."
In fact, one of the "negative" stereotypes around ajummas is that they are tough women, demanding, even selfish, shaped by the economic and politically turbulent years of the 1960s and 1970s.
When the presidential scandal first unfolded, after news reports that Park's friend Choi Soon-sil had undue influence over the president, Choi was often referred to as a "Gangnam ajumma," an unflattering term used to describe the well-to-do housewives who reside in the affluent Gangnam area of Seoul. While Gangnam ajummas may be more affluent and well-educated than the women usually referred to by the appellation, they are still considered to partake in selfish ajumma-like behaviors.
"On the train, ajummas will run for the only available seats," said Audrey Kim, a 25-year- old student. "They don't care about the people around them. I think it's quite a negative stereotype."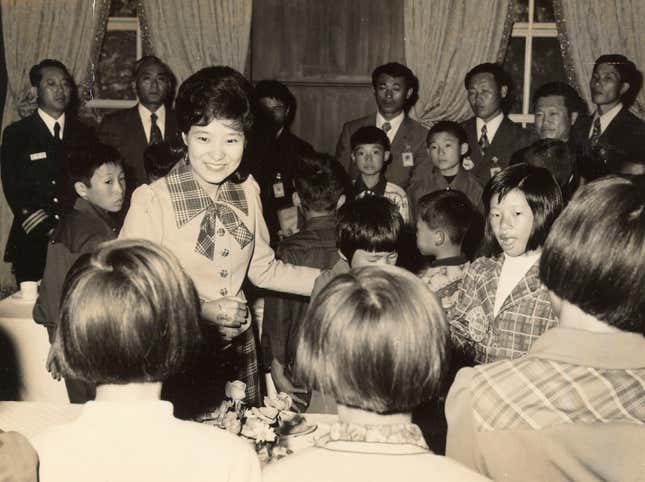 Park Geun-hye's hair is always wrong
Rarely seen without her puffy sweptback short hair, Park's signature style is said to be reminiscent of that of her mother's, former first lady Yuk Young-soo and wife of the late dictator Park Chung-hee who rose to prominence in the 1960s. Yuk was well known for popularizing this same look with its permed, highly-voluminous top part; hairstylists say Park's lightly-permed version is a contemporary take.
During her presidency, Park came under fire at the time of the infamous Sewol ferry sinking incident that resulted in the deaths of more than 300 students in 2014. The many hours that elapsed before she appeared in public to address a grieving country sparked widespread anger against her that some say was ultimately at the bottom of her impeachment. It transpired that for at least some of the unaccounted time, she was getting her hair done, ahead of a briefing.
When Park was first detained after her impeachment, as prosecutors opened the corruption investigation they were unable to pursue when she was still serving, the public and media immediately began joking about Park's unfashionable new future in prison.
"When she wakes up in the morning and realizes that she can't do her hair anymore, she will be faced with the stark new reality," lawmaker Lee Yong-ju was quoted saying in the New York Times.
In March, there was another viral hair uproar, after media broadcast photos of Lee Jung-mi, the judge overseeing Park's impeachment hearing, walking to court with bright pink hair rollers in her hair.
This time the reaction was positive, though perhaps patronizingly so. To the public, the D-I-Y aspect of the hair rollers symbolized Lee's dedication to her work, her less-than-perfect hair allowing them to draw a contrast between her and Park's perceived vanity. Lee, acting chief justice of the constitutional court at the time, and the only female among its eight judges, hardly needed that validation.
Meanwhile the reactions this week to Park's D-I-Y effort to tidy her hair ranged from "hideous" to seeing it as an unwillingness to admit she's no longer in power.
"With Park Geun hye, all the commentary about her fashion choices, what her hair looks like—it's very sexist. Nobody said that about any of the male presidents," said Michael Hurt, a professor at the Hankuk University of Foreign Studies who specializes in visual sociology. "It's also telling when you have a constitutional court judge, where people are like, 'She obviously works hard because she has rollers in her hair.' You don't see people saying that about [US Supreme Court justice] Ruth Bader Ginsberg."
Soo Kyung Jung contributed to this article.
An earlier version of this story incorrectly identified Michael Hurt as a professor at Hanyang University.