A white brushstroke against an all-green background—the symbol of Cathay Pacific Airways, an airline giant and major local employer—is one of the most iconic tails at Hong Kong International Airport.
"Not many brands from Hong Kong are renowned around the globe, but Cathay is one of them," said a 26-year-old pilot, Ko, who began flying for Cathay as second officer in September.
Like Ko, some 26,000 employees (pdf, p.5)—or more than two-thirds of Cathay's global staff—hail from Hong Kong. Which is why the recent announcement that Cathay would carry out major layoffs this summer—as many as 600—came as a shock here. The airline hasn't seen layoffs this bad since 1997, the time of the handover and of the Asian financial crisis.
Cathay rose to prominence in the golden days of flying, in the decades after World War II. But it's now trying to revamp in the face of competition in the age of the budget airline, including a crop of no-frills carriers from China.
"Hong Kong is undergoing profound (and often resisted) political, social and economic change," wrote Ben Sandilands, editor of the Plane Talking blog in March. "These seldom if ever come without pain or destruction for old, apparently out-of-favor icons."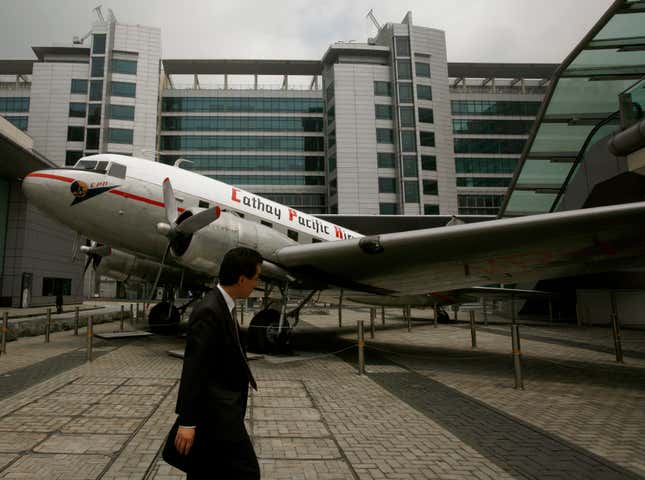 An Asian aviation pioneer
Cathay was founded by two wartime pilots, an American and an Australian—one of whom had piloted Chinese Nationalist leader Chang Kai Shek—with two secondhand aircraft in 1946. Initially based in Shanghai, it relocated to Hong Kong in a matter of months. As it grew, it marked many milestones along with the territory.
In 1962, it introduced the world's first international services to the three Japanese cities of Osaka, Fukuoka and Nagoya. In the 1970s, Cathay stood out in Asia with its large aircraft, when it added Boeing 707s to its fleet. Later that decade, Cathay got its first new Boeing 747, and also applied to fly the profitable London route.
"Cathay meant 'big' to Hong Kong at one time," says frequent flier Peter Siu, a businessman who takes 15 to 20 round trips with Cathay to China every year.
Despite being the carrier of a British territory at the time, the UK Civil Aviation Authority initially was reluctant to allow Cathay to fly its 747s to London. "Hong Kong was trying to emerge outside being a colony and here was a regional airline whose mother country at that stage didn't want to let it happen," said Mark Hoey, a former 747 chief pilot for the airline.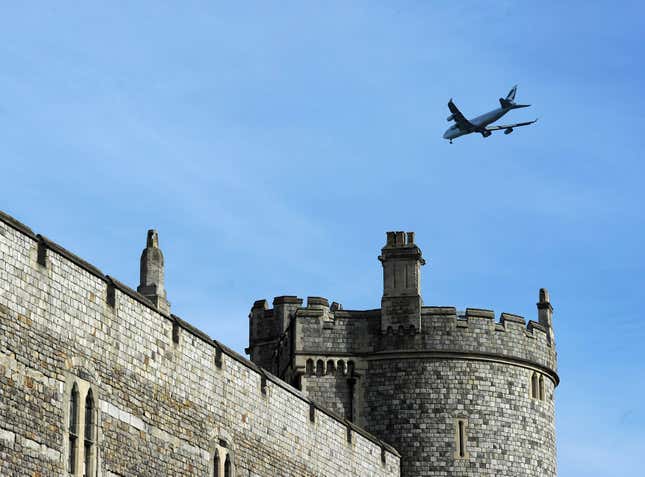 It took the intervention of Britain's then trade minister, but Cathay eventually got the green light. Its attendants wore special red-and-gold cheongsam-style uniforms on the first flights to London in July 1980, very different than the company's early military-style look, according to a company video.
The induction of jumbo aircraft also marked the airline industry's pivot towards more mass travel, as the availability of more seats made flying cheaper.
"When I was trained, one of the topics we had to cover was to be observant and look out for 'first flighters' because, in the 1980s, a lot of people hadn't had the experience of flying," Le Le Ng, Cathay Pacific's manager of inflight service, told the South China Morning Post when the airline retired its last 747 in October. "We had to observe and take extra care of them because they might be nervous about flying. They might not know the features of the plane. They might not even know how to press a button to call the flight attendant."
As Hong Kong returned to China's rule in 1997, the flagship carrier saw some branding changes, such as the removal of the Union Jack from its planes. A little over a year after the handover, Cathay flew the last plane out of Hong Kong's 73-year-old Kai Tak Airport on July 6, 1998 and operated the first flight to arrive at the new airport, Hong Kong International Airport.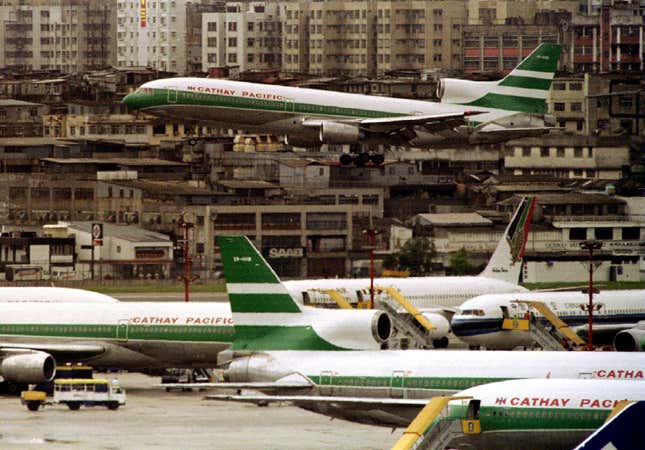 The rise of the budget airlines
Hong Kong's return to China opened up opportunities for Cathay in the mainland market where demand for international flights was growing thanks to economic reforms. China is expected to become the world's biggest aviation market in less than a decade.
But there are now a slew of rivals. Globally, premium airlines have faced stiff competition from the rise of discount carriers. Cathay has seen competition from Mideast carriers and from China, whose regular airlines already offer tickets that are cheaper than Cathay's, but now also has several budget carriers. Several of these, such as Spring Airlines and West Air, have begun flying some international routes in recent years.

With an eye on the mainland market, Cathay acquired Dragonair (now Cathay Dragon) in 2006. The subsidiary of Cathay now mainly flies within the region to Southeast Asia and 23 mainland destinations, and offers cheaper fares than its parent company. Cathay is also expanding efforts to cover more Chinese destinations through codeshare agreements.
But Chinese domestic airlines like China Eastern Airlines and Hainan Airlines have also been expanding aggressively in both local and international markets, and have operating costs lower than are achievable in Hong Kong (paywall). Since 2014, China Eastern Airlines, for example, has been offering direct flights from southeastern Chinese cities like Kunming to Southeast Asian metropolises like Indonesia's Jakarta, bypassing Hong Kong (paywall).
"Cathay underestimated the growth of Chinese airlines, especially on international flights from secondary Chinese cities," says Will Horton, aviation market analyst at research company CAPA, "China will continue to be a significant source market [for Cathay] but there is more competition."
The giant carrier said it saw a loss of HK$575 million ($73.7 million) in its financial year that ended December 2016, compared to a profit of HK$6 billion ($769 million) in the previous financial year.
The airline attributed its performance to a number of adverse factors. A Cathay spokeswoman cited the growth in number of direct flights between mainland China and international destinations, as well as competition from global airlines in the region.
In the short-term, the impact of a badly wrong bet was just as significant. While other major airlines benefited from the decline of crude oil prices worldwide in recent years, Cathay's advantage was offset by the fact that it had hedged against the risk of rising fuel prices, causing losses of more than a billion dollars in 2016 (pdf, p. 31), roughly the same as in its previous financial year.
Cathay saw an almost 10% decline from HK$ 59.6 cents ($0.08) in 2015 to HK$54.1 cents ($0.07) on passenger yield, a key measure of airline's profitability, according to its annual report.
Shrinking and squeezing

Cathay said this year it has begun a "three-year program of corporate transformation," which included the layoffs. A Cathay Pacific spokeswoman said that the challenges the airline is facing are "at least partly structural in nature, not just cyclical," a point made by the company CEO as the carrier announced layoffs.
"We have had to make tough but necessary decisions for the future of our business," said Cathay CEO Rupert Hogg in May. "Changes in people's travel habits and what they expect from us, evolving competition and a challenging business outlook have created the need for significant change."
The last time Cathay had to make these kinds of cuts was in the midst of the Asian financial crisis that began in July 1997, and led to layoffs of nearly 800 people. Then, it saw its market capitalization halved, and saw both passenger travel and yields plunge. Asian economies soon recovered though, and, Cathay posted a record profit not long after. One big difference between then and now: Cathay in 1997 was on the verge of beginning operations in a new airport, making it easier to add new routes.
Now, the airport already runs at or near full capacity, says Achim Czerny, associate professor of airline transportation economy at Hong Kong Polytechnic University(PolyU). Cathay said that it's vital that construction of the third runway at Hong Kong airport "goes ahead at full steam." In the meantime, its says it still expects passenger capacity to grow by 4%-5% a year.
One of the ways to add passengers is by relinquishing some of the golden-age spaciousness it has clung to. Cathay plans to add more economy class seats to its Boeing 777-300 fleet between 2018 and 2020, by adding one more seat in each row, going to 10 instead of nine. The squeeze could make a big difference: Air Canada is able to fly nearly 400 economy-class passengers, compared to Cathay Pacific's less than 200 on the same aircraft of the Hong-Vancouver route, according to the South China Morning Post. (Cathay says seat pitch would remain the same.)
Another area that's usually ripe for cuts is services. But it's a risky plan. If services decline too noticeably, passengers may feel the higher prices aren't justified. Frequent flyer Siu, for example, says it's the service that has kept him coming back. During a 2015 trip, for example, he remembers drinking a small can of Coke before taking off and starting to feel uneasy. "Without me asking, several flight attendants came over with variety of medicines for me to choose," said Siu. But Siu also says that in his opinion some of Cathay's inflight amenities have become more "average."
Cathay may not be able to simply continue being the airline it was in the past. But Czerny, of PolyU, says its situation will improve when Hong Kong airport adds more flight capacity, though that could take at least five years. "This should help to ensure good profitability in the future despite an environment with increasing competition," says Czerny.
Ko, the newly joined pilot, says he's not worried about the outlook for his new employer: "We've been through a lot of difficulties in the past seven decades and we managed to get through every single time."
Visen Liu contributed to this article.