Donald Trump, like several US presidents before him, declared June to be "National Oceans Month." But he did it in his own particular style: By promising to exploit the oceans for as much economic gain as possible.
"Today, our offshore areas remain underutilized and often unexplored. We have yet to fully leverage new technologies and unleash the forces of economic innovation to more fully develop and explore our ocean economy," the president said in a proclamation published Wednesday (May 31). "In the field of energy, we have just begun to tap the potential of our oceans' oil and gas, wind, wave, and tidal resources to power the Nation."
Last month, Trump moved to expand offshore drilling and ordered a review of rules put in place to prevent disasters like the Deepwater Horizon blowout from occurring again.
The proclamation notably did not mention sea-level rise, which is projected to inundate the president's Mar-a-Lago resort in 83 years.
Daniel Dale, a reporter for the Toronto Star, chose to compare the text to former US president George W. Bush's National Oceans Month proclamation from 2008, which was all about "being good stewards of the oceans," and "ensuring effective conservation."
You can compare the two below:
Donald Trump's National Oceans Month proclamation, 2017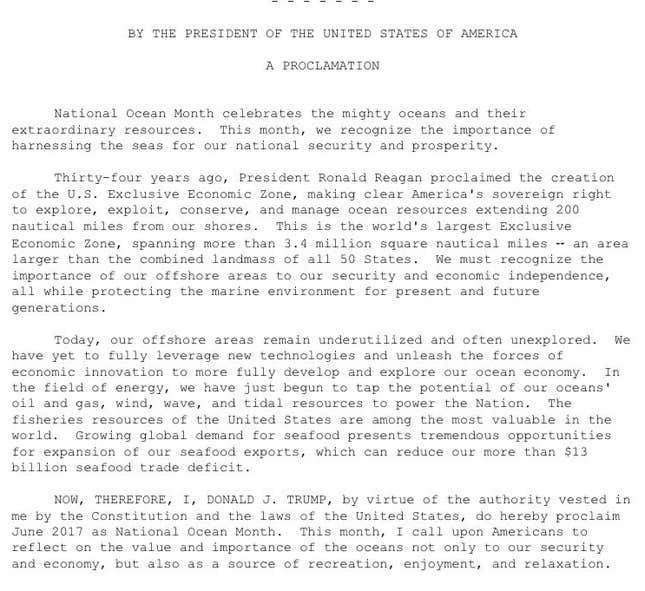 George W. Bush National Oceans Month proclamation, 2008