China's internet giants are often collectively referred to as BAT, meaning Baidu (known for its search engine), Alibaba (e-commerce), and Tencent (social media and gaming). Perhaps that acronym should be shed by two-thirds.
A chart in the latest annual report on global internet trends from Kleiner Perkins partner Mary Meeker shows why. It graphs the number of average daily hours spent inside some of China's most popular smartphone apps over the course of more than two years.
No surprise, Tencent dominates. As the company behind QQ, formerly China's most popular social app, as well as WeChat, the most popular today, it has maintained a majority of Chinese smartphone users' attention throughout the run.
What is surprising is the extent of this dominance.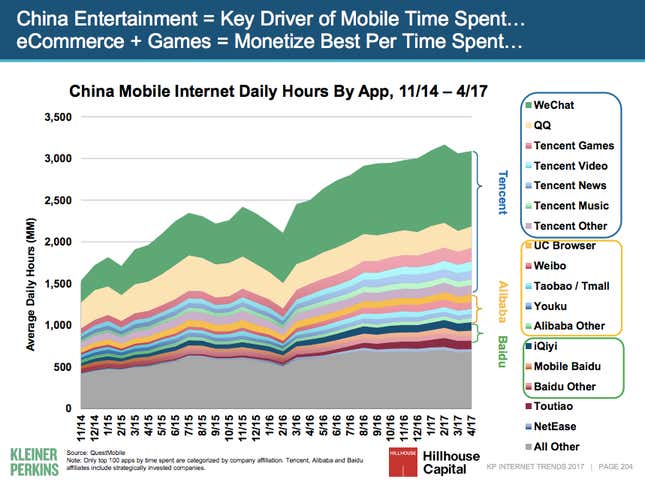 In November 2014, Tencent enjoyed roughly three times as much attention on Chinese smartphones as Alibaba and Baidu combined. By now, it's enjoying almost four times as much.
Much of this growth is driven by WeChat. Since 2014, the service has made steady forays into e-commerce and mobile payments, eating Alibaba's lunch in the process. And recently, it has made earnest efforts to improve its search capabilities—targeting Baidu.
Will the growth slow down? WeChat has over 900 million monthly active users, the overwhelming majority of whom are in China. While that figure will hit a ceiling, Tencent is still looking for ways to keep users inside WeChat—most notably through mini-apps, a feature it launched earlier this year that could kill app stores in China altogether.
---