Flamboyant Brazilian commodities billionaire Eike Batista's (paywall) empire is under assault.
The latest blow was Monday's announcement that his oil company would probably close its only productive wells next year (paywall).
OGX is one of the six publicly-listed corporations he runs through his holding company EBX. OGX shares have lost nearly all of their value over the last year. Here's a look.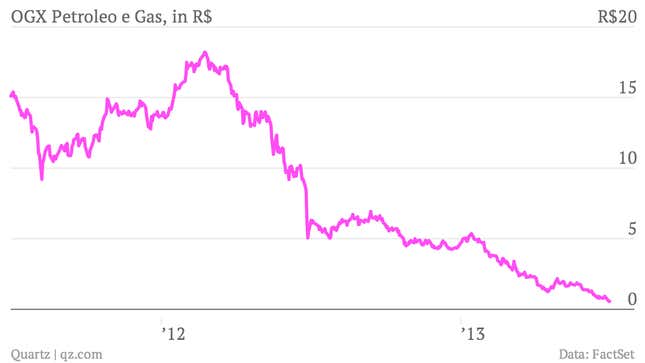 Other arms of Batista's "X-empire" have done better, such as MMX (which focuses on mining) and MPX (which focuses on power generation).
But Batista's companies are so interconnected that concerns about one firm could spillover into others. Just yesterday, Fitch downgraded the rating on bonds used to pay for a large oil and iron ore port in Rio. The credit rating agency cited "uncertainties over the capabilities of the two project sponsors, LLX Logistica and Centennial Asset Participaoes, both falling under the umbrella of the EBX Group and controlled through a majority stake by the group's president, Eike Batista, to provide the project with financial support."
Batista is a savvy operator and salesman and could solve the problem by selling off arms of his portfolio. He's apparently been in discussions with commodities trading giant Glencore on asset sales.
Batista's fortune can't really be attributed solely to his idiosyncratic charm, ambition and connections (his father once ran Brazil's ministry of mines and energy, as well as Vale). It also owes much to the eagerness of foreign investors pouring cash into emerging markets in recent years. Such an influx of capital can boost the fortunes of speculative ventures for quite some time.
But as Warren Buffett has said, "you only find out who is swimming naked when the tide goes out." And in emerging markets, that's what it is doing.