Following a tragic terror attack in London over the weekend, US president Donald Trump took to Twitter to berate the city's Muslim mayor, praise his own "travel ban," and call for the US to "get down to the business of security for our people."
The business of security against terrorism is, in many ways, the responsibility of the federal government's executive branch. But more than 130 days into his presidency, Trump has yet to fill dozens of the jobs that help to keep US citizens safe from terrorism. In many cases, Trump has not nominated people for positions that can only be filled by the president, like the head of the Transportation Security Administration—the agency that screens travelers at airports—or dozens of jobs at the Department of Defense.
While Trump tweeted today that Democrats were "taking forever to approve my people," that is misleading—he hasn't nominated anyone for 442 of the 559 jobs (paywall) that require Senate approval.
Often, Obama appointees remain in top spots by default, potentially making their agencies less effective. Other Obama appointees, including former deputy attorney general Sally Yates, have had trouble getting the Trump administration to listen to their advice.
Indeed, Trump has already shown an unwillingness to listen to his own picks' advice—he declined to publicly reaffirm NATO's Article Five in Brussels, even though national security advisor H.R. McMaster, defense secretary James Mattis, and secretary of state Rex Tillerson had worked for weeks to include it, Politico reported.
A president's failure to listen to intelligence agencies can be deadly. The CIA repeatedly warned (paywall) president George W. Bush that Al Qaeda operatives in the US were planning a dramatic, imminent attack in the months before the terrorist attacks of Sept. 11, 2001, but he did not act. US counterterrorism officials are now increasingly worried about homegrown violent extremists, and the FBI is currently investigating potentially dangerous individuals "across all 50 states," Nicholas Rasmussen, the National Center for Counterterrorism director said in April (pdf, pg. 4).
House members of the armed services committee called the vacancies "unacceptable" in an April 27 letter, which begged Trump to "take immediate action" to fill jobs in the Department of Defense and the Department of State. They have yet to receive a response.
Office of the Director of National Intelligence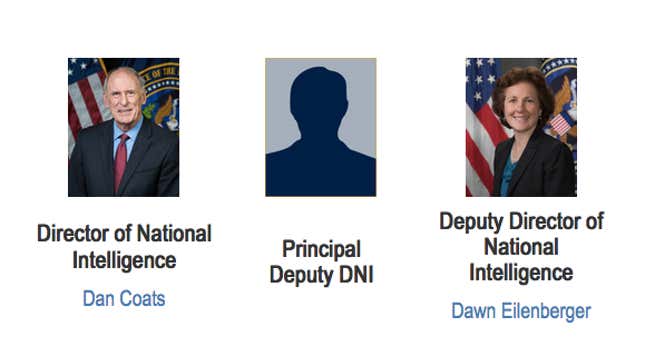 The director of national intelligence is the cabinet-level head of the US's intelligence community, advising the president and the Department of Homeland Security. Dan Coats, a Republican senator from Indiana, took the job in March, but his principal deputy has not yet been named. A presidential appointee, the principal deputy is expected to have extensive national security experience, and is responsible for filling in for the director if he or she is unable. Trump also has yet to name a new general counsel, and the job of program manager in charge of sharing terrorism related-information with federal, state, local, and private agencies remains vacant after the Obama administration appointee left in January.
(Trump has also not named a new director for the over 1,000-employee-strong National Counterterrorism Center that was formed after the Sept. 11 terror attacks to "merge and analyze all terrorism information in a central location." But in this instance he has filled the job, a spokesman said. Rasmussen, an Obama appointee, was asked to stay on permanently.)
Federal Bureau of Investigation
The national security organization considers "combating terrorism" its top investigative priority. The director job has been vacant since James Comey was abruptly fired in May, and several of Trump's top picks to replace Comey withdrew their names in recent weeks, including former senator Joe Lieberman and representative Trey Gowdy.
State Department

Trump has yet to name about 100 political appointees in the State Department, including dozens of ambassadorships, to countries like France that are close partners with the US in the fight against terrorism.
Some of these State Department jobs aid the US's counter-terrorism efforts, like the assistant secretary for intelligence and research, which coordinates foreign policy with intelligence gathering. The assistant secretary for conflict and stabilization operations, another post that remains open, runs the division that monitors violent extremism.
The Bureau of Counterterrorism's mission is to "promote U.S. national security by taking a leading role in developing coordinated strategies and approaches to defeat terrorism abroad and securing the counterterrorism cooperation of international partners." The top official in the bureau, the coordinator, is tasked with "overall supervision (including policy oversight of resources) of international counterterrorism activities." This politically appointed position is vacant.
Department of Defense
James Mattis took the top job here in January, but there are dozens of political appointee jobs that remain open, many of them in the undersecretary or assistant secretary level, like the assistant secretary of nuclear, chemical and biological defense, who heads the office fighting weapons of mass destruction. There is no undersecretary for policy, or undersecretary for intelligence, and heads of security affairs tasked with Middle East intelligence and Afghanistan and Pakistan remain empty as well.