Bentonville, Arkansas, is unlike any other small town in America.
Downtown bustles with yoga studios, boutiques, and a children's theater company. Nearby is a brand new, $1-billion art museum, nestled in a wooded ravine. On the road out of town rises an office tower advertising Tata Consultancy Services. On the outskirts, amid the cow pastures, are vast subdivisions of McMansions.
And at center of Bentonville is the world's largest company, Walmart.
Sam Walton opened Walton's Five-and-Dime on the town square in 1950, and his first Wal-Mart store in neighboring Rogers a dozen years later. As his company expanded, so did its presence in Bentonville. Walmart now has about 18,000 employees at its home office, including thousands of coders and programmers in a sprawling technology center the size of a regional airport.
Another 7,000 or so employees work for the Walmart vendors who opened offices in northwest Arkansas. While Walmart doesn't require its vendors to have a local presence, the retailer is notoriously tough on its suppliers, and it makes sense for them to have staff on hand. As a result, the office parks of Benton County are stuffed with more than 1,450 companies, from PepsiCo to Proctor & Gamble, catering to Walmart's needs.
Walmart—along with Tyson Foods and J.B. Hunt Transport, headquartered nearby—is fueling a population boom in northwest Arkansas. Benton County grew 70%, to more than a quarter-million people, from 2000 to 2016, and pay soared as well. The average income for private sector workers climbed 95.3%— to approximately $68,000—over 25 years ending in 2015, putting it among the counties with the fastest rising incomes in the US.
Most of Walmart's 1.5 million US employees don't earn anything close to that, of course, and its stores are famous for their deleterious impact on small towns. One study shows the opening of a big-box retailer results in as many as 14 local stores closing, while another argues towns in Iowa lost 47% of their retail sales after a decade of a Wal-Mart opening. The harm to small towns was multiplied when Walmart closed 154 stores, leaving some towns without any options for groceries. (Other studies suggest that the biggest victims of Walmart aren't mom-and-pop stores but less successful retailers like Sears and Kmart, and that town residents benefit from lower prices and increased sales-tax revenue.)
Downtown Bentonville is surrounded by Wal-Marts: There are 18 within 10 miles, and they're sparkling clean and well stocked, as if awaiting a surprise inspection from the top brass. But there's no sign of the decay that afflicts other small towns, thanks to the buying power of 42,000 households in the region earning more than $100,000 annually. While the strip malls on the freeway are lined with chain restaurants, the downtown square is home to quirky small businesses. Table Mesa, a bistro serving Latin cuisine, is next to Rollie Pollie, a charming children's store with wooden toys and organic cotton T-shirts that feels like the anti-Walmart.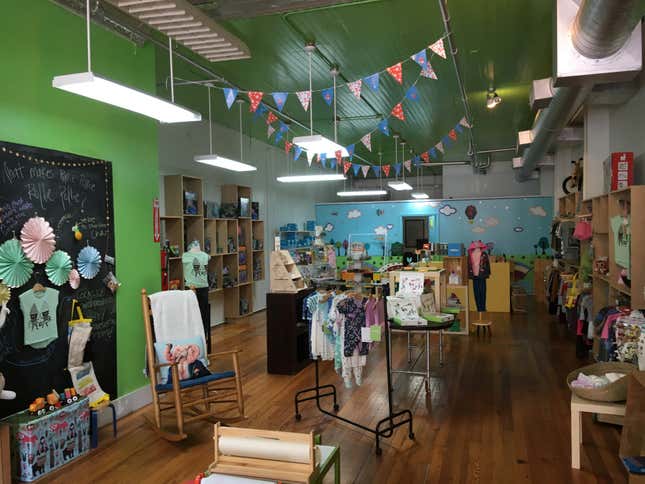 Nearby, via an "art trail" through the woods, is the Crystal Bridges Museum of American Art, a stunning (and controversial) creation of Alice Walton, the daughter of Sam Walton, who is worth almost $40 billion. The museum, with its five-star collection of art, is free to all visitors. Beyond the museum, a network of mountain bike trails spiral off for miles into the Ozark mountains.
During Shareholder's Week—Walmart's annual meeting-slash-corporate pep rally—Walmart employees from around the world descended on Bentonville from May 31-June 2, and the contradictions of a global super-company based in a small southern US town were made apparent. Workers from Africa poured out of buses to tour the Walmart Museum and performed a moving a cappella version of "The Lion Sleeps Tonight," all under the watchful eye of a statue honoring Confederate soldiers, rising high from the center of the town square.