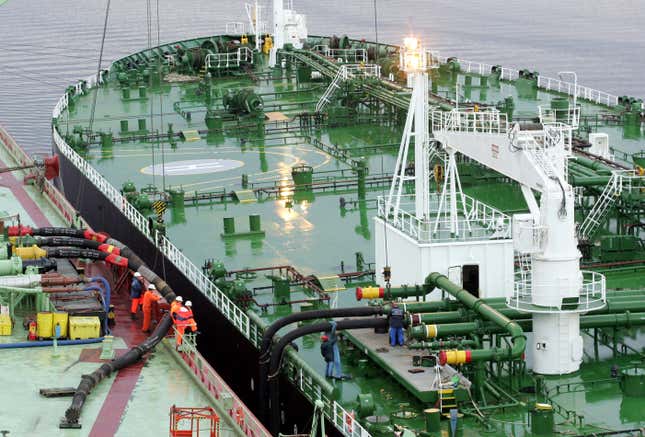 Ceuta, a tiny Spanish enclave at the tip of North Africa, has emerged as a new hub for Russian crude oil trade. The city administered by Spain is becoming a gateway to keep Russian oil flowing as shippers scramble to reorder trade routes in response to EU sanctions and a price cap that took effect on Dec. 5.

Should you buy McDonald's and Caterpillar stock right now?
As the EU cut its demand for Russian crude delivered by pipeline, trade moved to sea. Rebuffed from its previous ship-to-ship transfer hub off Denmark's Skaw, Russia shifted operations to the mid-North Atlantic, until high winter swells and rough tides made it too unruly to pour crude oil from one ship to another. Ceuta's Mediterranean waters are calm, and according to Vortexa, a consultancy that tracks Russian tankers, fleets of Aframax tankers loaded with oil at Russian ports on the Black Sea arrive at Ceuta and transfer their loads to very large crude carriers, or VLCCs, which continue the 40-day sea journey, looping below the Cape of Good Hope to China.
Since December, according to Vortexa data, six VLCCs have dropped anchor outside Ceuta, and at least three of the ships are Chinese-owned.
The seas off the coast of the Greek city of Kalamata have also becomes sites for ship-to-ship transfers, with most of the oil transferred there headed for India by way of the Suez Canal. (VLCCs passing through the Suez can only be half full to prevent the ship from running aground in the canal's shallow waters).

Neither Ceuta or Kalamata had previously been sites for Russian ship-to-ship transfers, and a spike in activity off their coasts tracked with an increase in Russian crude exports.
Russian crude oil exports are down but not out
EU sanctions, combined with a $60 price cap on Russian oil that took effect on the same day, were intended to hobble Russia's invasion of Ukraine by choking off oil revenue. While EU imports of Russian crude have been dropping since the months following the invasion, China, India, Turkey and other countries have stepped in to buy up supply.
Reported volumes of Russian crude on ships have been erratic since Dec. 5., hitting a new low at the end of that month, however, the shifts in volume have been subject as much to scheduled port repairs and other infrastructure issues, as the impacts of the sanctions.
According to Centre for Energy Research and Clean Air (CREA), a Finland-based research organization that tracks the impact of the sanctions on Russian oil, Russian oil exports by ship are currently above 500,000 metric tons per day, higher than the same period last year. Additionally, CREA analysis finds that Russia earned EUR425 million from oil exports on Jan. 23 a 28% decrease from the EUR593 million it earned 11 months ago on Feb. 24.
On Friday (Jan. 27), the EU began talks to discuss whether to lower the price cap on Russian oil and strengthen sanctions. The US is pushing to keep the price cap at $60 per barrel, while a coalition of countries led by Estonia, Lithuania and Poland are arguing for a price cap of $40 to $50, below the Russian crude's average market price of $54 in December, and $52 in January.
For now, pending the outcomes of the talks, imports of refined oil products from Russia to the EU are scheduled to be banned on Sunday (Feb. 5)