In a brazen move on Tuesday (June 6), a coalition of youth leaders in northern Nigeria handed an ultimatum to all Igbos (the ethnic group from southeast Nigeria) resident in the 19 northern states to "relocate within three months."
The coalition said a failure to relocate will see it "mobilize" northerners "against" Igbos resident in the north. The coalition defended its ultimatum saying the continued secessionist calls in Nigeria's southeast have "led to the impediment of other people's rights." That claim was a reference to the recent commemoration of the 50th anniversary of Nigeria's civil war in parts of the southeast. Despite not being a public holiday, a sit-at-home order by the secessionist groups to mark the day was widely observed.
The ultimatum  evoked bitter memories from 1966 when Igbo people were forced to flee from northern Nigeria following continued massacres. In response, southeast leaders declared independence from Nigeria in May 1967 to form the Republic of Biafra, claiming the national government had failed to protect Igbos. The attempted secession resulted in a three-year long brutal civil war that claimed the lives of over a million people.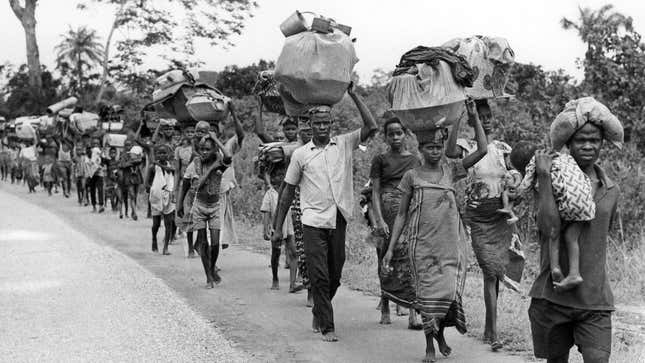 But this time, in a swift response, governors of the 19 northern states have denounced the coalition's ultimatum. The government of Kaduna state, where the ultimatum was issued, has also ordered the prosecution of the members of the coalition. For his part, Yemi Osinbajo, Nigeria's acting president, denounced what he described as "hate speech."
The swift responses from various sections of government are noteworthy as it appears lessons have been learned from two of the country's worst security crises over the last 15 years.
The Boko Haram insurgency which has devastated much of the northeast since 2009 is often attributed to the government's failure in dealing with the group's potency while at its infancy despite repeated warnings. The government's eventual intervention resulted in the death of Boko Haram's erstwhile leader while in police detention, sparking violent reprisals by the group's new leadership.
Meanwhile, in Nigeria's volatile oil-rich south, starting in the early-2000s, militant groups frequently carried out rogue operations, kidnapping expats for ransom and carrying out large-scale oil theft. Despite a presidential amnesty program which kicked off in 2009 to resolve the crisis, militancy resumed last year with groups damaging oil installations and hobbling Nigeria's production capacity. A fragile peace currently holds after the government ceded to the groups' negotiations demands.