Accra, Ghana
In 2012, Kwami Williams was studying at MIT to become a rocket scientist when he took a trip to his home country of Ghana with some of his classmates. There, he was introduced to the moringa, a sturdy tree dotting impoverished farming communities throughout the country. Williams, 20 at the time, was asked by the farmers he met if it was possible to make money from the moringa, called the "miracle tree" for its hardiness and multiple uses. Finding the answer to that question would change the trajectory of his life.
In the space of just a few years, Williams would go from studying space to selling beauty products sourced from the moringa, opening a new commercial opportunity for local farmers through the process. His company, MoringaConnect, is part of a wave of savvy young entrepreneurs who are turning to the country's troubled agricultural sector, and the millions of farmers toiling in it, as source of inspiration for their ideas.
"Farmers are the origin of our business idea, and their input and participation have been invaluable in our success to date," Williams says. "Our vertically integrated model is an evolution of ideas our farmers shared about guaranteeing their harvest, centralizing processing, and connecting it to distribution."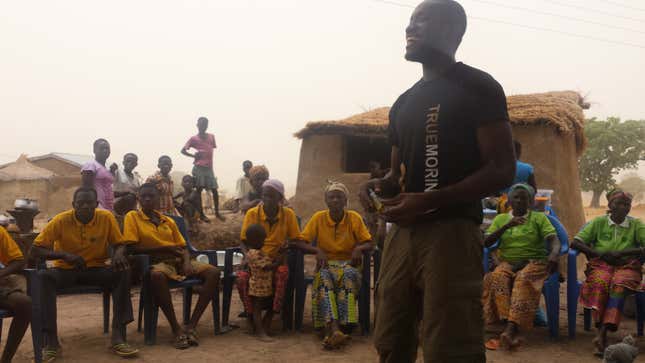 Social startups
Though a commercially savvy business, MoringaConnect is what's classified as a social enterprise, one that uses trade to address social and environmental problems. Most startup funding by traditional venture capital focuses on sectors like software, financial technology, and e-commerce, which may be riskier but can be more profitable businesses to build and sell or even take public. Social enterprise startups focus on income generation, but reinvest their profits into their social mission.
The number of social enterprise startups in Ghana has spiked since 2012, according to a 2016 report (pdf) by the British Council. The 98 social enterprise startups studied by the Council had created a total of 958 jobs between them (based on staff numbers in 2015), and generated a combined turnover of around 8 million Ghana cedi ($2 million).
Startups focused on agriculture and fisheries made up 33% of the total surveyed. This sector employs around half of the country's working population, but World Bank statistics show there has been a sharp decline in the last decade of agriculture's contribution to Ghana's GDP, as the industry deals with challenges such as a lack of access to farming equipment, market information, and stable buyers.
In these challenges, some local startups see opportunity. With youth unemployment estimated to be at 11.5% in 2016,  a few young Ghanaians are increasingly choosing not to wait to get lucky in a job. Instead they're identifying the gaps in the market and are tackling them, finding ways to not only help farmers' prospects, but to create wealth.
"Many young people are seeing agriculture as a sector they can develop and grow in scale," says Dziffa Ametam, a lecturer at Meltwater Entrepreneurial School of Technology (MEST) in Ghana, which helps young entrepreneurs develop startups.
Mobile agriculture
Mobile technology also has a prominent role in a number of the agriculture startups, like Trotro Tractor, which has an interesting agricultural twist on the sharing economy. The company, launched last year, links farmers with tractor owners in Ghana via mobile phone codes. Farmers dial a code to request the use of a tractor, which they can then pay for with mobile money. Trotro Tractor's founders include a cattle farmer and a vegetable farmer.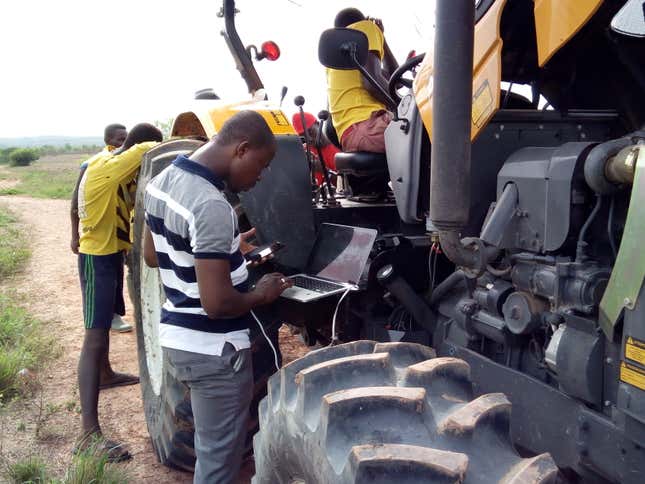 After an initial test run earlier this year, where a total of 600 acres were plowed across farms in Ghana, Trotro Tractor found they were able to make a profit by charging the tractor owner a commission when connecting them to a farmer.
Chief executive Kamal Yakub says he has found a ready market, noting farmers are willing to use technology as long as it doesn't cost them a lot."They are customers who will not deny us of business, in that sense," says Yakub. "When we bring technology that solves their problems, they will buy into the technology."
While the initial startup costs were high, covering visits to farming communities throughout the country to introduce them to the service, Yakub expects Trotro Tractor's revenue to be 10.9 million Ghana cedi ($2.5 million) by 2022. Since launching last year, the company has received 219,400 Ghana cedi ($50,000) in funding from oil and gas firm KOSMOS Energy and 10,000 Ghana cedi ($2,300) from the British Council.
Many of those getting involved with the agriculture sector have had personal experience with it. This is the case with Farmerline, which also bases part of its business plan on connecting farmers with services they need, via a few simple buttons on their phone.
Co-founder Alloysius Attah set up the company in 2012. Like many other young people in Ghana, he grew up in a farming community and witnessed his aunt struggle to farm with limited access to weather and market information. The mother of Farmerline's co-founder, Emmanuel Owusu Addai, ran a health clinic in a farming community where farmers often struggled to pay their medical bills.
"These are things that stay with you all your life," Attah says.  "It's your world, so when we got a chance to do something about it, it just came naturally."
Farmerline allows users to subscribe to weather, crop, and market information services, which they can receive as a voice message in their chosen dialect for a fee. It also gives NGOs and businesses access to farming data, such as farm mapping and auditing.
So far, Farmerline is used by 200,000 farmers in 10 African countries. The company says some farmers have been able to increase their revenues (pdf) by over 50% using the information service. The company has attracted more than 4.4 million Ghana cedi ($1 million) in overseas investments and was recently awarded 367 ,000 Ghana cedi ($83,750) for the King Baudouin African Development Prize. However Attah says the company's growth is largely driven by revenues from business clients.
Attah is proud that Farmerline has attracted young, bright employees who might otherwise have looked to large, successful corporations to jumpstart their careers. "It's always been 'Get into the MTNs of the world and the banks of the world to get a great resume," Attah says. By July, the company will have 32 employees, all aged below 34.  "They can develop their career and have the impact and opportunity to do good as well."
MoringaConnect, which Williams co-founded with fellow student Emily Cunningham, combines training, technology, and a supply chain to ship products from the moringa tree around the world. The oil from moringa seeds is used in a line of upmarket beauty products sold online through services like Birchbox, and in independent health shops like Cambridge Naturals.  They also sell nutrient-dense tea made from the leaves. Williams says they are on track to break-even this year.
The company now works with more than 2,500 small farming families throughout Ghana, guaranteeing it will buy 100% of what they produce, while encouraging the farmers to also use the leaves as a stable food source.
Williams, named a Quartz Africa Innovator this year, likes to give farmers the products made from their trees "so they really understand they are partners with us in creating this." Some of the major funders who have backed MoringaConnect include Vested World and Invictus Africa, with grants from Greater Impact Foundation, Echoing Green and MIT D-Lab Scale Ups. So far the company has raised $1.2 million, Williams says.
Farmers working with MoringaConnect increase their incomes, the company says. Planting a full acre of moringa can increase incomes from around 3,500 Ghana cedi ($800) to upwards of 13,000 Ghana cedi ($3,000), according to the company. "We definitely focus on creating a win-win relationship with the farmers so you have a secure supply base," Williams said.
There's still a lot of room for innovative startups in Ghana's agricultural sector, especially if they can create sustainable business models. The African Center for Economic Transformation is about to embark on a study with Michigan State University in order to better understand what's driving youth-led agricultural enterprises in Ghana and Tanzania and what's needed to further develop them. The ultimate goal of the study is to create a program to help ten startups led by young people move their businesses to the next level, according to Dr. Julius Gatune, senior research and policy advisor at the Center.
MEST's Ametam sees massive potential for entrepreneurial Ghanaians to change the agricultural sector into a productive, sustainable, multibillion-dollar industry, harnessing innovative technology, creating jobs, and increasing revenues for farmers.
"I'm beyond optimistic about the future," Ametam says. "Now, more than ever, there are more young Ghanaians who are paying attention to problems around them and not waiting around for someone to come solve it for them."