South Africans have a grim outlook of their economy right now.
Consumer confidence has worsened since last quarter, extending what is the longest pessimistic outlook since the survey was first launched in this country in 1982. The Bureau for Economic Research at Stellenbosch University released the latest data for the last two quarters on July 12. A look back at the historical figures, shows just how gloomy the mood is about the economy.
The only time South African consumers held a significantly worse view of the economy was in 1985, when South Africa was in a state of emergency when hundreds of people were killed in political violence and thousands were detained in the ensuing year. Similar lows were seen in 1993, when South Africans lived in fear of civil war and popular leader Chris Hani was assassinated ahead of the historic 1994 election.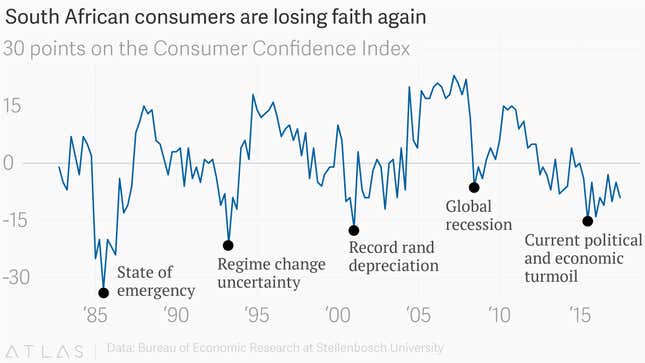 The post-apartheid lows have been less politically fraught: between 1998 and 2001, the South African rand was in crisis mode due to exhange rate overshooting, but this was also possibly influenced by the peak of the AIDS pandemic at the time, according to economists (pdf). In 2009, the global financial crisis hit, but even then South Africans were more optimistic than they are now.
It would be unfair to blame all of South Africa's economic woes on president Jacob Zuma, but the constant political battles between him and previous finance minister Pravin Gordhan didn't help. Neither did his decision to shuffle finance ministers four times in his current term. Not to mention the growing calls for him to step down amind corruption scandals.
Ratings companies directly attributed their decision to downgrade the country's soveriegn credit rating to the fiscal policy uncertainty, and last quarter, South Africa entered recession for the second time in less than a decade. On the bright side, business confidence did recover somewhat after a seven-month low.
The Consumer Confidence Index is a survey conducted from a survey of 2,500 adults around the country. They're asked three main questions, and asked to give their view as favorable or unfavorable, with a respective weighting of +10 to -10. And while historical surveys were unlikely to be racially representative, the simple questions get to the crux of how often bewildering executive level decisions and the government's inability to come up with a clear economic policy have hurt ordinary people's pockets.
The core questions:
How do you expect the general economic position in South Africa to develop during the next 12 months?
How do you expect the financial position in your household to develop in the next 12 months?
What is your opinion of the suitability of the present time for the purchase of domestic appliances?