Facebook is rolling out an educational tool in Kenya that would help its users spot and limit the spread of fake news stories on its platform, just a few days before a hotly-contested general election. The company also said that, together with its WhatsApp platform, it would place adverts in some of the country's national newspapers and radio stations giving consumers tips on how to spot false stories.
The tips, published in both English and Swahili, will appear at the top of the News Feed and provide up to 10 points on catching fake stories. These include closely inspecting URLs, checking the dates and photos, and investigating the sources of a story. In general, the tool calls on Facebook users to be skeptical of catchy headlines, think critically, and check if the pieces they are reading are humorous or satirical. Facebook said that the move was part of its mission to limit hate speech, incitement, or violence, and to encourage users to report anything that violates these policies.
Facebook rolls out the feature at a critical time when fake news has become a central concern in Kenya's election. Social media networks like Facebook and WhatsApp have become a key conduit of false narratives, with observers saying there's an attempt to deliberately spread misinformation and propaganda in order to sway public opinion. A recent nationwide survey showed that nine out of 10 Kenyans had heard or seen fake stories, with 87% reporting instances of deliberately false news.
"We take fake news issues seriously because people want to see accurate information on Facebook," Ebele Okobi, the director of policy for Facebook Africa, said.
The problem of fake news in Kenya has hit both local and international media outlets. During the primary elections in April, the front page of the local Daily Nation was falsified to show a candidate had defected from the opposition coalition to the ruling party—when he had not. In late July, two fake video reports imitating CNN and BBC's news format were circulated, with both stories discussing how president Uhuru Kenyatta was well ahead in the polls. On Tuesday (Aug. 1), a fake report published under the logo of the non-governmental organization Transparency International (TI), was shared on social media networks. The report linked opposition candidate Raila Odinga's campaign to corruption; TI distanced itself from the report and its contents.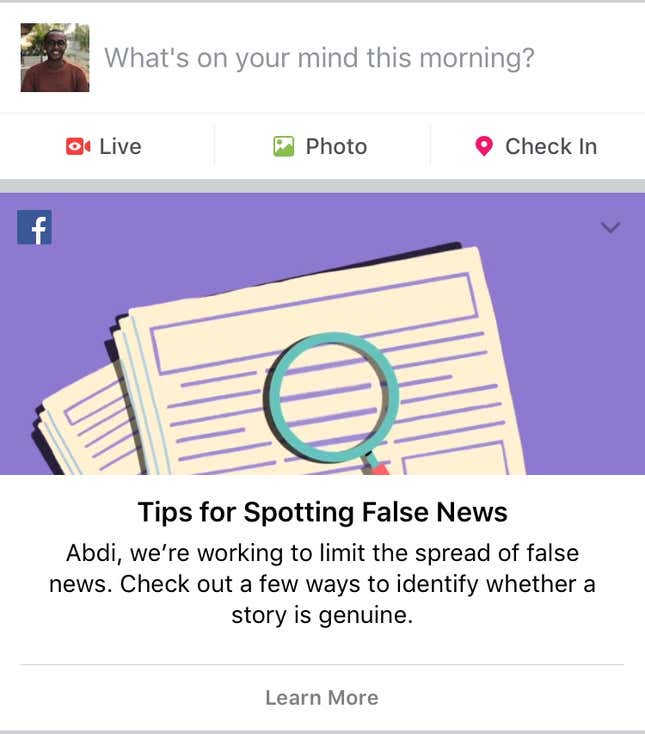 In many ways, Kenya is in the midst of its first social media election. Officials in both the public and private sector have been calling for caution, and for media outlets to ensure that the citizens are well-informed. On Wednesday, the Communication Authority said while it "will not shut down the internet during the electioneering period" it will clamp down on the "sites that will be used to spread hate speech."
For Facebook, the rolling out of the tool in Kenya is a continuation of its efforts to build new products to curb the spread of false news, disrupt the economic incentives behind it, and get users to make informed decisions. The social media giant came under a lot of criticism after the 2016 US election for the spread of so called fake news and has worked with fact-checking sites to flag disputed articles. In April, the company also said it was testing how to make it easier for people to report and rank fabricated stories.