Kenyans began voting for their next president on Tuesday (Aug 8), in the most expensive and tense elections in its history. The tightly-contested election pits the 55-year-old incumbent Uhuru Kenyatta against the 72-year-old, veteran opposition leader Raila Odinga.
Kenyans across the country started queuing at polling stations hours before the polls opened at 6am local time. The morning polls were marked with interruptions, including the late opening of polling stations, delays in switching on electronic voting system kits being used, and the failure of some of the kits to detect voters' fingerprints in some parts of the country.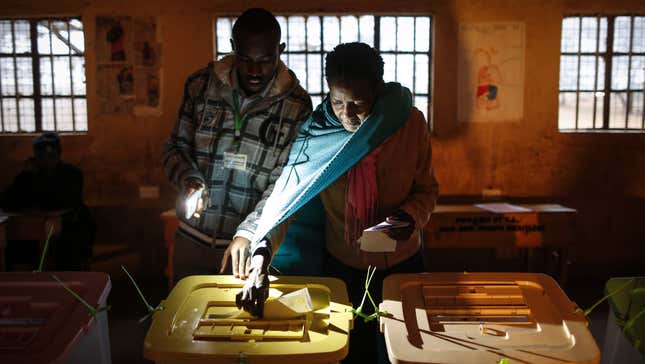 More than 19.6 million voters, both inside the country and in the diaspora, are also voting for 1,882 vacant positions in government. These will include the presidency, governors, members of parliament, senators, members of county assemblies, and county women representatives.
Kenya's Independent Electoral and Boundaries Commission (IEBC) also said that heavy rains in the Turkana North, Baringo, and Samburu counties in Kenya's rift valley hampered the process of voting. In the capital Nairobi, the commission said it was replacing some of the elections management system kits, and instructed its officers to manually key in voter ID numbers to confirm registration. In the first presser since polls opened, Wafula Chebukati, the chairperson of the electoral commission, said officers had been deployed to deal with the technical hitches.
"We wish to assure you all that for the polling stations that opened late, we will compensate the time by extending the voting period by the same amount of hours that were lost before opening," Chebukati said.
Today's election comes a decade after disputed results of an election in 2007 pitched the country into chaos, ending up with at least 1,600 people killed and more than half a million displaced from their homes. Stability this time around will depend on public confidence in the electoral process, which has already been questioned in the months leading up to the campaign. Eight days before the vote, an election official was found dead, apparently strangled and tortured.
To win the election, a presidential candidate has to gain 50% of the votes plus a quarter of half of Kenya's 47 counties. If no candidate wins, a run off will be held within 30 days. Both candidates have said they will accept the result if the election is conducted fairly.
"The most important moment of the election is how the declared loser reacts—not how orderly the polling stations are, how long the queues are, how the technology performs or what the international observers say," said Hasnain Malik, head of equities research at Exotix Capital, an investment bank focused on emerging markets.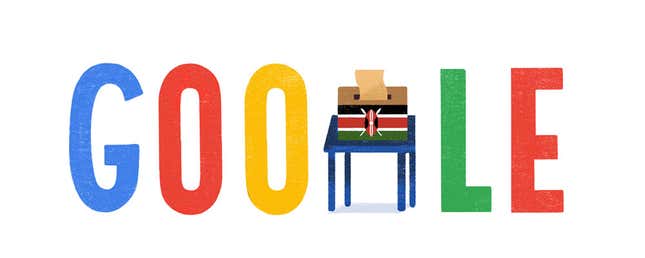 Kenya's elections matter well beyond the country's borders—and usually, attract a higher level of scrutiny and larger teams of international observers. Former US secretary of state John Kerry, besides John Mahama and Thabo Mbeki, Ghana and South Africa's former presidents, are among thousands of observers monitoring the elections. Speaking to reporters, Kerry said that Kenya's election system was "being tested" and urged candidates to follow legal challenges to dispute irregularities.
Former US president Barack Obama, whose father was from Kenya, also weighed in on the elections, urging Kenyans to work together for a peaceful and credible election. "I urge you to work for a future defined not by fear and division, but by unity and hope," Obama wrote.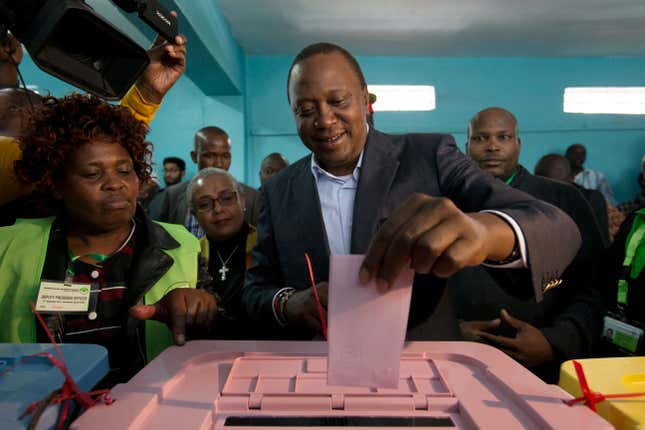 Apart from the technical hitches, the electoral commission said that the voting process had been smooth at the more than 40,800 polling stations across the country. Local media reported that suspected al-Shabaab militants hijacked two cars carrying voters in Mandera in northeastern Kenya, but no one has been injured or kidnapped. Users of Ushahidi, a crowd-sourced mapping platform, started during the 2007 elections to document incidents of violence, did not report any glaring issues.
Nairobi, Kenya's notoriously congested city, was quiet as most businesses and stores remain closed. Voters are being urged to go straight home after casting their ballots. Companies also seemed to ride on the spirit of the elections, with both ride-hailing apps Taxify and Uber announcing that they were reducing fares. The Estonia-based Taxify said that it was cutting its fares by half, while Uber said that it was slashing its fares to polling stations in Nairobi and Mombasa, and would offer free rides to persons with disability.
Both Kenyatta and Odinga have said that they were confident of an election win. At the Olympic primary school in Kibra constituency in Nairobi, Odinga told his supporters to gather on Wednesday in a downtown park for what he predicted would be a celebration. "This victory is ours," he said.