Zipline, a Californian drone-delivery startup that has been delivering blood to Rwandan clinics since October, announced today that it's expanding its operations into neighboring Tanzania.
This is an ambitious expansion from a company that has only been in operation a few months: At 364,900 square miles, Tanzania is roughly 35 times larger than Rwanda. Once Zipline is fully up and running in the country in early 2018, it expects to be able to make 2,000 deliveries per day to over 1,000 health facilities in Tanzania. CEO Keller Rinaudo told Quartz that Zipline has flown more than 1,400 flights—over 60,000 miles—to deliver 2,600 units of blood so far in Rwanda.
Zipline's existing service in Rwanda works a lot like an Uber for blood: When a doctor or medical staffer at a clinic has a patient that needs blood, they send a WhatsApp message or log onto Zipline's order site, and they're sent a confirmation message saying a Zip (one of the company's drones) is on its way. A drone is packed up and launched, and flies autonomously to the clinic at speeds of up to 100 km/h (60 mph). The average delivery time is about 20 minutes (though Rinaudo says the trips can be as short as five minutes or as long as 40 minutes, depending on how close the clinic is to one of Zipline's facilities). Once the drone is within one minute of its destination, the orderer gets a text message to be on the lookout for their package. The drone then descends to about 35 feet, and drops the package in a pre-determined zone near the clinic. The packages have paper parachutes that allow them to gracefully descend, and the orderer can choose to catch the package, or let it land on the ground. The drone then returns to its base and gets ready for its next shipment.
Rinaudo, speaking from Rwanda, told Quartz about a patient at one hospital who had complications after a cesarian section pregnant, and required multiple transfusions—she ended up having more blood transfused through her than there is in the human body. Without a service like Zipline, which could ferry blood over and over again to her hospital within minutes, she would have died.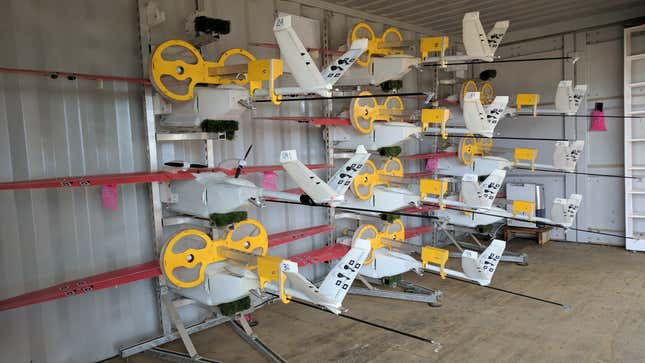 The company's operations in Tanzania will involve more than just blood. The four distribution centers it's building in the country will house over 100 new drones, and will be able to ferry a whole range of medical products, including blood, vaccines, HIV medications, antimalarials, and emergency medical supplies like sutures and IV tubes. The success of the program in its neighboring country convinced Tanzania to test Zipline, and Rinaudo says if the expanded offering works there, it's likely to be deployed to Rwanda in the near future as well. He added that many countries, including other East African nations, as well as ones in the Middle East and Europe, have expressed interest in the service. "These are not Rwanda problems—these are a global problems," Rinaudo said.
By focusing on high-cost medical items (instead of the burritos and Slushies that other tech companies are trying to deliver) and employing locals who are interested in making the lives of those in their community better, Rinaudo says the company is nearly profitable on a per-delivery basis. "We've taken an approach of being really practical and customer centric," Rinaudo said. "At a corporate incubator you have infinite money—we're a small company, we don't have infinite resources, we needed something that will work in the real world right now."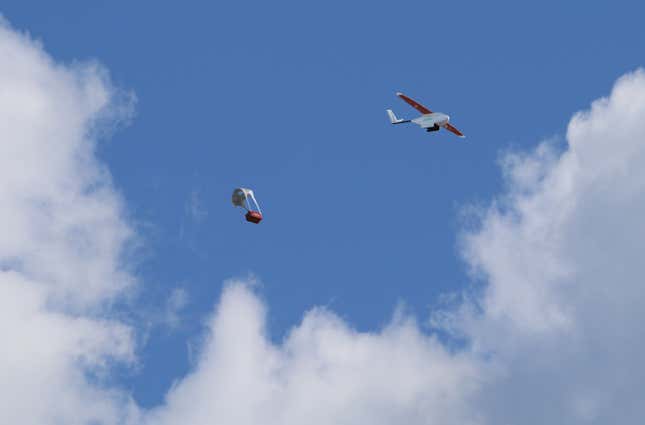 While other companies are claiming to have started drone delivery services in other countries—such as one that launched in Iceland yesterday—very few have delivered more than a handful of goods, or are available to more than a few people who live in places where drones can land easily. Even Amazon has only rolled out drone deliveries for a tiny patch of the British countryside. Zipline, on the other hand, has hundreds of successful flights under its belt.
Perhaps other companies will follow Zipline—which has been backed by venture firms such Sequoia Capital and Google Ventures, as well as Yahoo's cofounder Jerry Yang and Microsoft cofounder Paul Allen—in delivering items that people actually need immediately.