Convenience stores are called as such because they're everywhere and almost always open. But earlier this month, 7-Eleven took that concept to another level: The chain partnered with Flirtey, a drone delivery company that completed the first government-sanctioned drone delivery in the US last year, to deliver a customer's order to their home in Nevada.
The autonomous drone delivery took place on July 10 in Reno, Flirtey said in a press release. The historic order, which flew from a local 7-Eleven to a customer's house, included a chicken sandwich, donuts, a cup of coffee, candy, and some of the company's trademark carbonated slush drinks, Slurpees. Previous US tests of Flirtey's technology, which includes its own custom-built drones and software that's already in regular use in New Zealand, have focused on showing off the utility of drones in delivering life-saving medicine and supplies to hard-to-reach individuals. Last year's test flew medical supplies a mile from an airbase to a clinic in rural Virginia. This month's test, however, is a sign that the dream that companies like Amazon, Google, and Wal-Mart share of delivering products to customers is slowly becoming a reality.
In June, the US Federal Aviation Administration (FAA) outlined its long-overdue regulations for companies that want to use drones in their businesses. While the regulations were comprehensive, they stipulated that drones have to be flown by humans, and pilots have to be able to see their drones—keep them in their line of sight—the entire time they're flying. That essentially prohibits the possibility for drones deliveries (unless a pilot rides along in a car as their drone flies along), because there would be no practical way of delivering goods very far. That being said, the FAA has hinted that it is open to adapting the rules for new commercial uses in the future, with FAA administrator Michael Huerta calling these regulations just a "first step."
Flirtey and 7-Eleven's flight was completed under the watchful eye of the FAA, and clearly shows that the administration is still working through the feasibility of autonomous hordes of drones flying through US skies delivering us whatever we want, whenever we want it. "This is just the first step in our collaboration with 7-Eleven," Flirey CEO Matt Sweeney said in a release. "Today is a giant leap toward a not-too-distant future where we are delivering you convenience on demand."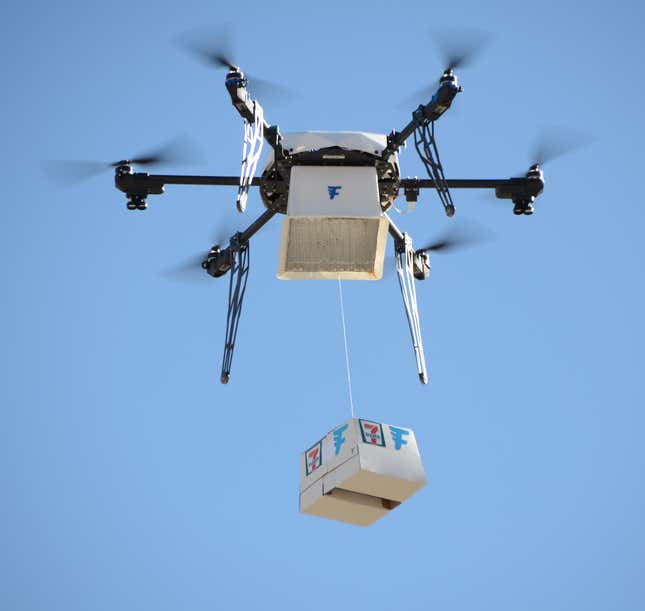 It remains to be see just how not-too-distant that future is. "This delivery marks the first time a retailer has worked with a drone delivery company to transport immediate consumables from store to home," Jesus Delgado-Jenkins, a vice president at 7-Eleven said in the release. "In the future, we plan to make the entire assortment in our stores available for delivery to customers in minutes."
And as TechCrunch points out, 7-Eleven already partners with delivery service Postmates, so it's really not that difficult to get on-demand convenience-store donuts today, if that's something you're really hankering after.