The rainy season is usually welcomed in parts of Africa as a timely break from the heat of the dry season. But so far, in 2017, the rains have given way to flood disasters which have led to a death toll numbering in hundreds.
Like severe floods in southern Asia, the disasters in Africa have been largely under-reported compared to similar events in Houston where Hurricane Harvey, a once in a "500-year storm" has wreaked havoc. But while the devastation in Houston could have hardly been avoided, many of the recent flood disasters in Africa have been exacerbated by years of poorly planned drainage systems. In another contrast, while rescue and relief operations in Houston have successfully saved countless lives and helped survivors, the same can't be said in parts of Africa that have been badly flooded, worsening the death toll. Across Texas, 50 people have been reported dead due to the tropical storm but across Africa, intense rains and mudslides killed at least 1,240 people in August.
Freetown, Sierra Leone
In mid-August, Freetown, Sierra Leone's capital, was rocked by its worst natural disaster in recent times as a devastating mudslide destroyed homes and buried hundreds under the debris. An unofficial death toll suggests more than 1,000 casualties as, with hundreds still missing, the possibility of finding any survivors dimmed in the days after the tragedy. Sierra Leone's president Ernest Bai Koroma described the mudslide as overwhelming and called for "urgent support."  The mudslide comes only three years after the Ebola outbreak which killed nearly 4,000 people.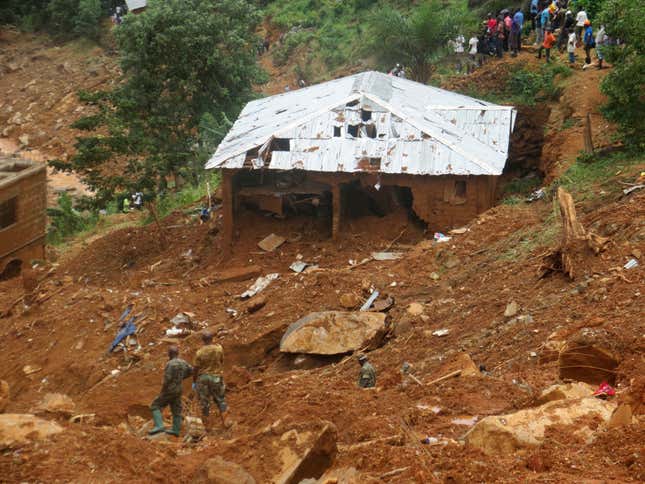 It's not the first time Freetown—which records the highest annual rainfall in Africa—has suffered severe flooding. But the coastal city's problems have been worsened by decades of poor waste disposal habits and the government's lack of urban planning. More than half of homes in Freetown are defined as slums and most are built on hillside outskirts at the cost of rapid deforestation making the mudslide more devastating than it should have been.
Niamey, Niger
Last week, thousands of people in Niamey, Niger's capital city, were advised to evacuate their homes following severe flooding. Back in May, the United Nations had warned that more than 100,000 people were at risk of the flooding and so far this year, the death toll has topped 40 people. Hundreds of homes have been destroyed forcing stranded residents to take shelter in local schools.
Ituri, DR Congo
Over 200 people are believed to have died after a mudslide hit a fishing village in DR Congo's Ituri province in mid-August. At the time, Pacifique Keta, deputy governor of the northeastern province, said rescue operations were "complicated" given the mountainous terrain of the area and the continued adverse weather. Like in Freetown, residents in the area have mushroomed on steep hillsides over the years worsening the effects of floods.
Benue, Nigeria
More than 110,000 people have been displaced in Benue, a state in Nigeria's middle belt, over the past week after intense rains. In addition to thousands of homes, local markets and government offices were badly affected by the flood, according to the state emergency agency. But help has been slow to come. While president Muhammadu Buhari says he's received reports of the flood with "great concern" and has ordered relief efforts, very little has been forthcoming. Collins Uma, a Benue-based writer says most of the relief efforts made available so far are down to the "efforts of individuals and groups, not the government."
Jidenna, the US-born Grammy-nominated musician with a Nigerian father, has also launched a social media campaign to raise money for victims of the flood.
The floods in Benue are also not a new event. "This happens every year and will likely happen next year, but the government pays lip service to it," Uma tells Quartz. "If we had working drainage systems, this would not happen."