This story has been updated.
In its bid to solve a growing regional crisis, Nigeria's government may have made it worse, again.
For months, the revival of fifty year-old secessionist rhetoric for the creation of  a "Biafra" nation for the Igbo ethnic group has grown in popularity across Nigeria's southeast. The secessionist calls have been mainly led by Nnamdi Kanu, the self-declared leader of the Indigenous People of Biafra (IPOB). Kanu, a British citizen who started his protests from London, was previously known only by his dedicated followers in the region. But he became well-known nationwide after he was arrested and detained for 19 months by the government on charges of treason. He was released on bail back in April.
Kanu was again at the center of growing tensions in the southeast this week as, in a show of force, the Nigerian government deployed army troops to Abia, Kanu's home state. The army claimed the deployment, tagged Operation Python Dance, was in response to security concerns but many locals interpreted it to be an attempt to re-arrest Kanu for flouting one of his bail conditions (since his release, Kanu has addressed public crowds pushing IPOB's Biafra agenda despite being released on the condition that he wouldn't do so). Those sentiments were reinforced after Kanu claimed soldiers laid siege on his home to put him under house arrest. IPOB claims it as an assassination attempt on Kanu. Four IPOB members were killed in the skirmish according to reports.
Images and videos on social media have shown soldiers' inhumane treatment of local  youth in the southeast and chasing after unarmed civilians in trucks. Inadvertently, the army's actions have stoked increased tensions between southeast Igbos and the northerners. Historically, Igbos in Nigeria's southeast have felt marginalized in Nigeria and president Buhari, a northerner, did little to ease those sentiments soon after taking office when he suggested he'd prioritize development in other regions where he won more votes.
The animosity between the regions was worsened in June after a coalition of northern youth groups issued Igbos living in the north with a quit notice. At the time, the Nigeria government urged Igbos to disregard the threat and promised to apprehend the youth group's leaders but no one was arrested in connection with the quit notice.
In the aftermath of the clashes this week, the army has withdrawn its troops but it also declared IPOB a terrorist organization. It cited the group's formation of Biafran law enforcement bodies and "possession and use of weapons."
The fallout of the events of the past days is still unclear but already, footage of Igbo youths menacingly searching for northerners resident in the southeast is stoking fears of a breakout of violence. If that happens, a reprisal will likely follow against Igbos in the north.
For older Igbos, that sounds all too familiar. Back in 1966, Igbos fled northern Nigeria after brutal massacres by angry mobs in the region. Over the three years that followed, Igbo leaders' attempt to secede from Nigeria and create an independent Biafra state led to a civil war in which over a million people died. Half a century later, the war remains a taboo subject in Nigeria.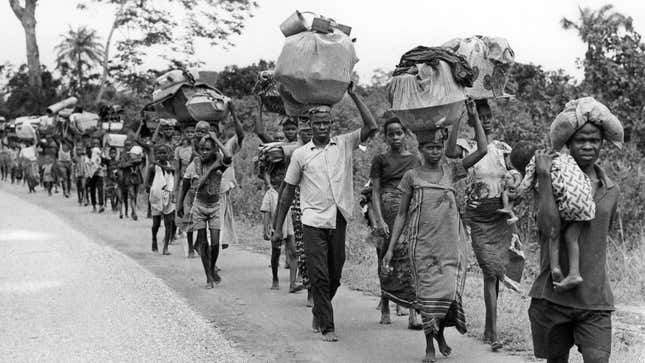 Nigerian governments have a long history of worsening potential crises through a highhanded approach. In Dec. 2015, the Buhari-led government was accused of killing hundreds of members of Islamic Movement of Nigeria, a Shiite group in Nigeria's north, leading to fears of another insurgency in the north. The Nigerian army claimed the group prompted a confrontation after blocking the motorcade of Nigeria's army chief. Despite a court order for his release by courts, Ibrahim El-Zakzaky, the leader of the Shiite group, remains in government detention.
Back in 2009, another botched government operation arguably led to Nigeria's most devastating insurgency. After initially ignoring warnings about Boko Haram's radical views and potency, police officers apprehended Mohammed Yusuf, former leader of the group. But with Yusuf dying in police custody, the crisis soon escalated as, under the leadership of Abubakar Shekau, Yusuf's erstwhile leader, Boko Haram has led an eight-year insurgency which has seen over 20,000 killed and millions more displaced in northern Nigeria.