Harare
Dejection, hopelessness and desperation are written over the faces of the majority of Zimbabweans as they queue up for fuel and foodstuffs that have become scarce across the country amid fears that the country has started to slide back into the 2008 hyper-inflation era.
Even bitcoin rates, which some ordinary Zimbabweans have turned to as a storage of value, has started to soar on a local Zimbawean exchange Bitcoinfundi. It was up to $5,600 for a bitcoin versus $4080 per bitcoin on the Coinbase global index. The discrepancy is caused by the difficulty Zimbabweans will have in cashing out their bitcoins locally.
President Robert Mugabe on Monday (Sep.25) promised to deal with the current wave of foodstuff and fuel shortages in double quick time. He blamed "economic saboteurs" for the sudden worsening of the economic situation, ordering retailers to speedily reduce prices or face action from the government.
This has however brought little cheer to crisis weary Zimbabweans who are faced with further cuts to drug supplies, electricity and other commodities thanks to forex shortages despite the government asking platinum and chrome miners to surrender about three quarters of their forex earnings to the central bank. Anglo Platinum and Impala Platinum—the world's biggest miners of the precious metal—will be affected by this although they are in negotiations with the government over this.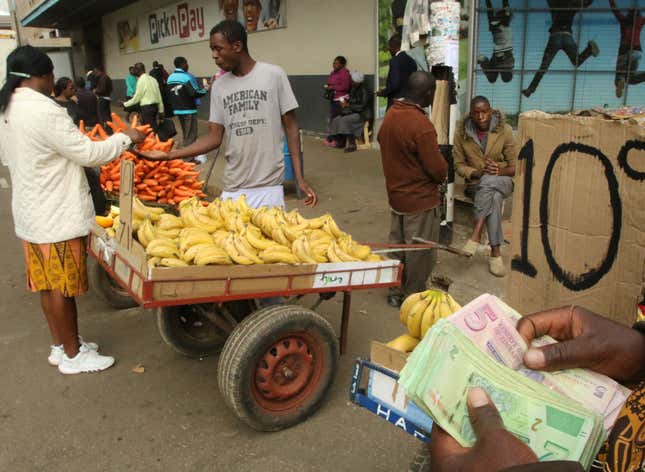 Investors in Zimbabwe's economy are also trying to run for cover as they empty their portfolios. But others are stuck in Zimbabwe as they cannot repatriate funds out of the country, with British American Tobacco and Delta Corporation being the notable affected companies.
The justification is that it is better to use cash resources now than hold onto them and watch them lose value. Zimbabwe introduced local bond notes last year which initially traded at par with the US Dollar but these have been losing value fast in the past few weeks.
Zimbabwe is expecting economic growth of 2.7% this year, driven by a better agricultural season, stronger mining production and improving tourist arrivals but economists say the current wave of uncertainty and constraints being faced by businesses will stiffle growth.
But it is not just the bigger investors and established businesses that have been affected by Zimbabwe's falling economy. Pensioners and workers have also been affected as they have to do with being turned away from banks because lenders frequently run out of cash and have instituted daily withdrawal limits of $50 when the cash is available.
"It has become very difficult for the public to access cash from banks. People are not even accessing their salaries and the worst scenario is that pensioners, some as old as 80 are sleeping outside banks," Peter Mutasa, president of trade union, Zimbabwe Congress of Trade Unions (ZCTU) said on Tuesday.
Zimbabwe's unemployment has ballooned to over 80% and the ZCTU says continued value loss in the bond notes and foreign currency shortages will "condemn more than 90% of the population which survives on informal activities into destitution".
"The avenging spirit of 2008 needs to be exorcised before it wipes out our dignity. The country is in this predicament largely because of fiscal indiscipline that is being driven by a culture of consumerism by a broke and clueless government," underscored Mutasa.