South Africans and Nigerians may not always agree, but the citizens of Africa's largest economies now share a common confusion over a large bronze statue of president Jacob Zuma, unveiled in Nigeria's Imo State.
In between a state visit to Zambia and a working visit to the Democratic Republic of Congo, Zuma stopped by the home of governor Owelle Okorocha in Nigeria's Imo state on Oct. 13. There, he was greeted with a bronze statue in his own image that stands taller than the flagpoles surrounding it. The monument is supposed to be testament to the contribution Zuma has made to his own community, according to a statement from Zuma's office.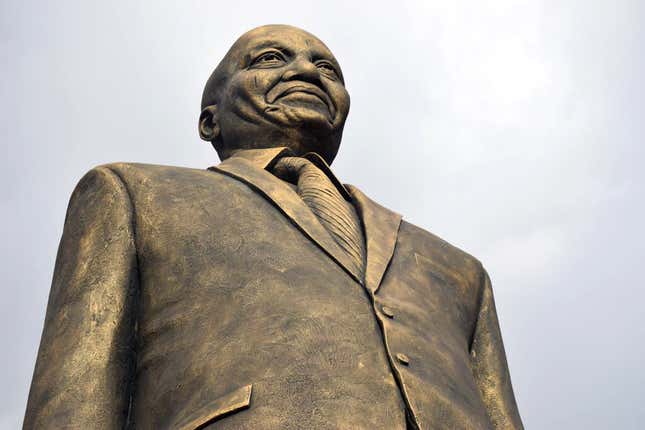 Okorocha, popularly called 'Rochas", is a reported billionaire and colorful character who has governed Imo state in the southeast of Nigeria, since 2011. He is well known for his education philanthropy. Zuma, too, has founded a trust that provides bursaries and scholarships to impoverished youth, but not without controversy.
The two leaders have agreed to "help send helpless African children back to school," Okorocha tweeted. There was, however, no formal public statement on any cooperation between Okorocha and Zuma's respective organizations, adding to the confusion.
Statues and other monuments often raise debates about who should be honored and how. Confederate statues in the US, colonialist Cecil John Rhodes' statue in South Africa and Gandhi's statue in Ghana have all forced current generations to question the values these leaders held, and whether they deserve to be immortalized in this way. In the case of Zuma's statue, questions were raised as soon as the cloth was pulled from the figure.
The public focused on the large statue of the South African president rather than the philanthropy attached to the trip. Many raised questions on the alleged cost of 520 million naira (over $1.4 million)—given Imo state's more pressing socio-economic needs. Others questioned why Nigeria's own leaders have not been celebrated in the same way. The political records and accusations of corruption leveled against both leaders eroded any confidence in the monument. Undeterred by the criticism, there are reports that the governor plans to unveil six more statues of African leaders.
South Africa and Nigeria have long had a tense relationship over the former's inability to curb xenophobic violence and protect the lives of African immigrants. Some Nigerians have been particularly embittered by the deaths of Nigerian nationals in South Africa, given how South Africa's apartheid-era liberation fighters were sheltered in Nigeria.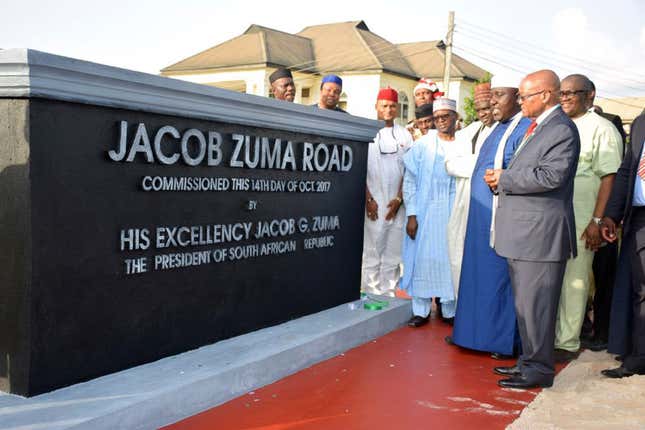 Faced with increasing unpopularity in his own country, Zuma was assured that he would always be honored in Imo State. Along with the statue, Owerri city now also has a street named after the South African president, complete with honorifics.
Zuma was also honored with a ceremony that conferred on him the traditional title of Ochiagha Imo, a chieftaincy title that translates to the ceremonial leader of warriors. The title was conferred by local royalty and the accompanying certificate was issued by former president Olusegun Obasanjo. Some traditional Igbo organizations have described the statue and title as "a show of shame."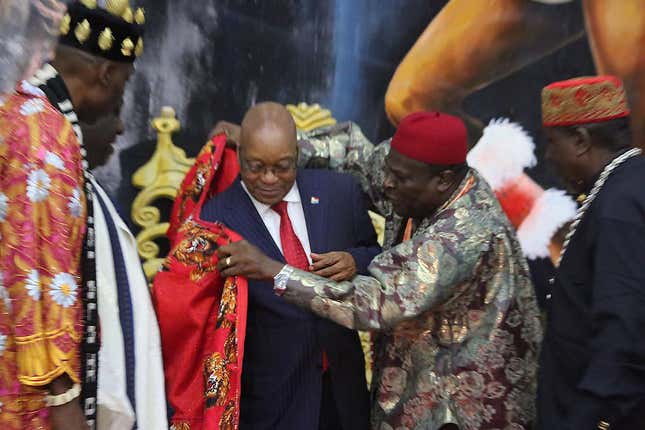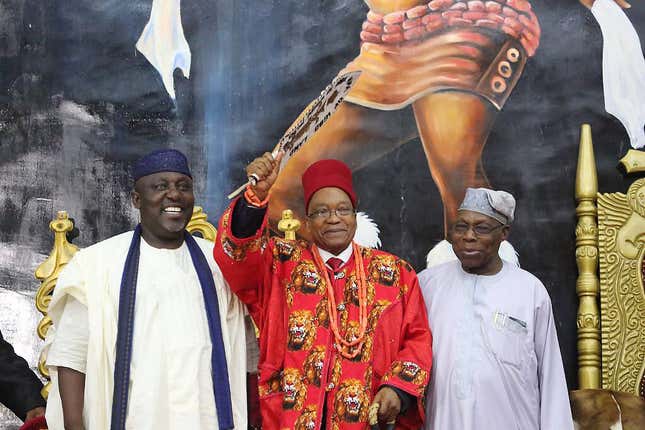 Zuma's visit to Nigeria did not include a stop in Abuja or a meeting with his counterpart president Muhammadu Buhari. He did, however, meet with business and other local political leaders in Imo state.
Earlier this month, South Africa unveiled its own monument to Zuma, marking the spot where he was arrested by apartheid police in 1963. The statue stands in a small town in the country's North West province, where there too, citizens were unimpressed.