Harare, Zimbabwe
In one stroke, Zimbabwe's 93-year old president Robert Mugabe has sidelined his deputy, Emmerson Mnangagwa—long touted as a successor—and created an easy path for his wife, Grace, to rise to power.
Grace Mugabe has been rising steadily through the political ranks in Zimbabwe after being elevated to the powerful post of secretary for the Women's League in the ruling Zanu PF party in 2014. She was influential in the sacking of former vice president Joice Mujuru from government and the party in the same year.
Monday's sacking of vice president Mnangagwa, for "deceit" and "disloyalty" among other allegations shocked Zimbabweans and drove local social media users into a frenzy.
The sacking was preceded by two big rallies in Bulawayo on Saturday (Nov.4) and in Harare, the capital on Sunday (Nov. 5). In Bulawayo, Grace, nicknamed "Gucci" for her lavish shopping lifestyle, and her husband criticized Mnangagwa for working behind Mugabe's back to take over power and divide the party. Ironically, Mnangagwa has won sympathy from Zanu PF supporters and other longtime party watchers who say Grace believed that he was a realistic threat to his bid for power.
As the rumors spread, the Zimbabwean First Lady was booed and heckled while delivering her speech and she accused the hecklers of being paid to do boo her. "If you were given money to boo me, go ahead, boo, I will say it and I don't  care I will say it," she is reported to have said according to Bulawayo 24. "I am the First Lady and I will stand for the truth. Let me tell you this, bring soldiers with guns to shoot me, I don't care."
A visibly angry Mugabe declared he would drop Mnangagwa the following day for factionalism.
But the script was the same the following day when Grace Mugabe addressed church members. This time she said Mnangagwa had harbored plans to stage a coup in Zimbabwe since 1980 and had to be dropped immediately.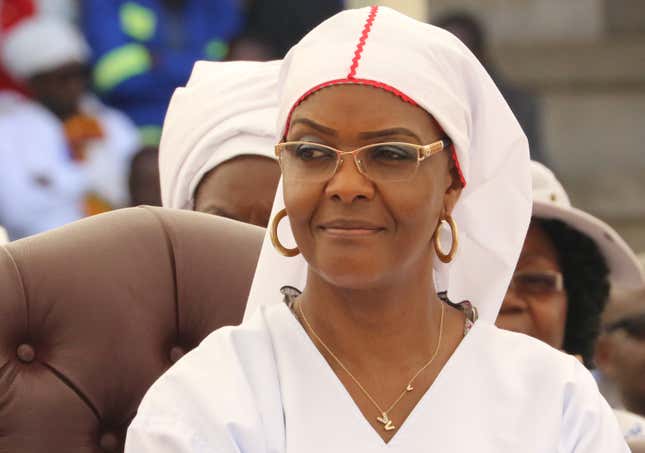 This set the stage for Mnangagwa dismissal from government and earlier on Monday the influential Youth League of the party resolved that Mugabe should fire him and elevate the First Lady. Provincial structures had also endorsed the ouster of Mnangagwa overnight.
President Mugabe, who has ruled his country since independence in 1980, has overseen the collapse of the economy through a mix of bad political and economic policy decisions over the last decade and a half. Despite this, he has managed to hold on to power through a combination of political maneuvering and repression. But as his health declines, many in his ruling party are positioning themselves to take over when he leaves power. His wife Grace, 52, now appears to be in pole position.
Most watchers now expect Mugabe, after being endorsed as leader of the party, will appoint Grace Mugabe as his deputy at the extraordinary congress in December. Some Zimbabweans still hope for a dramatic twist that will prevent this from happening.
"That the provinces are passing resolution (to elevate Grace Mugabe to vice president) is designed to make the job easy for Mugabe. This puts Grace on course to succeed her husband. A Grace Mugabe Presidency which seemed highly unlikely four years ago is now a distinct possibility," said Alex Magaisa, a political analyst.
Grace will certainly welcome all the endorsements as she eyes the big throne. After all, she said on Sunday that she had asked Mugabe to reserve the top throne for her when the time comes. "So I have said the President you can also leave me in charge. You can also give me your position," she said.