Harare, Zimbabawe
Zimbabwe's longtime leader president Robert Mugabe is reportedly under house arrest after soldiers took over the state broadcaster on Nov. 15 in a move that has all the classic hallmarks of a coup, although the army insists it's not one.
There is a strong military presence on the streets of Harare and Zimbabwe's parliament and the president's offices have also been cordoned off. Universities deferred exams and asked students to stay home.
No one has heard from Mugabe or his wife Grace Mugabe since tanks were spotted rolling into Harare on Nov. 14. The South African Broadcasting Corporation (livestream) reported that the first couple is under house arrest. The country's finance minister Ignatius Chombo and several ministers loyal to Grace Mugabe's faction have been detained, according to Reuters.
Zimbabweans woke up on Wednesday morning local time to discover that leaders of the Zimbabwe Defence Forces had taken control of the state broadcaster with a promise to restore order to the country, but insisted that it was not a military coup.
Around 1am local time, major general Sibusiso Moyo on behalf of the ZDF, came on air in camouflage fatigues, announcing that president Robert Mugabe and his family are "safe and sound" with their security "guaranteed."
"We are only targeting criminals around him who are committing crimes that are causing social and economic suffering in the country in order to bring them to justice," said Moyo.
"As soon as we have accomplished our mission we expect that the situation will return to normalcy."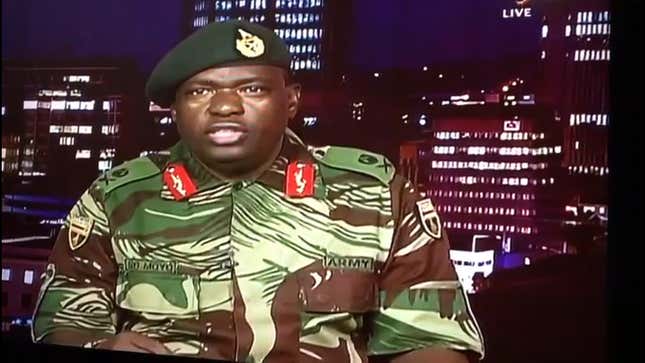 But in a message to the international community, Moyo said: "We wish to make it abundantly clear that this is not a military takeover of government. What the Zimbabwe Defence Forces is doing is to pacify a degenerating political, social and economic situation in our country which if not addressed may result in violent conflict."
The takeover of the Zimbabwe Broadcasting Corporation in Harare comes after around 48 hours of unease in the country, after the ZDF's top officer, general Constantine Chiwenga challenged president Mugabe's treatment of former war veterans from the country's independence struggle and, significantly, the sacking of vice president, Emmerson Mnangagwa. Chiwenga was called treasonous by Mugabe's Zanu PF party.
On Tuesday, army tanks and trucks rolled into the capital city Harare heightening tension in a country that has never experienced political intervention from its armed forces since independence in 1980. After hours of uncertainty about the reasons for show of military force in the city, soldiers eventually took control the broadcaster.
Moyo's Wednesday statement seemed determined to ensure that the country, which has been ruled by president Mugabe for all the 37 years since independence, would not descend into chaos. He called on war veterans, traditional leaders and other security services to play a "positive role in ensuring peace, stability and unity" in the country.
But he also warned, "Let it be clear that we intend to address the human security threats in our country, therefore any provocation will be met with an appropriate response."
After the announcement, the TV stations have returned to showing videos of martial music.
Writing by Lynsey Chutel and Yinka Adegoke