The jitters surrounding the Saudi purge continue to reverberate both in Africa and across the world with companies and family holdings wondering how the shakedown would impact their businesses, assets, and long-term investments.
In early November, more than 200 people including princes, prominent businessmen, and former government officials were arrested in what officials said was a wide-ranging anti-corruption probe. More than 1,500 bank accounts of suspects were also frozen (paywall) according to the Financial Times, as the government sought to tackle "systematic corruption" and reclaim embezzled funds.
The unprecedented move is also seen as crown prince Mohammed bin Salman's efforts to tighten his grip on power, even as he marshals the kingdom to stem its dependence on oil and encourage foreign investment.
At least two billionaire businessmen detained in the corruption investigation have extensive investments across Africa. One of them is prince Al-Waleed bin Talal, chairman of the Kingdom Holdings, which has sizable stakes in Twitter, Citigroup, and ride-sharing firm Lyft. The other is Mohammad al-Amoudi, son of a Saudi father and an Ethiopian mother, and one of the richest black people in the world. Together, Talal and al-Amoudi own investments across Africa in hospitality, agriculture, cement production, gold mining, real estate, and oil production.
The two businessmen's venture into Africa preceded the wealthy Gulf nations' recent interest in financing projects in African markets. Buoyed by fast economic growth, improving governance, and growing demographic and consumer trends, more Gulf money has been flowing into the continent in the last decade—not only to North Africa but also in sub-Saharan Africa.
Between 2005 and 2014, Gulf firms provided (pdf) at least $9.3 billion in foreign direct investments in sub-Saharan Africa alone, according to a 2015 Economist Intelligence Unit report. The East Africa region was the main draw for Gulf investors, lured by the rise of Islamic banking, halal tourism, retail in Kenya, manufacturing in Ethiopia, and the education sector in Uganda.
For al-Amoudi, Ethiopia became a source of food and arable land, as escalating food consumption and water scarcity presented a challenge for Saudi policymakers. Through his Saudi Star Agricultural Development, al-Amoudi invested in growing wheat, rice, and barley in 0.5 million hectares of land in the Gambella province in Ethiopia. The project has not been without its controversy with the US-based think tank Oakland Institute saying that communities were forcibly relocated, forests cleared, and farmland lost.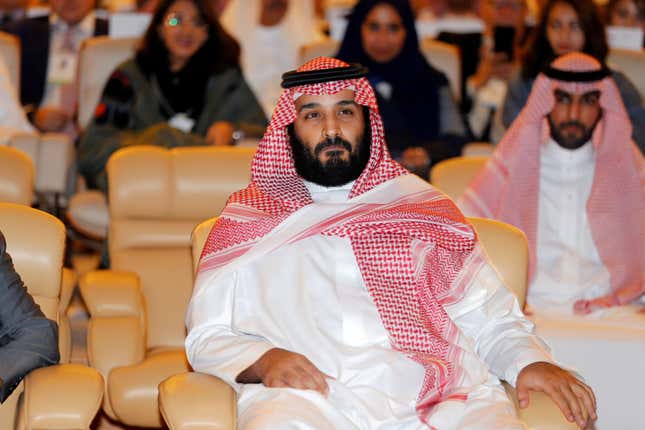 But his close relationship with the ruling party, which goes back to the 1990's, safeguards his business interests says Henok Gabisa, a visiting academic fellow at Washington and Lee University School of Law in Lexington, Virginia. Besides agriculture, the Saudi-Ethiopian businessman is Ethiopia's single biggest foreign investor and owns Midroc Gold, the country's largest miner that brings in much-needed foreign currency. A WikiLeaks diplomatic cable from 2008 noted how "nearly every enterprise of significant monetary or strategic value privatized since 1994 has passed from the ownership of the government of Ethiopia to one of al-Amoudi's companies."
"Ethiopian ruling elites had no trouble doing business with al-Amoudi even when the investment process from its soup to nuts was infected with corruption and bribery," Gabisa said. "It looked like they need al-Amoudi more than they hate the corruption."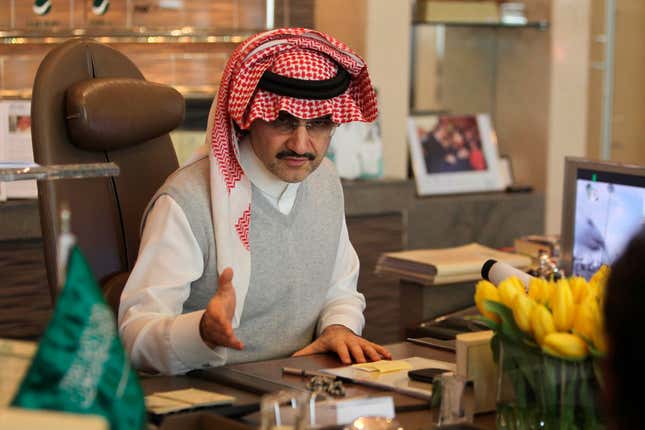 But the 71-year old al-Amoudi's arrest could be cheered on in Egypt says Adel Abdel Ghafar, a fellow at the Brookings Doha Center. This is because of his $88 million pledge to finance the Renaissance Dam, which upon completion will be the largest dam in Africa. And even though the dam will increase the hydroelectric power in Ethiopia, it will significantly reduce Egypt's share of the Nile water—a matter that is already controversial.
Yet Egypt also finds itself tangled into the Saudi purge given Alwaleed bin Talal's investments in the north African nation. Talal owns about 40 hotels and resorts in Egypt, in addition to 18 others that are still under construction, according to Reuters. In August, he also promised to inject $800 million to expand the Four Seasons resort in Sharm el-Sheikh, in partnership with Talaat Moustafa Holding Group (TMG). After his arrest, TMG denied that Talal, who also owns a chain of hotels in Kenya, was a company shareholder or had invested in any of its subsidiaries.
But even as family groups and businessmen look for ways to protect their assets abroad from the kingdom's reach, Abdel Ghafar says Egyptian authorities will likely take the lead of the Saudi government. "If there are confiscations to be had, the Egyptian government is likely to follow through."
Assertive reach
Besides the economic and financial investments, observers say we should also watch out for how the political assertiveness in Riyadh will manifest itself in African capitals. Along with the United Arab Emirates, the two nations have already been building ports and military bases along the Horn of Africa in order to expand their influence and tighten the noose on Houthi rebels in Yemen. This is happening as the Turks, Chinese, and the Americans all step up their engagement in the region.
"What you do see and what you will continue to see in the next couple of years is continuous interference as it pertains by what they [Saudis] perceive to be their long-term strategic interests," says Harry Verhoeven, who teaches at the school of foreign service at Georgetown University in Qatar.
But as the kingdom's multi-billion-dollar wealth fund looks to boost returns, Gabisa says that Saudis could use the opportunity for investment as a leverage against African nations. Countries like Kenya are in negotiations to export skilled and semi-skilled workers like nurses and technicians to the kingdom. In the long run, Gabisa said, this allows Saudis "to possess a juggernaut of political and economic leverage and influence over African nations."