Harare, Zimbabwe
Despite restricting cyber freedoms and cracking down on social media users, former Zimbabwean president Robert Mugabe's cash-strapped government had been prepared to play its part in empowering the country's tech entrepreneurs.
In 2017, the national telecoms regulator, Potraz, unveiled a $25 million ICT innovation fund to support innovators and tech startups in Zimbabwe. Entrepreneurs applied to the fund back in May and are waiting to learn the first few beneficiaries any day now.
Zimbabwean startups have long been starved of venture funding given the struggling economy that is already facing foreign currency and liquidity challenges. Even larger more traditional businesses have faced the same struggles.
The lack of sufficient venture funding is not unique to Zimbabwe. It's common across Africa's tech hubs, even for leading centers like Nairobi, Lagos and Cape Town. But the problem has been particularly acute in Zimbabwe which has been avoided by the kind of early stage international investors whose numbers have grown around the continent.
But there is new hope among the startup community here that with the recently installed government of president Mnangagwa doing all it can to open up the economy to the world and reverse years of stagnation there's a better chance investors will return and take a chance on the country's fledgling tech space.
Soul Limbikani Kabweza, editor of the blog, Techzim, says the country's startup sector is still very small. Zimbabwe's spiraling economy and political uncertainties had made it a "high risk" location for  both entrepreneurs and investors. He said the country's competitiveness as an investment destination had also nose-dived.
Even without meaningful funding, Zimbabwe's entrepreneurs have banded together at tech hubs and incubators to share ideas and drum up support, with only a few managing to secure funding.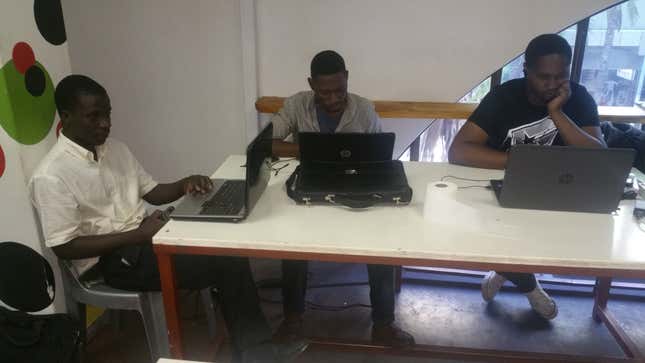 Tawanda Kembo of Golix.com, which has grown into one of the fastest growing bitcoin trading platforms in Africa, says rare funding availability has enabled his crypto-currency business to flourish. It started off as BitFinance and this year re-established itself as a digital currency exchange that now also offers a trade platform for bitcoin and Ethereum.
"Any tech companies in Zim that received any funding are the exception and not the rule. There is no funding," Kembo said. "We got some funding but we're a rare exception."
Farai Mundangepfupfu, the founder of a new social media and mobile chat application called Wangu, says he self-funded the startup venture but feels investors could find great opportunities in Zimbabwe. "There are some brilliant start-ups with huge earning potential out here in Zimbabwe."
Based on demographics and other data points, Zimbabwe could be a potentially lucrative market for tech startups to flourish both in terms of producing entrepreneurs and a sizable digital consumer market.  Zimbabwe has one of the highest literacy rates in sub Saharan Africa and an internet penetration rate up at 50% mostly via mobile phones.
Despite the funding difficulties, Tech Hub Harare has over 100 members made up of entrepreneurs and innovators who are undeterred and optimistic that one day their ideas will fly. At the B2C incubator in Harare, there are also more than 30 innovators working on start-up tech solutions ranging from applications to social networking and e-commerce platforms. It all boils down to the fittest and perhaps the luckiest lasting the startup journey. Essentially, far fewer ideas are getting developed into profitable businesses under the country's recent economic environment.
Adding to the frustrations of innovators in Zimbabwe is a banking and finance sector that is crippled and retarded from advancing funding products for the tech industry owing to economic difficulties. Innovators in Zimbabwe say the environment is uneven as they are expected to start paying taxes and to compete against big business from the onset. Zimbabwean tech startups that have managed to secure support through hubs in Harare are concentrated in fintech and social networking. CommonGround, a networking platform that allows university students to share project ideas and opportunities and Plan My Wedding are among startups that have been on the radar of Impact Hub Harare for incubation.
Robert Tapfumanei of ZimDiTV, an online TV news platform which peaked at reaching over one million people during the political upheavals which started in November—says more Zimbabweans are switching to online platforms. He sees that as proof the digital and tech startup arena has a ready market to tap into if the founders can secure backing.
Downsides
The funding and resource challenges have meant several promising startups have had to close earlier than expected including Hypercube Technology Hub at the beginning of last year. The hub had received seed funding support from the United States Embassy, HIVOS, and Indigo Trust but failed to self-sustain operations.
There's a concern that this is the fate that awaits many of the hubs and tech incubators in Zimbabwe unless a new strategy is adopted. One example of a sustainable approach is corporate backing or support such as ImpactHub Harare which this year secured technical and financial packages from Microsoft Africa and Facebook through its FbStart program.
The idea is to engage tech companies and other funders for specific projects and competitions that produce sustainable tech solutions that can then go on to stand on their own and earn revenue.
"All that we need is to have reliable internet that can help us to stay connected and to upload our content. Advertisers and brand managers follow the numbers online; they are always interested in the wide reach of an application or platform," said Tapfumanei.