A lot has been written about how the deployment of new technologies could help African countries solve, or even leapfrog, some of the many developmental problems they face on a daily basis. But technological advances also do bring their own challenges.
Primary among those concerns is that everything from digital connectivity to artificial intelligence to the deployment of robots do not hold much promise in overcoming the biggest obstacle facing most countries: how to create meaningful, large-scale employment for their fast-growing youthful populations.
This is in part why The Bill and Melinda Gates Foundation has kicked off an initiative to research the future of work, examining how developing countries can leverage technology to improve governance and service delivery.
Headed by Melinda Gates, the commission is led by names from diverse industries including Strive Masiyiwa, the Zimbabwean telecoms tycoon, Benno Ndulu, the former governor of Tanzania's central bank along with academics, executives and analysts from Oxford University, Safaricom, Barclays, MIT, and the World Bank.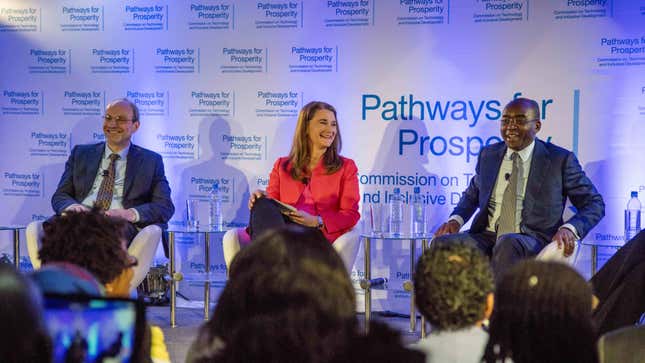 Dubbed Pathways for Prosperity, and managed through Oxford University's Blavatnik School of Government, the commission will over the next two years examine how emerging technologies like automation, robotics, and artificial intelligence will disrupt job creation, the geography of value chains, and economic growth. The hope is the $5 million study will foster inclusivity and provide recommendations to governments to spur innovation and help reduce the fear around digitation and machine learning.
The idea stems from billionaire philanthropist Melinda Gates's concern that the world was losing its intellectual leaders and that there is a need to create a new generation of thought leaders, particularly in the global south, to drive the conversation.
It comes at a time when Africa's population is increasing rapidly, much quicker than most African governments can provide adequate public infrastructure and a healthy enough economic environment to enable job creation.
On the face of it, economic growth in Africa looks promising, with non-commodity intensive economies like Ghana and Ethiopia expected to perform well in 2018. The share of Africans who are poor has also fallen over the decades, from 56% in 1990 to 43% in 2012, according to the World Bank. Innovation has also taken center stage across the continent, with developers from Lagos to Nairobi, Cape Town to Cairo taking the lead.
But ultimately, whether this positive trend continues and impacts enough ordinary Africans depends on how the countries respond to the new forces shaping the world— in particular, rapid technological change. Gates said that while discussions around new technologies focus on developed countries, it was imperative that the lens shift to the risks and challenges facing developing nations. "I think there's a huge promise if we keep the developing countries at the center of this conversation."
Masiyiwa said that it was important African governments use technology to create new opportunities that would stop young people from crossing the Sahara or joining terrorist groups. Improving regulations and offering the right incentives, he argued, would have the power to create African venture capitalists who can fund entrepreneurs and oversee the transformation of the tech industry.
"There are hundreds of M-Pesa innovations waiting to be uncovered," he said, alluding to Kenya's prominent mobile money platform.