Winnie Madikizela-Mandela, passionate anti-apartheid activist and ex-wife of South Africa's first black president, Nelson Mandela, has died at age 81.
The news was first confirmed by Madikizela-Mandela's personal assistant, and then by her family in a statement, who said that Madikizela-Mandela had suffered from a long illness and died peacefully. "Mrs Madikizela-Mandela was one of the greatest icons of the struggle against Apartheid. She fought valiantly against the Apartheid state and sacrificed her life for the freedom of the country," the statement read. "The Mandela family are deeply grateful for the gift of her life and even as our hearts break at her passing, we urge all those who loved her to celebrate this most remarkable woman."
A social worker who graduated top of her class in 1955, Madikizela-Mandela was offered a scholarship to further her studies in the US, but chose instead to work at the largest yet woefully under-resourced hospital in Soweto, Baragwanath. She was already passionately involved in the fight against racial segregation in South Africa when she met Mandela at the age of 22. They were married in 1958, and their relationship, while fraught, would endure despite intense political activity and Mandela's 27-year-long imprisonment before their divorce in 1996. The couple had two children together.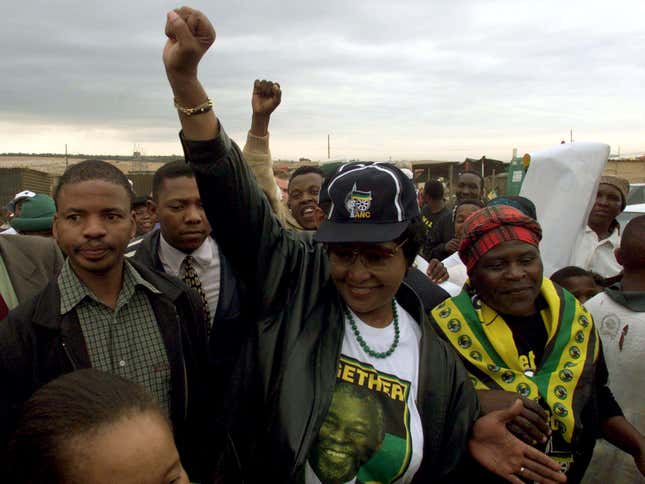 Madikizela-Mandela was not spared the apartheid government's attention while her husband was in prison. She was jailed and held in solitary confinement for her political activity several times, including during her first pregnancy, and was banished for a period to a small town in the rural Free State province. For her resistance, she earned the moniker "Mother of the Nation."
"She endured physical and emotional torture under the apartheid regime and never thought of quitting the struggle to follow her career as a professional social worker," the ANC Women's League, which Madikizela-Mandela led at various points, wrote in a statement. "Because of her love of the people she remained committed to the struggle for better lives for all until her last day on earth."
Madikizela-Mandela was an enigmatic but controversial political figure in South Africa who faced criticism for her alleged involvement in anti-apartheid violence. She was fired from her government post by Mandela in 1995, and would face down charges of assault and kidnapping related to her anti-apartheid activism in the early 1990s, and fraud and theft in the early 2000s. She denied all allegations.
After her divorce from Mandela, Madikizela-Mandela remained an active member of the ANC's top decision-making body, the National Executive Committee.
"All South Africans are indebted to Mama Winnie, whether they acknowledge it or not," Njabulo Ndebele, chairman of the Nelson Mandela Foundation, said. "From the witness of her life, we knew we could stand tall; we knew also we could falter and stumble. Either condition was an affirmation of life. Her cry was our cry, and in 2018 we can say we did triumph. We will miss her. And our country will miss her. Hamba kahle Mama."
—Lynsey Chutel contributed reporting. 
This story was updated with statements from the ANC Women's League and Njabulo Ndebele.