In the run up to the Nigerian Democracy Day celebrations on May 29, Falz, the rapper, actor and lawyer, also known as Folarin Falana, posted a new music video, This is Nigeria. It's his take on the Childish Gambino's groundbreaking This is America video.
Falz's rap style is usually comedic with a lighthearted touch to his lyrics and songwriting. His songs in pidgin English with an exaggerated Yoruba accent and videos wearing large spectacles without glasses and his skits on social media have endeared his act to Nigerians.
But just like This is America showed a different side of its creator Donald Glover aka Childish Gambino, This is Nigeria shows Falz deliver an important piece of social commentary, often with dark humor to highlight many of the worst socio-economic issues in today's Nigeria, particularly for the country's leaders. It's already been endorsed by US hip hop legend Sean "Diddy" Combs.
This is Nigeria is set in large hangar-like space and he is also shirtless with the same backing track and tune as Gambino's but after that it's all about Nigeria and Nigerians. It begins with speeches given by Femi Falana, Falz's father, a lawyer and human rights advocate. In one speech, he talks about Nigeria operating a "predatory neo-colonial capitalist system" which was founded on fraud and exploitation which is bound to lead to corruption—which forms the main premise for the message of the song.
Where Gambino's message might have tried to pass with important symbolism and tact, Falz's video tackles things head on spelling things out, you could say it's done the Nigerian way.  A Fulani herdsman playing the ukulele jumps up suddenly to attack a man with machete, referring to the growing dread of spreading herdsmen attacks around the country. He is joined by four ladies wearing dark-colored hijabs, obviously symbolizing the kidnapped Chibok girls we've seen in numerous videos.
Back in February, a sales clerk, "Madam Philomina" at the national university admissions board, JAMB, claimed 36 million naira ($100,000) of the board's funds had been swallowed by a snake, Falz has a snake writhing in a basket of naira notes to capture yet another example of the absurdity of Nigeria's daily corruption.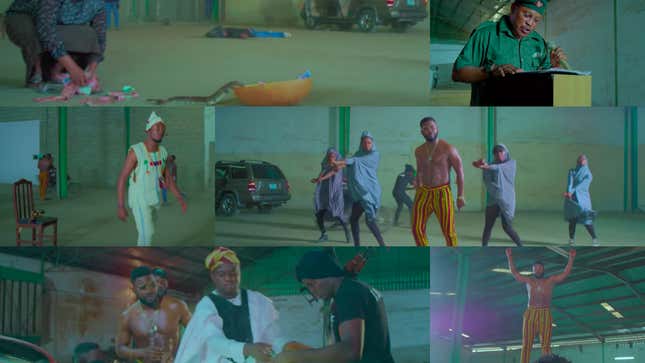 In the next scene a young university student alights from a bus, staggering uncertainly with what is we can only presume is a bottle of codeine cough syrup in one hand and a cup on the other alluding to Nigeria's opioid crisis. But as this is going on, Falz calls out president Buhari's government and others for never doing anything Nigeria' looters who never see jail time and instead are returning to contest in upcoming elections.
Even in the seriousness of Nigeria's mounting insecurity issues, Falz again pokes fun at the absurdity of it all referencing a Nigerian police station, which earlier this year said it had to close by 6pm "for security reasons".
Nigeria's hugely popular reality show, Big Brother Nigeria is parodied as Big Sister Nigeria with an enthusiastic winner celebrating his 25 million naira and car prize, you could say it's a distraction for Nigeria's youthful masses because in the next scene a loud Christian pastor in full cassock is preaching about the power of miracles. At this point Falz addresses stories of sexual  assault by several pastors taking advantage of a desperate people.
Of course, Nigeria's electricity woes are portrayed as two young men are shown trying to turn on gasoline generators; a popular household power source. In the same breath, Falz raps about the infamous comments of the president Buhari to the Commonwealth Business Forum in Westminster portraying Nigerian youth as lazy.
The notorious Nigerian Special Anti Robbery squad (SARs) makes an appearance in the video. Two young men are picked up, with identification, but will be carted away as criminals. While one person's father is able to pay the bribe, the other is left with the police again a commentary on one law for the wealthy and nothing for the ordinary person.
Talking of police, Nigeria's top officer, the inspector general, Idris Ibrahim wasn't going to get away without a cameo, given his disastrous speech earlier this month in which he stuttered and repeated the same words so often there were genuine questions about whether he was fully literate or drugged up. As in the beginning, an audio recording of Femi Falana taking shots at church-owned private institutions of education, taking offerings from poor parishoners then charging school fees which only their wealthy members can afford.
If there was one recurring or underlying theme to This is Nigeria it's that we're all to blame for the criminality we condone from our leaders or peers or as he refrains "Everybody be criminal!". It's a message that has been criticized by Nigerian think pieces around the internet already.
The video ends with Falz raising his hands up in the defiant style of Fela Anikulapo Kuti, the king of Afrobeat and a political activist who died in 1997.
Nigeria's modern "Afrobeats" artists are often slammed for their mix of bubble gum pop/hip hop and misogynistic music videos and raunchy lyrics, but in this one video Falz show there's another way and reminds his generation of artists the important role they have in shining a light on the country's many challenges.
_____________________________________________________________________________