Harare, Zimbabwe
Zimbabwe's upcoming election is a battle for the youth vote like never before and it is mostly playing out online and through social media platforms. The southern African country will hold presidential, parliamentary and local government elections on July 30 this year to choose a new substantive administration.
Social media is seen as having a key role in the polls, as a report by the telecom industry regulator, Potraz last year showed that WhatsApp alone accounts for 44% of internet usage in Zimbabwe. The country has an internet penetration rate of 50%, mostly driven by mobile gadgets. The Zimbabwe government on Wednesday ordered that data tariffs for mobile firms be reduced by 60% from July 1 ahead of the election day. It is expected the tariff reduction will mean cheaper social media access and usage although the new tariffs only apply to out of bundle browsing.
In a country where more than half the country is under 25, the youth vote is key. The 37-year rule of former president Robert Mugabe since Zimbabwe's independence means at least 70% of the country's population had never known any other leader than Mugabe until last November when he was pushed out in a coup.
And in a break with tradition, online platforms are playing a major role in the battle for the 5.6 million Zimbabweans who have registered to vote. Social media platforms such as Twitter and Facebook have taken center stage. President Emmerson Mnangagwa, who replaced Mugabe, has gone all out to appeal to the youthful populace with new Facebook, Twitter and Instagram accounts.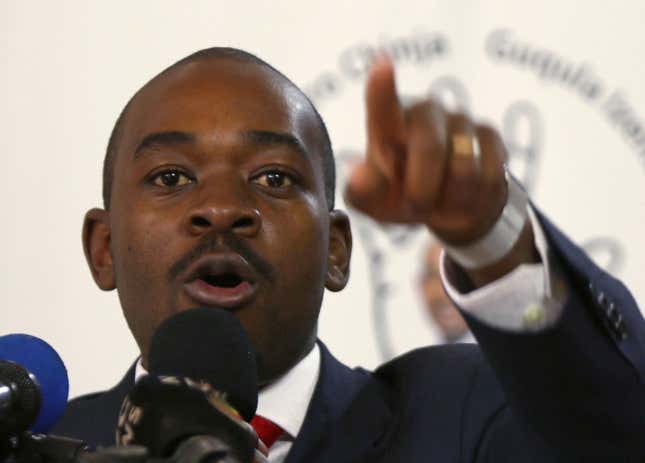 Mnangagwa's main rival in the upcoming elections is the youthful Nelson Chamisa, 40 who heads the Movement for Democratic Change Alliance. Chamisa has also intensified engagements through social media outlets such as Twitter,  and Facebook He has used social media to canvass support in his call for transparency and fairness in the electoral environment leading up to the elections and has tweeted about how his party has been frustrated and denied access to the voters roll.
About 38% of the 2.4 million Zimbabweans who inspected the voters roll earlier this month did so using mobile and online platforms, according to the Zimbabwe Electoral Commission (ZEC). Zimbabwean tech startups have also come to play a key role in dissecting the voters roll, a version of which was released this week, and giving out stats. The OpenParly Twitter platform has posted stats about the voters roll which show that Harare, the capital, has the highest number of registered voters aged between 18 and 35 years.