As the World Cup moves into its final group stage matches, one of the teams that has quickly become one of the neutrals' favorites is Senegal.
Prior to the tournament, the team received very little by way of attention. For teams from Africa, Nigeria stole the headlines with their popular jersey and Iceland with its tiny population and its unlikely story and its fans' 'thunderclap' chant had won the underdog plaudits.
But Senegal's relatively low profile has proved a bit of a competitive advantage as they became the first African side to win a group match after Tunisia, Egypt and Morocco flopped. While Nigeria initially underperformed and made a comeback. Senegal's Teranga Lions seem to have the better chance of going further in the tournament.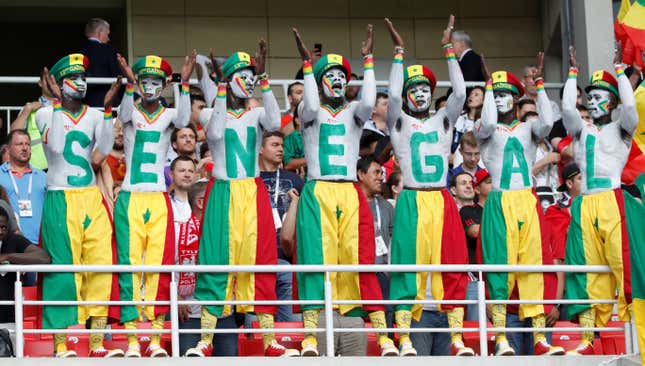 But Senegal's quiet campaign belies the talent in the squad. Among a host of skillful players is star man Sadio Mané—who became the most expensive African player in 2016 and partnered Mo Salah last season to give Liverpool a throwback to its glory days with a run to Europe's biggest club match, the Champions League final in May.
Senegal does have pedigree. Their proudest soccer achievement was at the 2002 World Cup co-hosted by Japan and South Korea. Avoiding defeat on Sunday against Japan in Ekaterinburg will extend their group stage unbeaten run at the World Cup to five games. But they have been making history since their appearance at the tournament in 2002. In that campaign, they saw off then defending champions and former colonizer, France in one of sports most defining underdog triumph moments.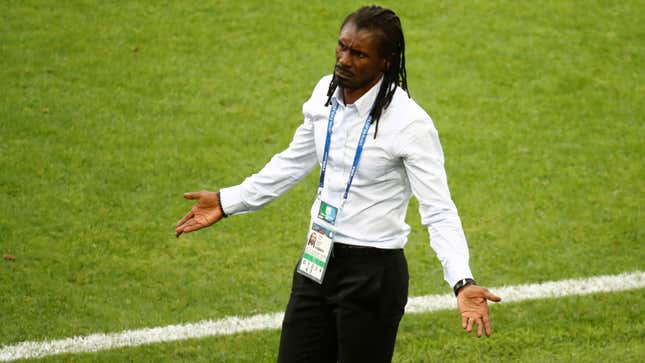 A remnant of that dream team that reached the last eight in 2oo2  is present in the current squad in the form of the meme-friendly hipster coach, Aliou Cissé, who was once the captain of the team. Once again, Cissé, 42, is making waves on the big stage as the only black coach on the touchlines in Russia. Even the most populous black country, Nigeria, is being managed by a white 64-year old German. Although he has tried to shy away from this fact, success at Russia would mean breaking glass ceiling that has long being aided by the stereotype that black players don't make good managers.
To cap off their goodwill the Lions have been receiving in Russia is the altruism displayed by their traveling fans. After their first game against Poland (which they won 2-1), their fans stayed behind to clean up after themselves. Only one other set of fans have done this. Japan.