Lagos
On his first trip to Nigeria as president, France's Emmanuel Macron seemed anti-establishment.
Yes, he landed to the regular pomp of a presidential welcome and had a meeting with Nigeria's president Muhammadu Buhari in Nigeria's capital. But beyond that, much of the 40-year old's visit was removed from government business.
First was a conspicuous trip to New Afrika Shrine, a concert venue in Lagos owned by the family of the Afrobeat legend Fela Anikulapo Kuti. The late musician, a fierce anti-government critic, railed against successive military regimes through music and was jailed several times by military leaders, including current president Buhari who served as head of state between 1983 and 1985. Indeed the New Afrika Shrine replaced the original venue after it was burned down in 1977 by the army.
Given its proudly anti-establishment roots, a visit to the Shrine does not typically feature in a visiting president's itinerary. But Macron was quick to dispel any notions that his visit was unusual given the shrine's cultural value. "It may be a surprise that a French president goes to the shrine, but it never surprises anyone if I go to the Albert Hall or the Met," he said. While there, Macron also announced the launch of African Cultures Season in 2020, an event to promote African culture aimed at changing cliched perceptions of Africa. The visit was a homecoming of sorts for Macron who spent six months in Nigeria working as an intern at the French embassy in 2002 and sojourns to the shrine were part of that experience.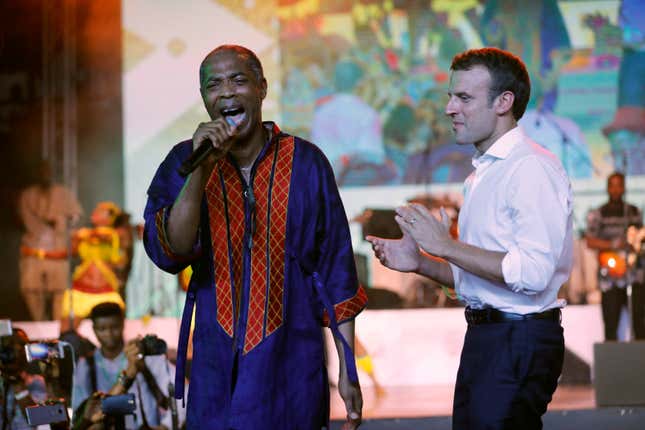 Later on, at an interactive session with young business leaders in Lagos, Macron did not shy from poking at the government's economic policies saying it's the "fault" of politicians if local businesses cannot thrive given Nigeria's huge market. Macron's interest in African businesses is well noted: in May, he committed $76 million to backing African startups.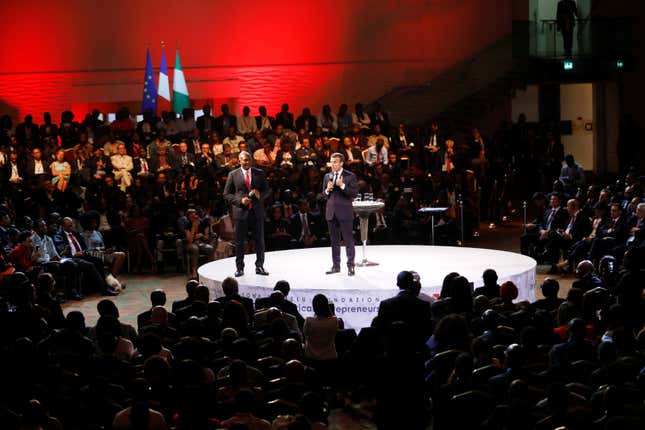 Migration also featured heavily on Macron's agenda as he emphasized the need for governments in Africa to make countries work better and remove the incentive for young citizens to take "crazy risks" to get into Europe. As of June, over 700 people had died trying to cross the Mediterranean to Europe this year. As the European Union explores ways to stop the migration wave—including creating migrant processing centers in North Africa—Macron insists that, for the best chance of success, African governments must lead that process.
Since taking office, Macron has had a mixed relationship with Africa. From making a problematic and exaggerated claim about "civilization" and childbearing rates in African states to promising to declassify files on the late Thomas Sankara's death, a move that's proven popular in Francophone Africa. But it is clear that Macron sees Africa playing an important role in France's future and vice versa.
Before Nigeria, Macron had already visited Africa seven times, touching down in nine countries since becoming president last May. He has consistently appealed to young Africans to be take up entrepreneurship and innovation while charging African leaders to fix problems at home as risky migration to Europe booms. And unlike former French presidents, he has also been bold on the subject of colonization. While campaigning for the presidency he described colonization as a "crime against humanity" and has committed to returning African artifacts in France that were stolen during the colonial era.
Citing his success during French elections, Macron also urged young people to participate in politics. That message is timely as Nigeria has just lowered age limits for major political offices ahead of next year's general elections.
And ultimately, there was some very traditional French interests being supported by the visit despite the culture-led charm offensive by Macron as shown by tweet by French oil giant Total's chief executive: