Cash-strapped Zimbabwe has turned to mobile money for additional treasury funding with a hike in taxes for mobile wallets and electronic payment transactions.
Zimbabwean business owners and consumers in the country say the new fiscal measure will push up costs in an economy already battling rising inflation and currency shortages.
In a country with a history of cash shortages, multiple currencies and hyperinflation, mobile money had become a key payment alternative. Cash is hardly ever accessible in Zimbabwe as banks frequently run out of monetary notes, leaving mobile money and bank cards as the only transaction options.
But it now appears mobile money, dominated by leading mobile operator EcoNet's EcoCash with a 96% market share, could be made a victim of its own success.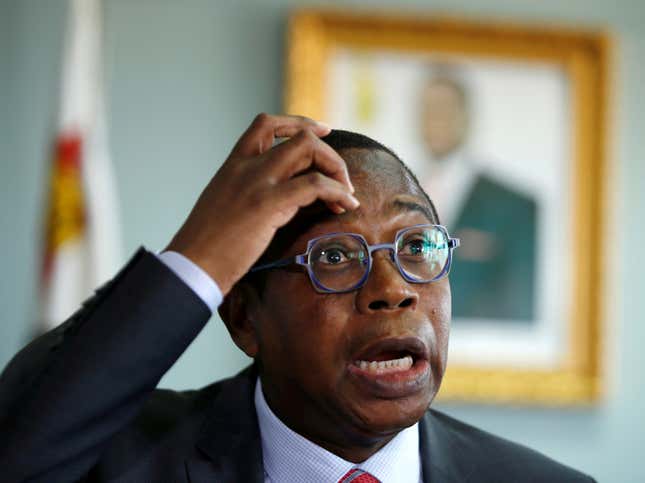 The recently appointed finance minister, Mthuli Ncube, said the tax on mobile wallet and electronic transactions will increase from a flat five cents per transaction to two cents per each dollar transacted. This would be a reduction if all you ever transacted was one dollar but a significant increase beyond that.
Zimbabwe hopes the restructuring of the taxes will raise additional funds for the government which is battling fiscal deficits. Ncube has explained that such measures, although hard to bear, will enable the government to mobilize funds for treasury.
Mobile money has been one of the few significant successes in Zimbabwe's troubled economy over the last decade. The introduction of bank to wallet transfers has spurred mobile money usage, according to the telecoms regulator. It said the total number of active mobile money subscriptions increased by 12.6% to reach 5.6 million at the end of the second quarter.
The government stands to rake in the earnings, especially as the mobile money merchant, airtime and bill payments values increased by 45.3% in the second quarter 2018 to $1.1 billion (pdf) compared to the first quarter period.
The number of mobile money transactions had also risen by 38% to about 404 million. This effectively means that the government of Zimbabwe previously earned about 5 cents from a transaction of about $100 but now earns around $2 for transactions worth the same amount. There has been dismay over this, with Zimbabweans taking to social media to condemn and register frustration over the tax hike.
 Econet Wireless, which runs the dominant mobile wallet, EcoCash, has initiated the unbundling of the platform with a view to separately list it on the Zimbabwe Stock Exchange. Analysts at IH Securities said this week that the fintech divisions of Econet – including mobile insurance – have become valuable assets worth separating from the mobile telephony services. "We believe that the fintech division is an attractive stand-alone asset and as at FY18 revenue in this SBU was $244 million. As the cash constraints persist, EcoCash remains well positioned to maintain its strong growth trajectory," IH Securities said in a market note.
Industrialists in Zimbabwe have complained about the mobile money tax increase, with the Confederation of Zimbabwe Industries explaining that "this tax will compound through the value chain" with the consequence that there will be a 2% charge at each value chain stage. "This will prejudice the competitiveness of Zimbabwe value chains against foreign value chains. We believe that this can be effectively mitigated by a cap (monetary value) on the charge (per transaction)," said Sifelani Jabangwe, president of the Zimbabwe industrialists grouping.
The tax hike on mobile money in Zimbabwe follows Uganda which introduced a controversial mobile money and social media tax earlier this year but has now has reduced the mobile money levy from 1% to 0.5% for cash-outs. The Ugandan parliament also voted in favor of abolishing mobile money taxes for 'sending, receiving and depositing money into mobile wallets. Other African governments such as Kenya have however, also raised mobile money taxes, with Kenya hiking mobile money statutory levies from 10% to 12% in June.
Sign up to the Quartz Africa Weekly Brief here for news and analysis on African business, tech and innovation in your inbox