Zimbabwe, with its natural wonders and ancient ruins, has recently been listed as one of the best countries to visit by Lonely Planet's Best in Travel 2019.
The list includes popular destinations like Sri Lanka, Indonesia and Germany, along with less frequented countries like Kyrgyzstan, Belarus and São Tomé & Príncipe. Zimbabwe is third on the list, and positioned as a country that once again deserves the attention of the global tourism industry.
"Although the controversial 2018 election may have dampened the unbridled optimism following the end of Robert Mugabe's time in power, the sense of hope for what the country can become remains strong in Zimbabweans," Lonely Planet writes. "And as always, a visit here is viewed by locals as a sign of support of them on their journey to a new dawn."
What seems like a vote of confidence in Zimbabwe's tourism industry is in fact a sign of stagnation. Zimbabwe is not new to lists like this or the travel sections of international newspapers or crowd-sourced sites. Zimbabwe's decades-long appearance on global travel recommendations shows the country has not fully taken advantage of tourism, despite industry leaders' enthusiasm.
In 1989 already, The New York Times asked its correspondents to share their "exotic escapes," and a visit to Victoria Falls was highlighted as "magnificent" even if the tone of the article celebrated Rhodesian colonial lodging. In 2015, the newspaper features Zimbabwe under the headline "Once avoided, now a must-visit" in its 52 places to see in 2015.
Safaris are a consistent attraction for baby boomer travelers and Zimbabwe's parks are regularly included, even as destinations like Tanzania and Rwanda offer more contemporary experiences. This year, Trip Advisor's Travellers Choice Awards listed Victoria Falls and the Great Zimbabwe ruins were listed among the best 25 landmarks in Africa.
The national tourism ministry has included this "dawn of a new era" narrative as part of its official message. Yet, Zimbabwe has struggled to take advantage of all this free marketing and optimism. Just as its political strife has directly affected industries like mining and agriculture, the tourism industry has also suffered under corruption or just neglect.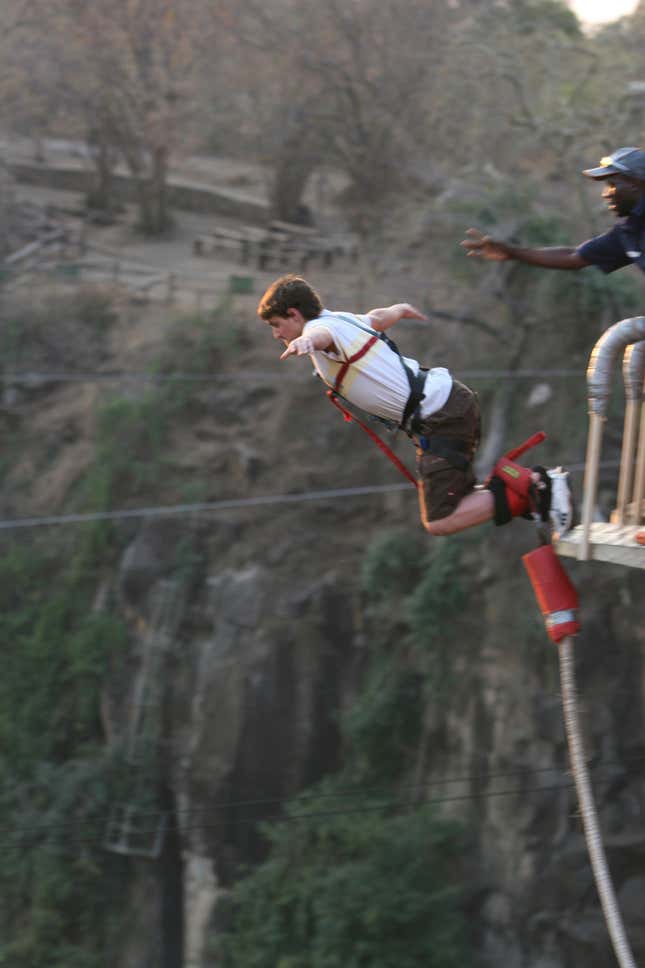 Since 2009, tourism's percentage of the economy has not risen above 4%, according to the World Travel and Tourism Council (pdf). Similar to previous years, direct tourism factors, through services like accommodation and attractions, only contributed to 3% to the GDP last year. Including indirect factors, such as external supplies or investment, led to a 7% contribution. The council predicts this will remain the same until 2028.
Zimbabwe has never had to do much to attract visitors, but this has meant that its tourism industry is overlooked. Hwange National Park, and smaller public and private game reserves boast rich wildlife. Zimbabwe is home to one of Africa's most ambitious precolonial structures, The Great Zimbabwe Ruins.
Existing marketing could be forgiven for focusing on  Victoria Falls, Mosi oa Tunya (meaning "the smoke that thunders") as it's also known locally—describing it as magnificent is no exaggeration. And if marveling at the world's largest falls gets boring, there is bungee jumping off the bridge connecting Zimbabwe and Zambia, abseiling through the river's gorge drifting lazily down the Zambezi while a family of elephants takes a bath nearby are all options to keep tourists happy. 
Zimbabwe's new government has pledged to revamp the economy, yet its neglecting a major resource yet accessible resource that the international economy wants to buy.