On Monday (Oct. 29), a specialized unit of police officers began patrolling Cape Town's embattled train stations. While the recruits lined up for inspection at the public relations launch, the rest of the commuters waited their turn to board the fewer than 40 functional trains after a spate of arson attacks gutted the system. The police were there to put an end to the fires, while officials try to figure out who's behind the vandalism.
The Monday morning scene was emblematic of the city's cracking façade: a public system failing to meet the needs of a growing populace, a growing wave of crime fuelled by gangs, while the city struggles to put out political fires. Ahead of the summer tourism season, Cape Town will have to work hard to maintain its public image as South Africa's favorite tourist destination.
Between 2015 and 2017, an average of three train coaches a month have been set alight. In July this year alone, 32 coaches were damaged by arson. On the busy central line, eight out of 30 trains are functional. It's still not clear who or what is behind the arson attacks: some blame gangs, Western Cape premier Helen Zille hinted at political violence in the opposition stronghold, while others see it as an act of protest against the city's perceived anti-poor policies.
Outsiders love Cape Town, especially life in the city bowl, the iconic commercial center at the foot of Table Mountain. The city welcomed nearly 1.2 million visitors last year, even in the grip of a drought. It's popular among the expat community, with an increasing number of foreigners choosing to retire there.
Cape Town caters well to its international tourists, but locals are beginning to feel increasingly isolated. The city is becoming too expensive for middle and working class South Africans, and aggressive gentrification and soaring property prices have pushed them further into the outer suburbs. It also makes it difficult for Capetonians of color to move out of South Africa's far-flung, segregated townships.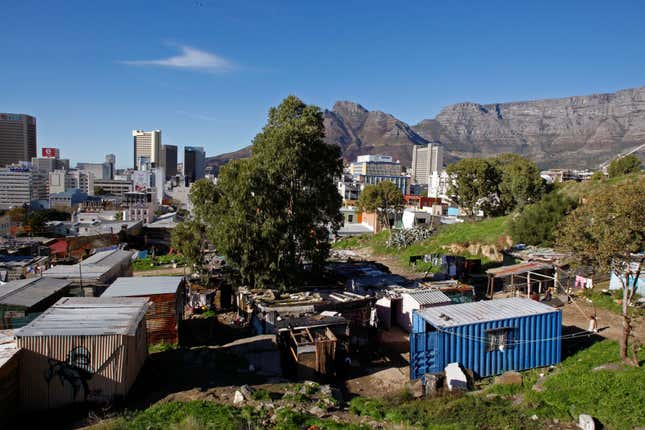 Those townships have been home to a network of violent gangs for decades. Those gangs are behind a resurgence that rivals Chicago's south side, making Cape Town the crime capital of South Africa. Burning trains are just the latest symptom of how the city's inequality has garnered a violent response.
Nyanga, a black township northeast of the city bowl established in 1948 as a home for black laborers, has consistently held the record for highest murders in a country with an already-high murder rate. Crime statistics for 2016/2017 showed that seven of the top ten police stations with the highest murder reports were in Cape Town. All are in black and coloured (mixed race South Africans) neighborhoods. At times that violence punctuates the mainly white inner suburbs, like when a lawyer was gunned down outside his children's school on Tuesday (Oct. 30).
Violence is not unique to Cape Town. South Africa as a country is known for its violent crime rooted in apartheid and exacerbated by continuing economic inequality. Unemployment and few opportunities make joining a gang more tempting, especially when those gangs rule the streets and overwhelm national and local police.
Compared to South Africa's other cities, though, Cape Town's continued inequality seems more pronounced because the city seems to advance and worsen at the same time. As the city strives to cater to usually white international travelers, it is also unable to provide housing and basic services for mainly black local migrants from the country's poorer provinces. For optics and the lived experience, it makes perceptions of Cape Town's racial inequality seem even worse.