Peace has now outlasted war in Liberia.
But for 14 years, between 1989 and 2003, a brutal civil war ravaged the nation leading to the death of close to 250,000 people. Women were raped and mutilated; warlords recruited child soldiers to fuel the conflict; tens of thousands of people were displaced and fled the country. The full freight of the war, its callousness, and its collateral effect have continued to remain a defining marker of the West African state.
Photographers Tim Hetherington and Chris Hondros were there at the height of the infighting and captured some of the war's most harrowing moments. The duo was there right up to 2005 when the guns fell silent, a peace deal was signed, and the nation began a slow trudge towards recovery. Their photos—powerful and plaintive—documented the senseless nature of the war and galvanized the world to take action.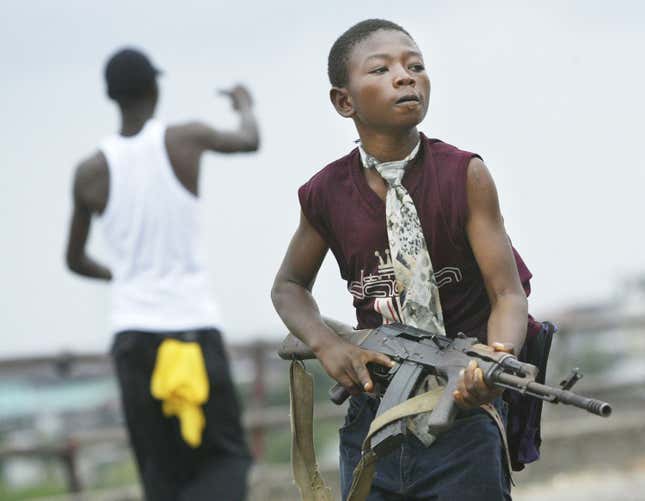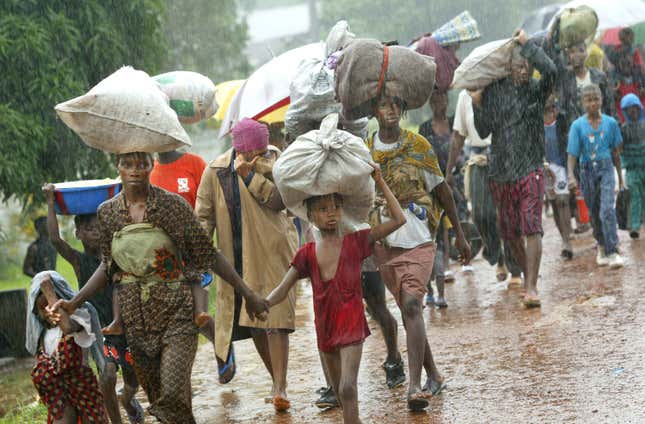 The tragic reality we now know is that both photographers were killed in another African war. Hondros, a two-time Pulitzer finalist, and Hetherington, an acclaimed filmmaker and an Oscar nominee, died in Libya in 2011 while covering the armed uprising against Muammar Gaddafi.
Their story has become a cautionary tale of the dangers facing journalists across the world. The Committee to Protect Journalists estimates that 45 journalists have been killed so far in 2018—from Yemen to Colombia, the Central African Republic to Slovakia and India.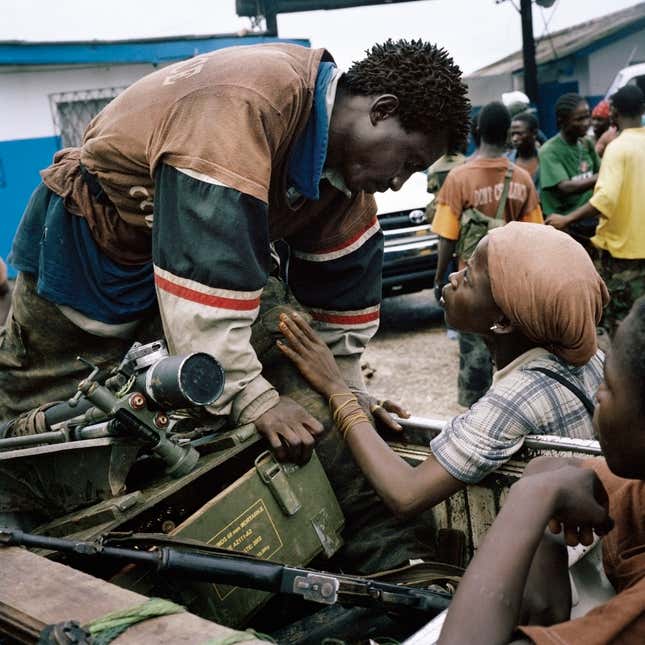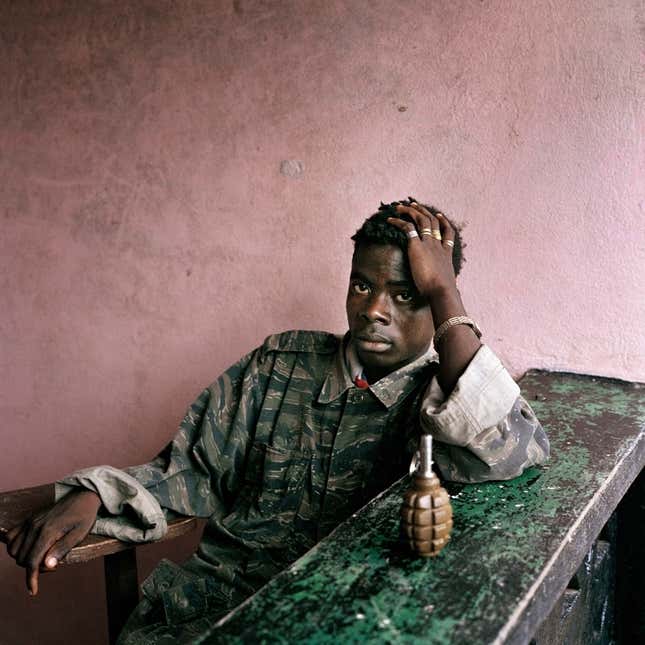 To honor their lives and legacies, an exhibition at the Bronx Documentary Center in New York dubbed "War and Peace in Liberia" is showcasing a selection of their poignant images, some of which have never been showcased publicly. Together, the photos capture the paradox and perplexity of war: a tender moment between a soldier and his girlfriend; the mutinous face of a child soldier; and most of all, the triumphant emotions of a militia commander after he fires a rocket-propelled grenade.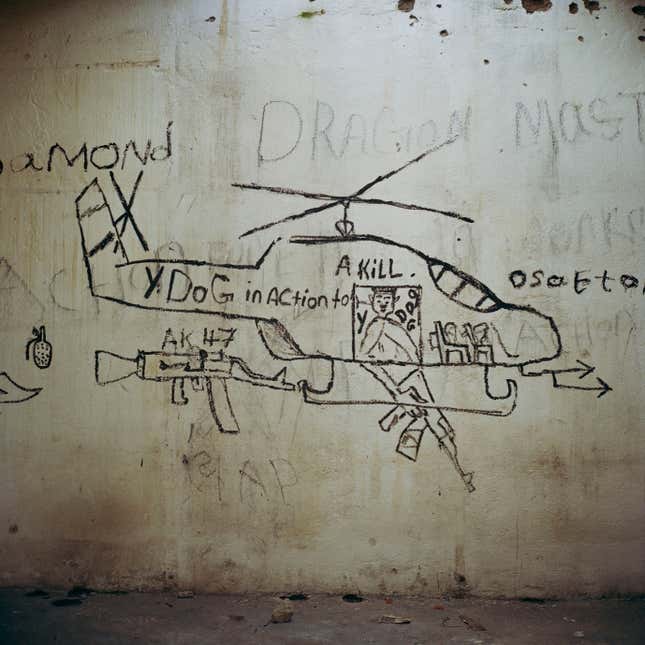 The photos show just how far Liberia has come. In 2005, following successful peace talks in Ghana, the country voted in Ellen Johnson Sirleaf as the first democratically elected female head of state on the African continent. In late 2017, following the election of ex-soccer star George Weah as president, Liberia had the first peaceful transfer of power in 73 years. Even the exultant, bare-chested rocket-launching militiaman, Joseph Duo, became reformed and ran for office in the polls.
As a nation recovering from war, Weah's administration still faces critical issues from boosting healthcare and providing basic amenities to tackling inequality and unemployment. Yet juxtaposing the peaceful election and the serene political transition against Hondros and Hetherington's gruesome photos show the positive course Africa's oldest republic has taken in the last decade and a half.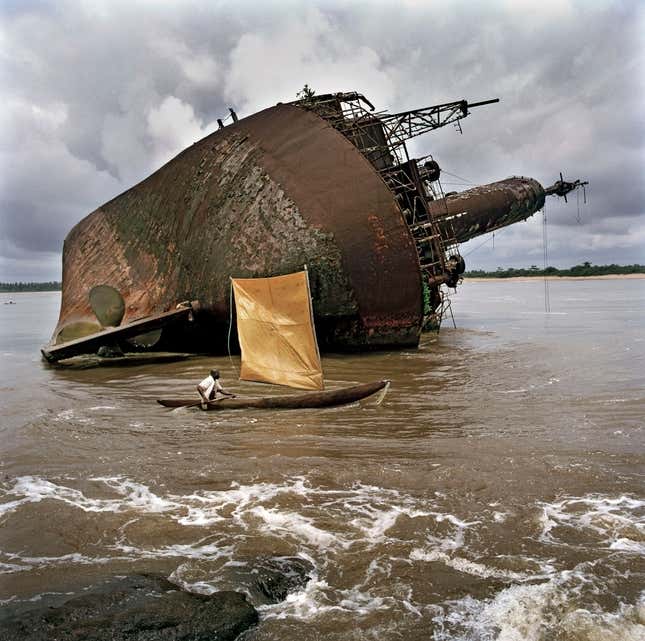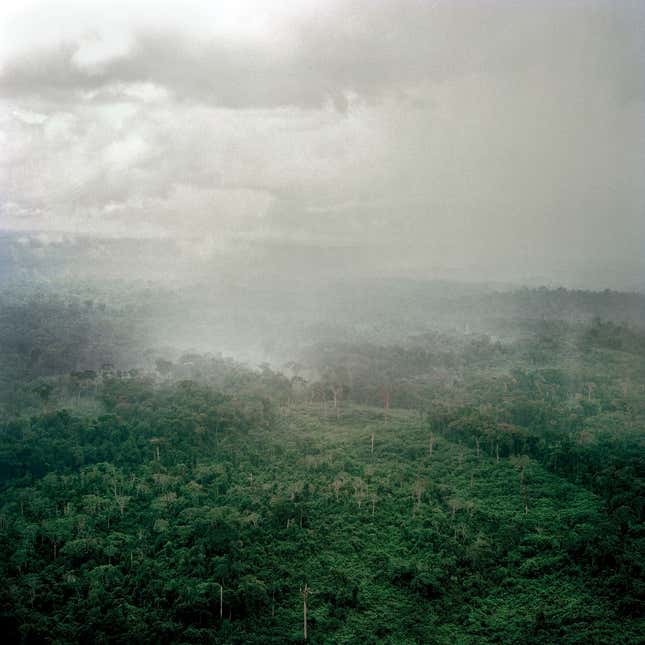 Sign up to the Quartz Africa Weekly Brief here for news and analysis on African business, tech and innovation in your inbox