More than a century after they were looted, the decades-old campaign for European museums to return African art—particularly Benin bronzes—is finally looking like a real possibility.
This week, a report in France recommended the return of looted artifacts, including French-held Benin bronzes, in the country's museums to their origins. Similarly, the Benin Dialogue Group—comprising of representatives from European and Nigerian museums as well as the Benin monarchy and local government officials—has agreed a deal for some of Benin's most iconic pieces to be returned on a temporary basis.
The collection is planned to be on display at a royal museum under construction and scheduled to open in 2021 in Benin City, the capital of Edo state.
A return of these artworks to Benin City—where they plundered from during a British expedition in 1897—is significant. Several of the artworks looted from the palace of the Oba of Benin were of immense cultural significance and formed part of the kingdom's way of life. Indeed, some of the items stolen formed part of coronation processes and were seen as a way to document the Benin empire's history. Returning them will also "lend importance to indigenous art because for the longest time there has been some local disregard for art," says Victor Ehikhamenor, an internationally acclaimed Edo-born artist. Some of the disregard stems from how indigenous art was "demonized by colonial construct" by early-day missionaries, Ehikhamenor says. Those beliefs have somewhat hamstrung a local industry that has kept the culture of bronzes alive. Indeed, Igun Street in Benin, known for bronze sculpting, is listed as a UNESCO World Heritage Site.
While the possible return of the artworks is celebrated, the terms of their return continue to be debated. Rather than permanent restitution, long-term loans have been mooted—to the displeasure of many. "The language that's been used is patronizing. I don't like the word 'loan'," says Ehikhamenor. "It really offends my sensibilities as a Nigerian or as someone from Edo. They [the artworks] belong to the kingdom and the Oba's palace where they were taken."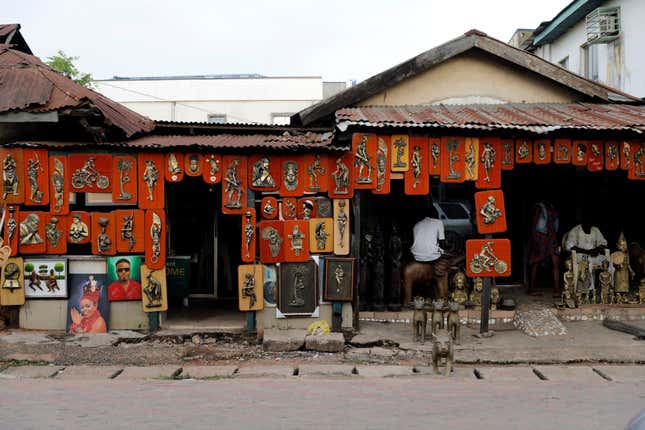 But Enotie Ogbebor, an Edo artist who's been a party to some of the restitution talks suggests it's a prudent stop-gap measure. "While the government and the Oba are discussing at the highest level for permanent restitution, we don't want a lacuna which has already existed for over 100 years," he says. "[Let's see] if we can put a framework in place to loan them so they can be seen by our people while these discussions are going on."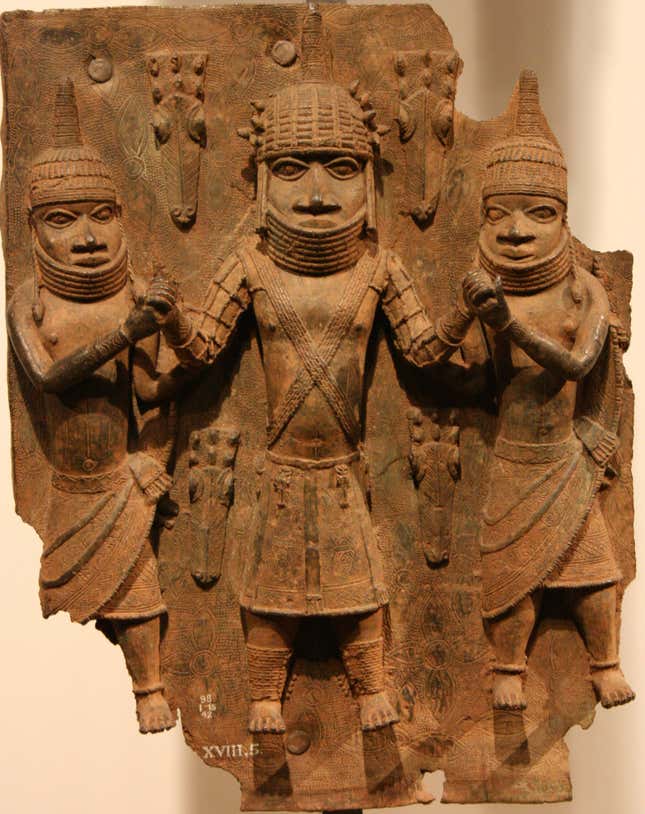 Returning the artworks hasn't won unanimous support in Nigeria.
Given Nigeria's general lack of a maintenance culture, the fear is that the artworks may not be properly cared for once returned. Indeed, Nigeria's few existing public museums are largely underfunded and derelict. The museums are also starved of mass interest and local foot traffic—a problem that's likely to endure as history hasn't been a prioritized subject in Nigeria's school curriculum. As such, there's a disconnection between the present generation and objects of the past that are major attractions at local museums.
Kola Tubosun, a linguist and 2016 Quartz Africa Innovator honoree, suggests a workaround which would see museums return artifacts with strong spiritual and cultural significance to their custodians while "leasing" others for continued display. "The museums can keep some of the artworks and share revenue with places where the art comes from. It's a win-win." Keeping some artworks in foreign museums, Tubosun argues, serves an important global heritage function as "people who go to see them learn about where its from and the people who made it."
But an added danger to leaving artworks abroad, some believe, lies in the risk of appropriation. That was laid bare last year when British artist Damien Hirst was accused of cultural appropriation during an exhibition in Venice when one of his artworks, a golden sculpted head, caused a stir given its striking resemblance to Ori Olokun, a 14th century bronzehead from Ife, an ancient Yoruba kingdom.
For Edo-born artists like Ehikhamenor and Ogbebor, the restitution of the bronzes is also personal. While the artworks will showcase local artists' cultural influences, crucially, they will also serve as a reference for a budding generation of artists and bridge the gap in Benin's art heritage. "Imagine if in the last 100 years, all the works of Picasso, Monet and Michelangelo were removed from society for 100 years?" Ogbebor posits. "That is what the British invasion did to Benin by removing those things."
Returning the art, Ehikhamenor argues, is the first step to fixing that lost connection to indigenous art heritage which has also forced local artists to look abroad for more validation, appreciation and income. "When I make an artwork, if a white man does not endorse it, I can not grow in the art world," Ehikhamenor says. "The hole that the African artist has to climb out of was dug a long time ago and the ladder to climb out of that hole is held by the Western world."
Sign up to the Quartz Africa Weekly Brief here for news and analysis on African business, tech and innovation in your inbox