Beyoncé and Jay-Z did not disappoint fans who waited all day to see the superstar couple perform at the Global Citizen concert in Johannesburg on Sunday (Dec. 2). The euphoria of the star-studded festival quickly faded as concert-goers were targeted by robbers as they left the stadium.
The concert was aimed at raising funds to end poverty, while celebrating the centenary of former president Nelson Mandela's birth. Along with superstar acts, Oprah, Bob Geldof, early Facebook investor Sean Parker and various political dignitaries took the stage to champion various causes.
Still, in the days and hours leading up the concert, it was the Carters who hogged the spotlight, even as they tried to stay low-key around Johannesburg. It was the first time the couple have performed on the African continent together. Beyoncé and Jay-Z have looked to Africa for inspiration before, and their performance in South Africa incorporated local elements.
The concert visuals of the couple were recast to the Miriam Makeba 1974 classic Malaika. To perform her  number one hit Halo, Beyoncé was joined by the Soweto Gospel Choir in a performance that saw her show off her vocal range. The singer's outfits were also clearly African-inspired.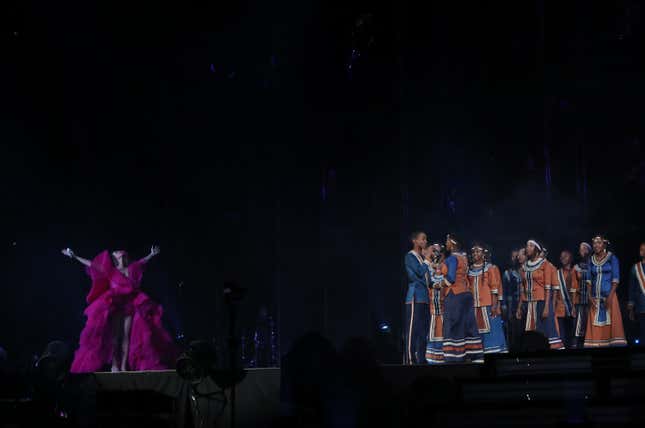 In her second outfit to perform the single "Apeshit" off their first album together as The Carters, Beyoncé wore a black and white bodysuit patterned with Egyptian hieroglyphs, while Jay-Z wore a beaded scarf that resembled that of Xhosa royalty. In another outfit change, Beyoncé wore a winged beaded corset in the colors of the South African flag.
The performance headlined a festival that included Ed Sheeran, Pharrel Williams, Usher, Nigerian super stars D'Banj, WizKid and Tiwa Savage and South African rappers Casper Nyovest and Sho Madjozi with Trevor Noah as the host. The concert was broadcast live on television, but The Carters performance was exclusive to ticket holders who were supposed to earn tickets through good deeds. It was exactly what fans wanted, but the experience was marred by the ever present danger of crime in Johannesburg.
In gridlocked traffic, concert-goers made their way to the gas station just a block away where they would meet their Ubers and other rides. Criminals spotted an opportunity and moved quickly among the crowds, grabbing cellphones and purses. People ran and screamed, creating more chaos. Others stayed put at the stadium gate, where it was safer but had no transportation.
Looking for more in-depth coverage from Quartz? Become a member to read our premium content and master your understanding of the global economy.