When an unassuming sheep was led onto Cape Town's Clifton beach, the animal became the latest character in South Africa's annual seaside race row. Clifton's beaches were once white only and today form part of some of the country's most expensive real estate.
On New Year's day, as Clifton's mainly white middle class residents clear out to small towns and resorts, the city's black population, still confined to the townships on the outskirts of Cape Town, use the public holiday to make the most of the icy water and expensive vista.
All over the country, the New Year is rung in with thousands of people trying to take advantage of South Africa's 2,500 kilometers (nearly 1,600 miles) of coastline. It's no different than in any other part of the world, but in South Africa throngs of diverse beachgoers carry the burden of a segregated past. Like every other part of life in South Africa, beaches were segregated under apartheid, the best kept for white people.
Yet, nearly 25 years after the end of apartheid sharing the beaches has erupted into isolated incidents of racism. These, like when a white estate agent infamously comparedblack beachgoers to monkeys, dominate social media and news headlines during the festive season, which unofficially ends over the first weekend of January.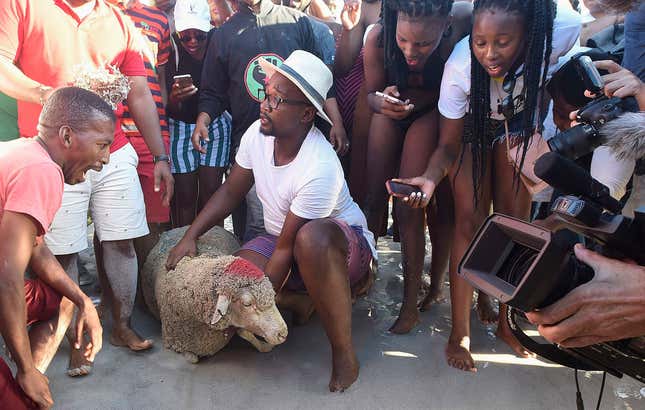 The beaches are no longer segregated but their enjoyment is still limited to South Africa's other great divider: the economy. It's why going to Clifton is such an occasion. This year's row revealed yet another dimension of South Africa's racial divide: privatization.
On Dec. 26, a private security company forcibly cleared people off Clifton's fourth beach, a public area. It quickly became a racially charged issue.
The company was hired by business owners on the strip who claim crime has risen in the area. To anyone being shooed away from a public beach, this was seen as an attempt as the wealthy trying to privatize a public space. Like healthcare, education and housing, security has also been privatized in South Africa building even higher walls in an already divided country. Crime is already a public conversation tinged with racism in South Africa.
The premise for closing the beach was a serious crime though: two teenage girls had allegedly been raped in the area and the private security company had stepped in while waiting for police, said the company's chief executive Alwyn Landman. It's still unclear why they tried to close off the whole beach. The same security company was accused of closing off a popular road on New Year's Eve, reportedly on the instruction of residents who didn't want those outside their exclusive neighborhood using their view to ring in 2019.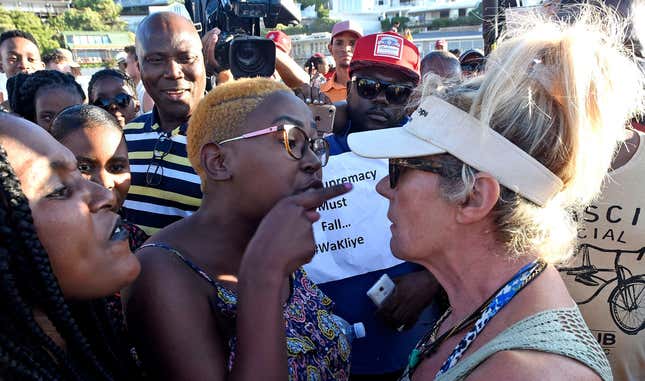 In protest over the beach closure, a group calling itself the Black People's National Crisis Committee staged a protest in which they slaughtered the sheep in a ritual to cleanse the beach of historic racism. That in turn led to friction over animal rights versus traditional beliefs, also a white versus black affair in South Africa.
Cape Town's mayor, a member of the opposition Democratic Alliance (and a person of color), refused to concede that this was a racial incident. Members of political parties on the other side of the aisle, the African National Congress and the Economic Freedom Fighters, joined in the anti-racism protest that also happened to be taking place in an opposition stronghold, in an election year.
The festive season is over, but the tension is not. South Africa will continue to have these public rows because economic and social inequality continue to fall along racial lines. Hiring private companies to guard those lines will only deepen the divide.
Sign up to the Quartz Africa Weekly Brief here for news and analysis on African business, tech and innovation in your inbox