The taps are flowing more freely again in Cape Town.
This time a year ago Capetonians were in a panic as the city clamped down on the use of water as the city became the world's first major city to look like it was about to run out of water due to climate change. The crisis, which threatened to leave Cape Town without water, has even inspired a comedy tour.
But since the start of December, South Africa's second-largest city has relaxed restrictions on the use of water by residents and businesses, lowered tariffs on consumption, eased limits on car washes and swimming pools, and raised its target for collective usage by 30%, to 650 million liters of water per day.
"We see 2019 as a recovery year after having successfully emerged from the severe and unprecedented drought," Xanthea Limberg, a city councillor who serves as mayoral committee member for informal settlements, water and waste services, said in a statement. The city "will continue to follow a conservative approach in light of the rainfall uncertainty over the coming two years," she added.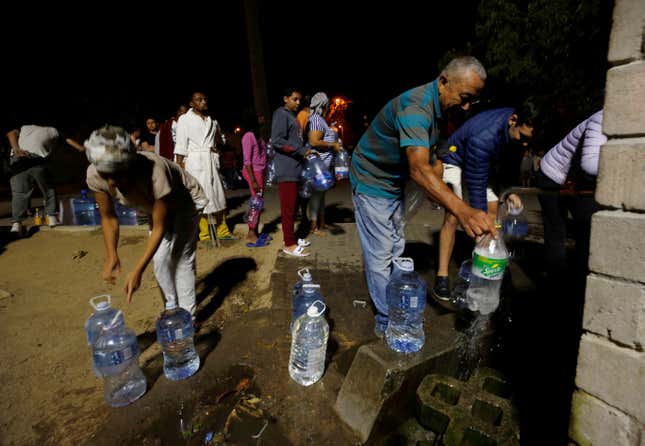 With the summer dry season underway, dams that serve the city stood at 63.1% of capacity as of Monday, up from 28.8% a year ago, according to the city's weekly assessment, which Limberg notes is based on the city's own determination of water use from the provincial supply and can vary from estimates published by the national government.
But while Cape Town delayed Day Zero, stresses on the city's water supply and throughout South Africa remain. According to a report published last March by the Institute for Security Studies, the challenges include a growing population, contamination of rivers, leakage from rickety infrastructure (including wastewater treatment facilities in disrepair), and dependence on coal, which provides roughly 77% of the country's energy needs via power stations that need water to cool.
The challenge of supplying water has grabbed the attention of government. Repairing the nation's crumbling water infrastructure ranks among the top priorities that president Cyril Ramaphosa cited for investment from a 400 billion rand ($29 billion) infrastructure fund he announced in September.
Weeks later, the government deployed the military to help repair treatment plants that stanch the flow of sewage into the Vaal River, which supplies water to the cities of Johannesburg and Pretoria. A campaign launched three years ago by former President Jacob Zuma trains young people to repair leaks in taps and pipes.
Out of the spotlight
Compared with communities across South Africa, Cape Town, hailed as one of the world's favorite tourist cities, can count on its clout to attract attention to its water woes. The number of international visitors to the city rose 9.6% last year despite the drought.
Meanwhile, residents of a rural area south of Durban have gone weeks without water, while villagers in the Eastern Cape say they are drinking dirty water after being bypassed by a new infrastructure project, according to reporting by GroundUp, which also has chronicled a shortage of running water in a township south of Cape Town.
"These communities haven't got as much media attention as Cape Town, but I think you can make a pretty strong argument that's where the biggest humanitarian crisis is," says Zachary Donnenfeld, who co-authored the institute's report.
Even if everyone does their part, the trend over the long term suggests cause for concern. Throughout the seasonal ebb and flow of water in Cape Town since 2013, the recovery each year rests on less water than the supply that preceded it.
"We avoided the immediate crisis, but the new normal is significantly less resilient than the old normal," says Donnenfeld. "When the next drought comes, it's going to hit harder and faster than the last one."
Sign up to the Quartz Africa Weekly Brief here for news and analysis on African business, tech and innovation in your inbox